NALSAR is holding ALC Webinar Week 2022.
ABOUT
ALC is conducting India's first week-long webinar, where we have panels and individual speakers from across India and the world, to deconstruct the movement, and elucidate on the necessity for involvement from the community. The theme of the Webinar series is"Multilateral Perspectives in Animal Protection and Practice". The idea behind the webinar is to demystify the notion that education or careers in the animal protection space are non-rewarding, or as a lot of students in India may believe, are non-existent. Our speakers come from a varied range of experiences, and through this webinar series, we would like to create an open floor where animal welfare organizations, practitioners, researchers, and students can collaborate and discuss the causal nature of animal welfare, environmental welfare, and public health can help lead us to a more compassionate and sustainable planet.
Concept Note: Session Briefs
Litigating in Animal Law: A Global Perspective The Animal Protection space in India is garnering more and more support with more people going plant-based. Interestingly, there are an increase in the number of people, and students, who seek to make their careers in the animal protection space, for various reasons. What was once considered space with no opportunities for young professionals and students, is filled with vibrant, passionate individuals and organizations seeking to protect animals and reduce and eradicate their suffering in the nation, and eventually, across the globe. In this session, our speakers give their experiences as they have navigated their careers through the animal protection space, and their advice to young career professionals and students.
Food Systems and Sustainability: What does it mean for Animals and Public Health? Public health, over recent years, has garnered a large amount of attention due to unsustainable food production practices, especially in industries revolving around intensive animal agriculture. We are what we eat, is an old adage, and in this session, the Speaker(s), whose expertise pan across food policy, sustainable food solutions as well as plant-based eating programs talk about the small steps that can be taken by individuals, which play a large role in reducing, and perhaps, someday soon, ending animal suffering.
Campus, Animals, and Student Movements This panel aims to bring together students from top law schools across the country, who have spearheaded initiatives with the support and guidance of the administrators and faculty members. In this panel, we have the founding members/present heads of these initiatives, telling the audience about their journey, the work they do for animals, and what the hope they have for student initiatives and animal welfare, being students of law and policy.
Animal Cruelty and Human Violence: An escalation from Animals to Humans Studies have shown that in over 48% of cases of domestic violence victims delay leaving or remain in abusive situations because of their pets. Yet fewer than 10% of domestic violence shelters house pets and almost half of all victims/survivors do not want to be separated from their pets. It then becomes pertinent to understand the causality between the escalation of violence against animals to violence against humans. In criminology, one of the characteristics that have stood out whilst observing serial offenders is the aspect of cruelty against animals.
HOW TO REGISTER
https://docs.google.com/forms/d/e/1FAIpQLSeTGqNBACpwf5K7J0yUIabWiTzhsVXZI54RBR8AIxv3IxfEow/closedform
CONTACT DETAILS
+919582394096
Disclaimer: All information posted by us on Lexpeeps is true to our knowledge. But still, it is suggested that you check and confirm things on your level.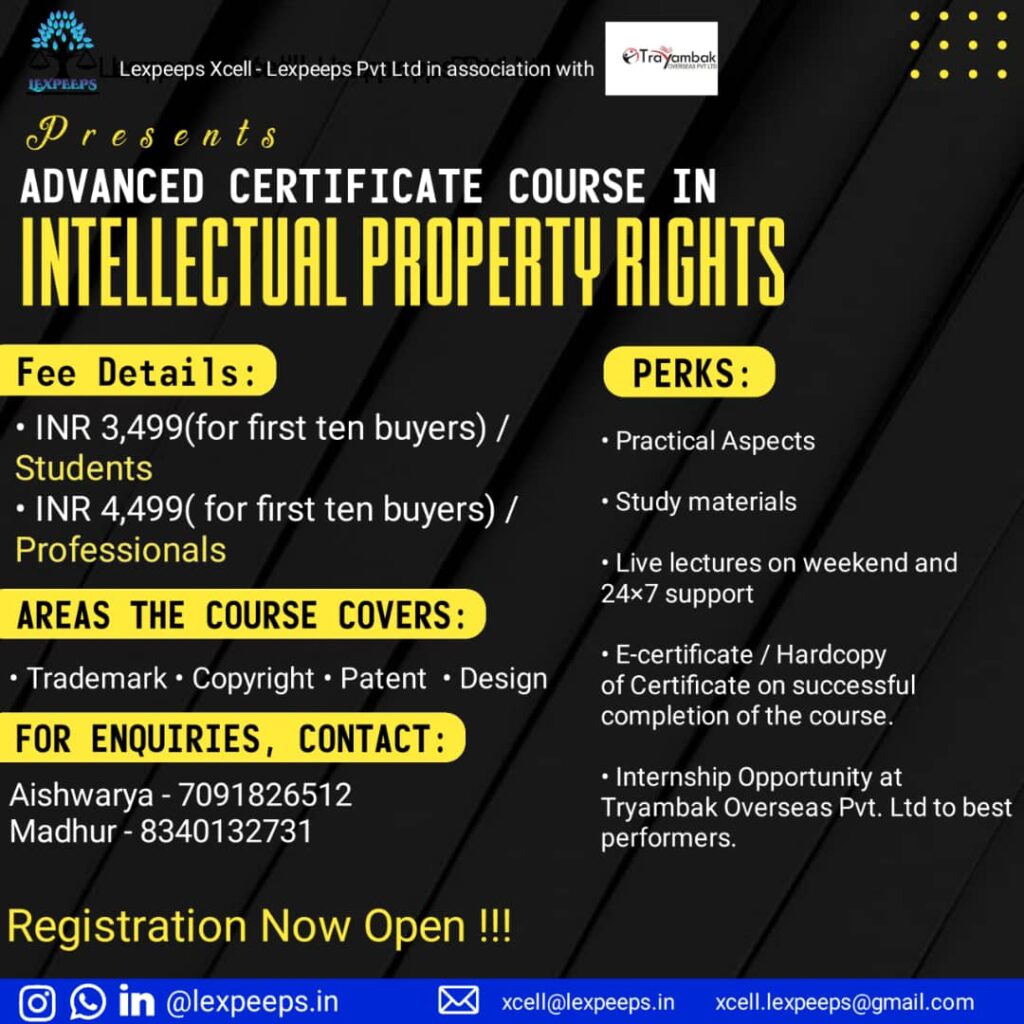 WhatsApp Group:
https://chat.whatsapp.com/G4bxdgRGHY8GRzOPSHrVwL
Telegram:
LinkedIn:
https://www.linkedin.com/company/lexpeeps-in-lexpeeps-pvt-ltd