About the Uttar Pradesh Judicial Reform Council, WICCI 
The Uttar Pradesh Judicial Reforms Council is a member of the Women's Indian Chamber of Commerce and Industry (WICCI), a premier National Business Chamber for Women with a global vision for women entrepreneurs, businesswomen, and professionals from all walks of life.
With 250,000 members and industry leaders worldwide, WICCI drives significant changes in governmental policies, laws, incentives, and entrepreneurial ecosystems, with the goal of robustly encouraging and empowering women in business, industry, and commerce across all sectors and fields. WICCI is supported by the massive global and influential women's networks G100, ALL Ladies League (ALL), Women Economic Forum (WEF), and SHEconomy. WICCI actively engages the voice of thousands of women entrepreneurs and professionals, representing a wide range of industries, economies, and societies.
The Judicial Reform Council, as part of WICCI, intends to:
On the ground, keep an eye on how laws affecting women are being implemented.
Disseminate legal awareness by informing people, particularly women, about their legal rights and remedies.
Women entrepreneurs can benefit from peer-to-peer platforms that help them realise their full potential.
To eliminate the pay gap between men and women for the same work, advocate for economic equality.
Encourage more women to participate and raise their voices to pursue their dreams by promoting the contributions of women in the corporate world.
To assist women in returning to work.
To ensure that female entrepreneurs and businesswomen in general develop a complaints redressal mechanism at their place of business.
Virtual Debate competition
The UP Judicial Reform Council will hold its first-ever online debate competition. The competition's goal is to provide a platform for students from various universities to come together and express themselves through well-thought-out arguments backed up by compelling evidence. Students will be able to hone their oratory skills by participating in a meaningful debate on important legal issues as part of this competition.
The Theme – Anti-Conversion Law
Precise theme- UP Anti-conversion Law- Good or Bad Law? 
On October 30, 2021, at 4 p.m., the debate competition will be held online via Google Meet.
Eligibility
To be eligible for participation, candidates must be enrolled in a graduate professional programme.
Time and Language
Each participant will have a maximum of 5 minutes to speak (4 minutes for constructive speech and 1 minute for rebuttal).
If the time limit is exceeded, the team's overall score will be affected.
Participants have to speak only in English.
Marking Criteria
The participants will be evaluated depending on Matter, Manner, and Method by a panel of judges. The judges' decision shall be final and irrefutable.
Guidelines
The debate will take place entirely online.
On the 27th of October, the participants were notified whether they will be speaking FOR or AGAINST the motion.
The Debate Organizing Committee reserves the right to make changes to the rules/regulations at any time, and those changes will be binding.
Winners and participants will receive e-certificates to their registered email addresses.
The following steps must be followed by all participants:

Join the Google Meetup community. ten minutes before the scheduled start time.
Turn off their videos and mute their microphones until it's their turn to speak.
Refrain from speaking to the audience or other teams unless they have been assigned to you.
During the programme, refrain from sharing your screen.
Avoid reading continuously from a paper or electronic device. The participant will be automatically disqualified if he or she engages in such behaviour.

Ensure that you have good internet access for a better learning experience.
Registration
Participants must submit the Online Registration Form by October 25, 2021, in the prescribed format. It is necessary to keep the confirmation for the same.
Participants should register for the debate using the link provided at the bottom of this post.
Link for registration
https://docs.google.com/forms/d/e/1FAIpQLSejzCv6CEhYX0vVR50PcYcOSY6Hi4cojiiMsFn3a8CLSPU3Rw/viewform
For more details contact
mail ID: jrc.wbhrc@gmail.com
Event Coordinators
Prerana Chaturvedi: + 91 9027224194
Nandini Mangla: +91 9728645407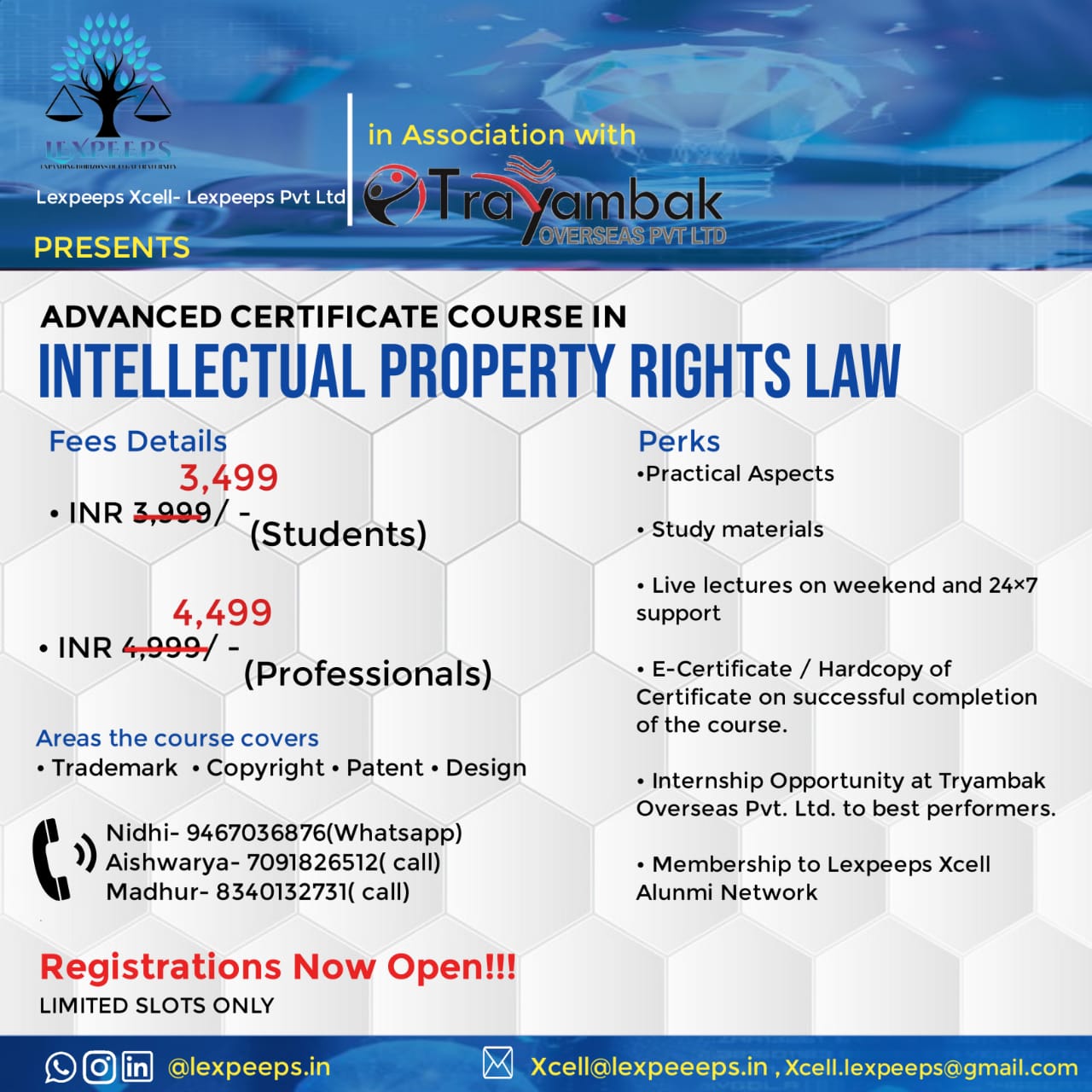 WhatsApp Group:
https://chat.whatsapp.com/GRdQLsHRwmB7QVRmS3WK
Telegram:
LinkedIn:
https://www.linkedin.com/company/lexpeeps-in-lexpeeps-pvt-ltd