Ramaiah College of Law is organising the first edition of its National Client Counselling-Negotiation Competition from August 6 to 8, 2022.
ABOUT
Samyat means to meet together; encounter; agreement; a means of joining or uniting. Samyat 2022 being a pioneer in this format of competition also signifies continuity. Its uniqueness lies in the progression from interviewing a client, to negotiating on their behalf, all in one round.
The idea is to enable participants to comprehensively showcase their prowess in dispute resolution. The format offers a unique approach to various ADR mechanisms, giving teams an opportunity to showcase their talents in both, the client counselling and negotiation aspect of the competition.
THEME
The theme of the competition is commercial law as consulting lawyers and negotiating form a quintessential part of corporate transactions.
TEAM COMPOSITION
Each team shall consist of two bona fide students enrolled in 3/5 year undergraduate law programme in a law college/university recognised by the Bar Council of India.
The registration will be on a first-come-first-serve basis, up to a maximum of 24 teams. Every institution may register a maximum of two teams.
Team members must be of the same institute; cross-teams are NOT allowed.
FORMAT OF THE COMPETITION
Each round consists of two stages:
Stage 1: Client counselling
Stage 2: Negotiation
Stage 1
Each team consisting of two members shall assume the role of advocates/legal counsels and interview the client, who shall be provided by the host college
Client counselling and negotiation are part of the same round, the substance of the problem will remain the same.
At the end of Stage 1, Confidential Information ("CI") pertaining to the problem will be released. The CI shall be specific to each team, depending on whether their client from Stage 1 was the Requesting or the Responding Party
A duration of 15 minutes will be given to the teams to peruse the CI before the commencement of Stage 2. Teams are to negotiate based on the information/objectives provided to them in the CI, and make strategic use of the same
Stage 2
Two teams square off against one another in Stage 2, i.e., negotiation, wherein the members of the team assume the roles of client and counsel
The teams will then be marked cumulatively for their performance in both stages, and shall be ranked accordingly
Rounds
The rounds of the competition are structured as below:
Two Preliminary Rounds
Semi-Finals (Top 4)
Finals
REGISTRATION DETAILKS
The registration will be on a first-come-first-serve basis, up to a maximum of 24 teams.
Every institution may register a maximum of two teams.
A Registration fee of INR 2500/- will be payable.
Please register through the link given at the end of this post.
PERKS
Winners: INR 20,000
Runners-up: INR 12,500
Best Negotiating Team (Prelims): INR 3,500
Best Client Counselling team (Prelims): INR 3500
MODE
ONLINE
IMPORTANT DATES
Last date for Registration: July 31, 2022
Release of problems and scoring criteria: July 20, 2022
Last date for seeking clarifications: July 30, 2022
Release of clarifications: August 1, 2022
Dates of the Competition: August 6 to 8, 2022
CONTACT DETAILS
+91 80504 90857
+91 87469 03362
https://forms.gle/Xi1XCj2EmdRZkohU8
Disclaimer: All information posted by us on Lexpeeps is true to our knowledge. But still, it is suggested that you check and confirm things on your level.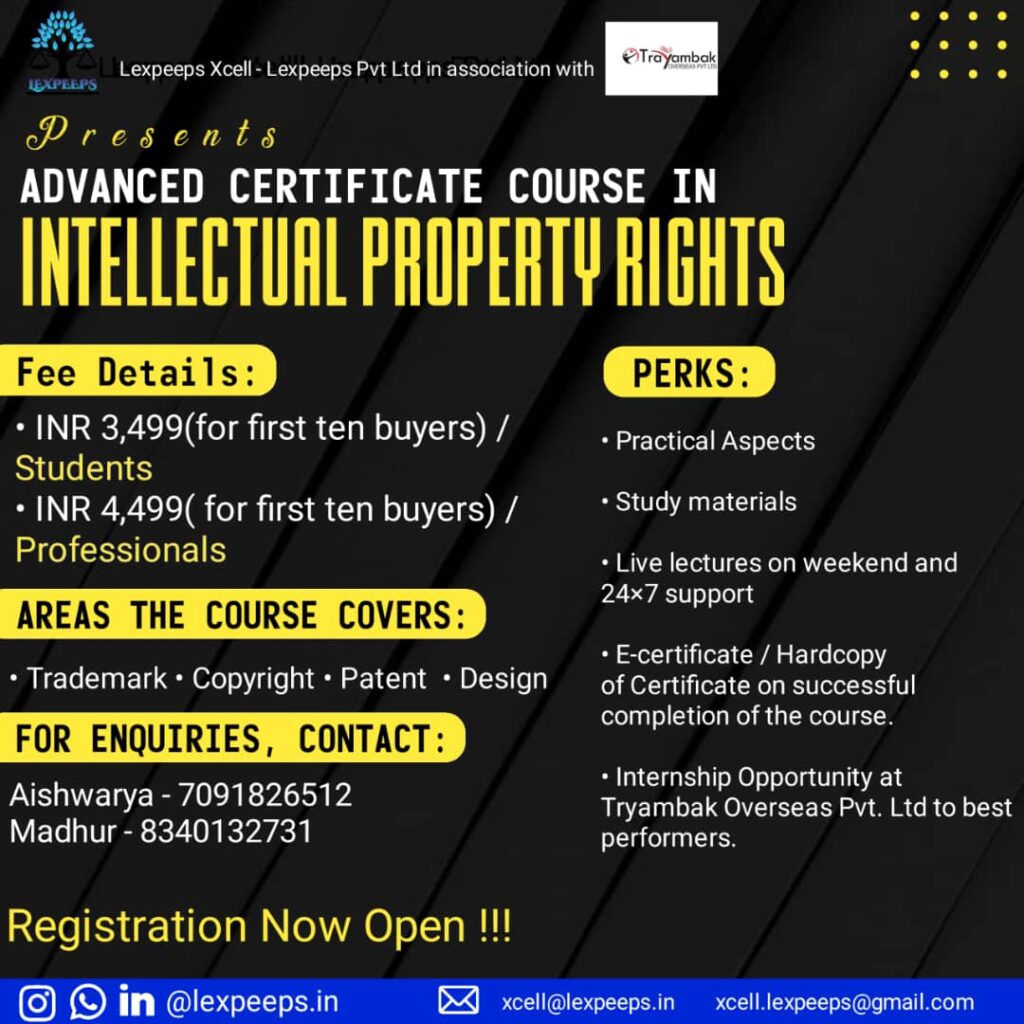 WhatsApp Group:
https://chat.whatsapp.com/G4bxdgRGHY8GRzOPSHrVwL
Telegram:
LinkedIn:
https://www.linkedin.com/company/lexpeeps-in-lexpeeps-pvt-ltd