Key Role: Providing guidance on industry-specific laws, practices and ensuring all compliances are met; Drafting, Vetting, Negotiating, Litigation and executing all commercial contracts and agreements across the commercial business and business development. Experience in MCA affairs, GST registration, FSSAI Licensing and Amendments is preferred.
Responsibilities
Evaluate the impact of evolving legal and statutory regulations on the company's current and proposed investments, highlight the same and contribute to the business planning process
Assist in the drafting of all transaction and contract-related documents from a legal perspective and ensure that the associated risks for the company are minimized; lead the litigation process if required in close coordination with the concerned function.
Interface with advocates and solicitors on the behalf of the company to handle litigation, obtain legal advice and legal services
Provide legal support in drafting and vetting of sale/purchase agreements, LOA, Lease / Leave license agreements, Memorandum of Understandings (MOUs), Joint Venture agreements, Shareholders agreements, employment agreements, Job arrangement letters with the consultants etc, as and when required
Guide the company in the interpretation of laws regarding all aspects of business and corporate life including all regulations applicable to the business.
Setting up systems to ensure compliance with statutory requirements through proper documentation and adherence to established processes.
Identify external legal counsels and consultants for various jobs as and when required and liaison with them to actively support the company's objectives and minimize the legal risks.
Working closely with the internal Government Relations Department on Government relations matters; Partnering with other functions such as Product Regulatory, HR, Sales, Marketing, Distribution & R&D on specific legal issues;
Handling fundraising activities which inter alia includes assisting in legal due diligence, negotiations over Share Holders Agreement, obtaining shareholders consents/waivers, re-classification and increase of authorized share capital and subsequent alteration of the Charter Documents, Issuance of shares through Rights Issue and Private Placement, Issuance of CCDs and NCDs, Creation and modification of charges, Appointment of Nominee Directors, Updating Minutes Book and Statutory Registers, Adhering to Conditions Precedent and Subsequent as per the Share Subscription Agreement. Have handled an acquisition transaction.
Handling trademarks portfolio of the company. Also effectively defending third-party objections on trademarks and filing notices of opposition against third-party infringements.
Coordination with Attorneys on various legal matters. Representing the Company in court and arbitration matters. Also coordinating with various statutory authorities for day-to-day matters.
Requirements: –
Minimum 5-8 years of experience with a reputable Law Firm or in the legal department of a large multinational corporation in the FMCG industry.
Experience and proficiency in general commercial and litigation management.
Excellent written, verbal communication and relationship building with stakeholder
Good judgment & Integrity; Self-starter with a strong drive for results.
Strong cohesive leadership skills and ability to drive projects forward to the conclusion.
Aptitude to enthusiastically engage with colleagues and business partners to maintain appropriate ethical, legal and compliance standards.
The ability to effectively and efficiently handle external counsel in the provision of legal services
General understanding of Intellectual Property matters and issues
A degree in law from a reputed University in India and/or abroad.
Location – Mahim, Mumbai
Link to apply-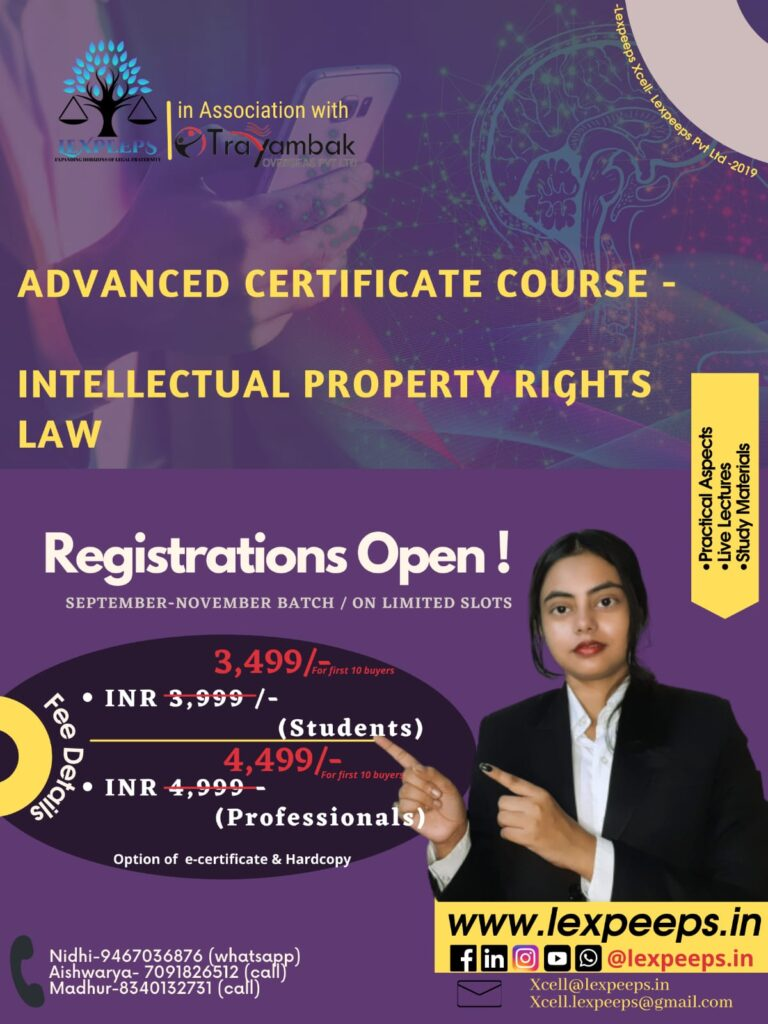 For regular updates, join us:
WhatsApp Group:
https://chat.whatsapp.com/GRdQLsHRwmB7QVRmS3WK
Telegram:
LinkedIn:
https://www.linkedin.com/company/lexpeeps-in-lexpeeps-pvt-ltd