About Dream Legal
DreamLegal gives a platform to everyone interested in legal writing by publishing their literature through an easy process. The team also has a page solely dedicated to guiding budding lawyers. The law aspirants can take up many sectional tests and could directly interact with the law students from the topmost law colleges of the country.
DreamLegal is also a platform providing weekly articles on various socio-legal notions. They also post regular opportunities for everyone in the legal field.
About the Internship
Mode: Online
Duration: 1 Month
Joining: Immediate
Nature of Work
Research: Assist the project leader in conducting research, compiling data, and implementing ideas.
Outreach: Assist the outreach manager in the marketing and communication activities of the organization.
Social Media: Assist the social media manager in handling DreamLegal's social media handles and monitor platforms like Instagram, LinkedIn, Telegram, Youtube etc. Also, to brainstorm ideas for campaigns.
Marketing: Assist marketing manager in market analysis and research on competition. Also, a marketing intern is expected to support the marketing team in the daily administration and collecting quantitative and qualitative data from marketing campaigns.
Design: Assist the social media manager in creating clear, innovative, and visually engaging graphics for product illustration, website, and marketing.
Important Note
The candidate must have an excellent knowledge of computer systems and office-related software.
DreamLegal does not remunerate interns. There is no compensation, financial or otherwise for internship assignments.
Eligibility
1st Year Law Students of a 5-year course enrolled in any BCI-approved college/institution.
Duration of Internship
At least 1 month (Can be extended at the discretion of the team and depending on the work quality).
Interns not completing the requisite period or work will not be issued any certificate.
How to Apply?
Interested students may apply directly by filling out the form through the link given at the end of this post.
If selected, the candidate will be directly contacted by the manager.
Application Deadline
Applications must reach the latest by April 1, 2022 (11:59 PM).
Applications sent after the deadline will be considered for the next slot of the Internship.
Perks
After successfully serving as the intern for a specified time, the student shall be awarded a Certificate of Internship signed by the partners of the organization.
Opportunity to be a part of the content team at the partner's discretion and work quality.
Stipend: Performance-based incentives
Contact Information
In case of any queries, DreamLegal can be reached at contact@dreamlegal.in
Link to apply
https://forms.gle/MSe8VbQdAVisuzxo8
Disclaimer: All information posted by us on LexPeeps is true to our knowledge. But still it is suggested that you check and confirm things on your level.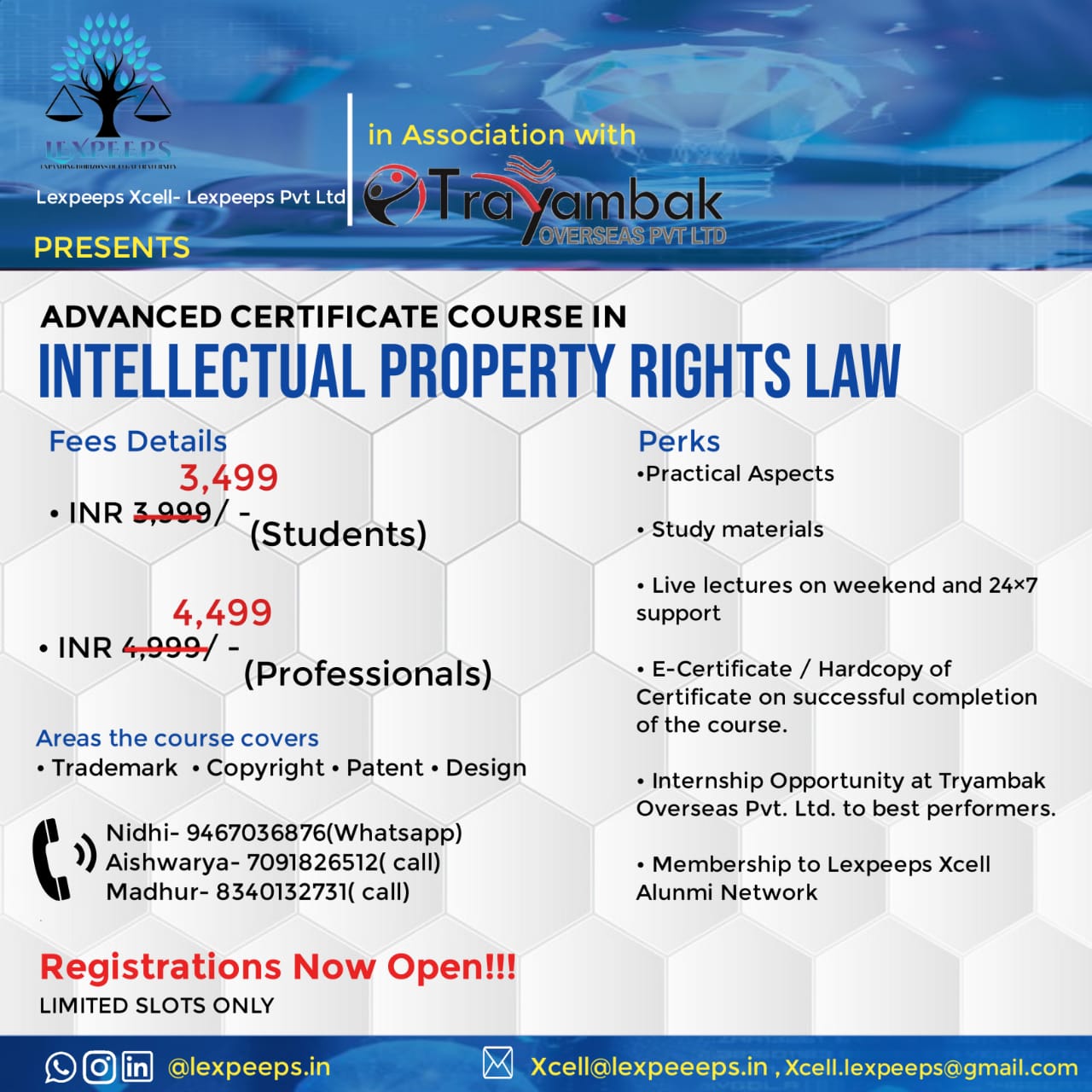 WhatsApp Group:
https://chat.whatsapp.com/GRdQLsHRwmB7QVRmS3WK
Telegram:
LinkedIn:
https://www.linkedin.com/company/lexpeeps-in-lexpeeps-pvt-ltd