About Government New Law College, Indore
The Government New Law College, Indore (M.P.), became an integral part of Holkar Science College in the year 1891. As per the directives of Bar Council of India, Govt. of Madhya Pradesh established a separate law college on 17.07.2003. Since then this college came into existence.
This institution has contributed immensely in the field of law and has groomed its students such that they don't only achieve great heights in studies, but also prove them as successful lawyers, teachers and law service providers. In order to provide students with a quality academic environment, the college has developed all the necessary infrastructural facilities. Overall academically sound, this historical college is now developing in a new dimension.
About Indian Institute of Arbitration and Mediation (IIAM)
IIAM is one of the pioneer institutions in India started in 2001, providing institutional ADR services, DPM services, Training programs and Accreditation of ADR professionals. IIAM is one of the founding members of Asia Pacific Centre for Arbitration & Mediation (APCAM) and functions as the APCAM Centres in India. IIAM provides facilities for alternative dispute resolution (ADR), which includes international and domestic commercial arbitration, mediation/ conciliation and negotiation. IIAM ADR Rules help parties to take maximum advantage of its innovative procedures for the resolution of disputes quickly and economically, outside the court.
Course Description
Certificate program in Dispute Resolution Management is an online certificate course provides a comprehensive knowledge of dispute resolution. Alternate Dispute Resolution is the process of settling disputes without litigation. The course will teach the students more about this dispute resolution process and embraces topics like common causes of conflict, how to overcome conflicts and the main components of Alternate Dispute Resolution practices. The course provides guidance to become an effective negotiator and a good mediator. As the course is online, it provides an option to the students to undergo the program at a place convenient to them.
Structure of the Course
Module 1:
Basics on Negotiation & Mediation
Study of conventional types of negotiation and the alternatives for principles negotiation and its stages and method.
Module 2:
Dispute Management ADR Methods
Comparative study of mediation and Conciliation and the methods of mediation. Analysis of systems of mediation and arbitration and various rules and laws.
Eligibility
The course is open to students
enrolled on a regular basis in 3rd year or above of 3 year and 4th year; or
above of 5 year undergraduate LL.B. Degree Course, LL.M; or
its equivalent conducted by any recognized institute.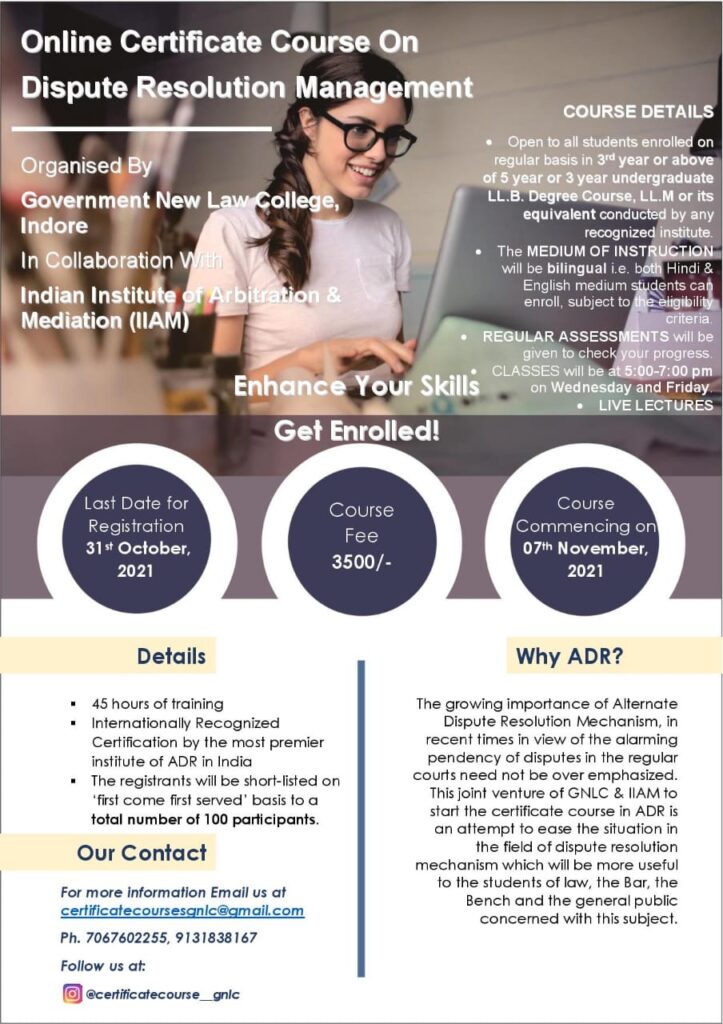 Mode of Delivery
The course will be delivered through an online platform i.e. Google Meet.
Registration Process
· Interested Students shall register by filling the registration form available at-
https://docs.google.com/forms/d/e/1FAIpQLSfOf3IWToOgMGLYWo-FgHntRH8Nx2bhDKtuK3fullnvNz8s0A/viewform?usp=sf_link
The registrants will be short-listed on a 'First Come First Served Besis' to a total number of 100 participants.
Only those shortlisted students shall be informed via email by the organisers.
Certification
A certificate of completion shall be provided to all the participants subject to the performance in the assignment at the end of the course.
Instructor
Meet our Instructor
Ms. Iram Majid
She is director of Indian Institute of Arbitration and Mediation (IIAM). She is Executive Director of Asia Pacific centre for Arbitration and Mediation. Iram had completed her LLM from KUK University. She has undergone training for Arbitration from Chartered Institute of Arbitration UK and Indian Institute of Arbitration and Mediation and regarding mediation many reputable institutions, including the Harvard Law School for Advance Mediation Programme on Negotiation in Harvard Law School widely considered the best legal education institution in the world, and Pepperdine University, California.
Experience of 16+ years in handling wide range of criminal, matrimonial, civil, commercial, banking and finance matters cases inside the court as Advocate and outside the court as Mediator.
Course Details
Duration: 45 Hours
Course fee: Rs. 3500
Payment Details
Account Holder: SthaniyaPrabandhSamiti Govt. New Law College
Account number: 35414540119
IFSC code: SBIN0030467
Bank Name: State Bank of India
Branch Name: Holkar Science College, Indore
Contact Details
If you have any questions, you can drop an email at certificatecoursesgnlc
This is a Featured Post Team Lexpeeps has tried to verify all the details, despite of our efforts if you face any issues feel free to get in touch with Organisors for support.
Write us to- lepeeps.in@gmail.com for collaborations
For regular updates, join us:
WhatsApp Group:
https://chat.whatsapp.com/GRdQLsHRwmB7QVRmS3WK
Telegram:
LinkedIn:
https://www.linkedin.com/company/lexpeeps-in-lexpeeps-pvt-ltd