About Reva University
REVA University is a private state university located in Bangalore, Karnataka. REVA Group of Educational Institutions was established in 2002, managed by Rukmini Educational Charitable Trust. In 2004 it was taken over by Rukmini Educational Charitable Trust led by Dr. P. Shyama Raju.
About School of Legal Studies
The School of Legal Studies offers graduate and post graduate programmes with an objective of preparing law professionals, with a sound understanding of the foundations of legal knowledge. The school offers B.A., LL. B (Hons.), B.B.A, LL. B (Hons.) of five-year duration and one-year LLM in Business & Corporate Law and Criminal Law.
Objectives of the Conference
To explore the various aspects of cryptocurrency along with-its regulatory framework for its effective governance.
To promote an exchange of tested ideas about Cryptocurrencies, the Bitcoin mania and beyond.
To clarify basic concepts of cryptocurrency and to understand global response to evolving Cryp to economy.
To provide a platform of opportunities for participants to share ideas with renowned leaders, seasoned businessperson and academics, industry titans, and development partners to establish global partnerships for future business, research and project collaborations.
Sub-themes
Papers are invited on the following sub-themes and such related themes which can contribute to the objective of the conference:
Cryptocurrency Regulation in India and other Countries.
Cryptocurrency as a Legal Tender and its Implications.
Impact of cryptocurrency on the world economy.
Cryptocurrency vs cyber-law
Cryptocurrency and Emerging Technologies
Digital Divide
Entrepreneur and Entrepreneurism
Block Chain Technology: Paradigm Shift in the Business Model
The Bitcoin mania and beyond
Cryptocurrency and Smart Contract
Eligible Participants
The National Conference is open to:
Academicians
Researchers
Students
Cyber Professionals
Cyber Stakeholders
Cyber Forensic Experts
Advocates
Banking Professional
IT Professionals
Submission Guidelines
Abstract
The abstract shall not exceed 300 words, and must be accompanied by a cover page, stating the following:
Title of the Paper and Sub – Theme
Name of the Author(s)
Name of the Institution
E-mail Address and Contact number
Postal Address
Paper
The paper must be accompanied with the following details: A cover letter mentioning the Name of the Author(s), Course, Year of Study (if applicable), Name of the College/University (if applicable), Professional Position (if applicable), with Postal Address, Email Address and Contact Number.
The abstract and the full papers to be sent at nationalconference_2022@reva.edu.in.
Rewards
The top 2 presenters will receive a certificate of appreciation.
Registration Fee
For Students/ Research Scholars: Rs.500/-for single authorship and Rs.800/- for co-authorship
Academicians and Professionals: Rs.1000/- for Single authorship and Rs.1400/- for co-authorship.
How to Register?
Interested participants can register for the conference through this link.
Important Dates
Submission of Abstract: 25th March, 2022
Communication of Acceptance of Abstract: 27th March, 2022
Last date of Registration: 30th March, 2022
Submission of Full Paper: 4th April, 2022
Date of the Conference: 21st – 22nd April, 2022
Brochure
Contact details
Disclaimer: All information posted by us on LexPeeps is true to our knowledge. But still, it is suggested that you check and confirm things on your level.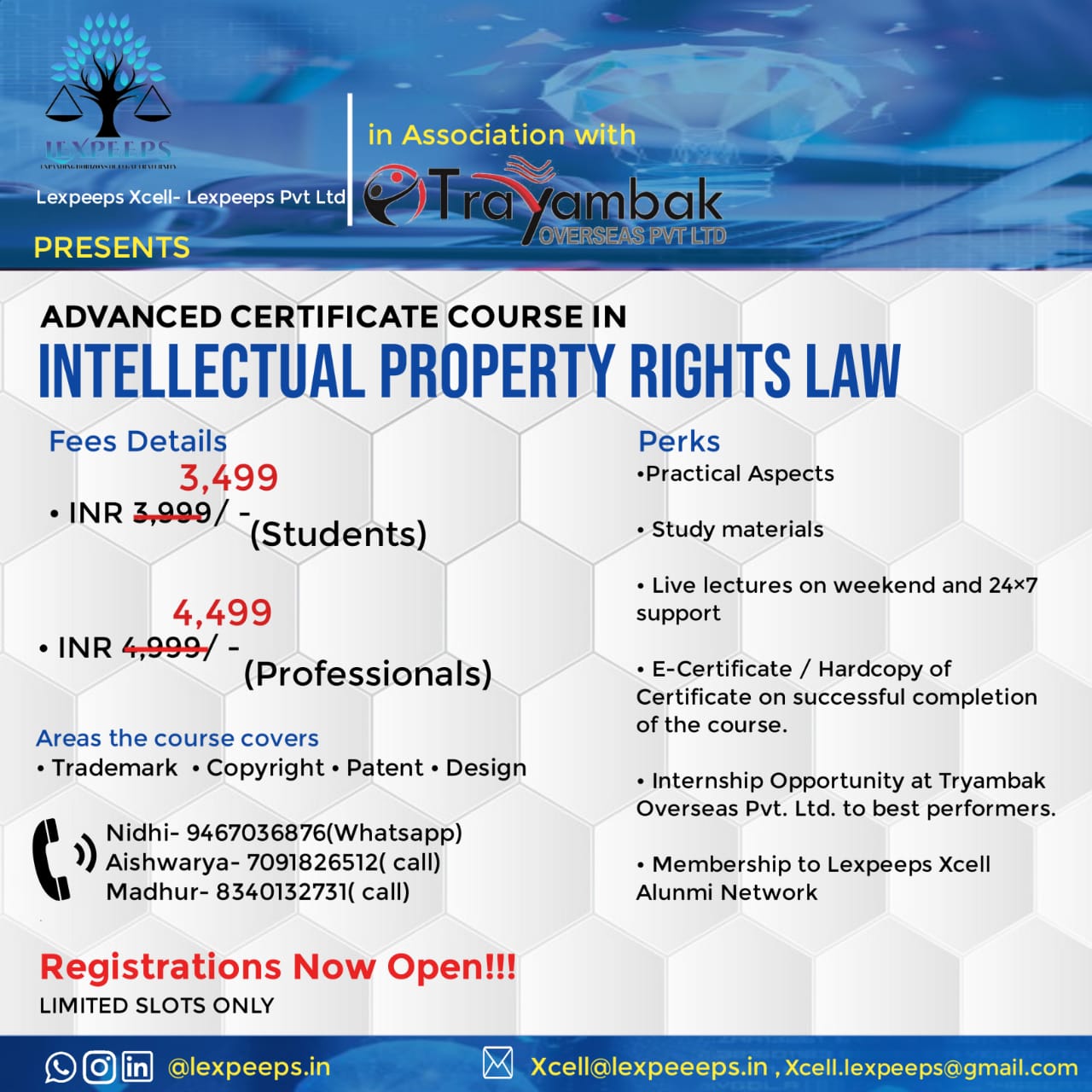 WhatsApp Group:
https://chat.whatsapp.com/GRdQLsHRwmB7QVRmS3WK
Telegram:
LinkedIn:
https://www.linkedin.com/company/lexpeeps-in-lexpeeps-pvt-ltd