About Vaikunta Baliga College of Law
Vaikunta Baliga College of Law, Udupi, a Unit of Dr. T.M.A Pai Foundation which was formerly known as Udupi Law College, was named after former Law Minister, Government of Mysore, Late Sri. B. Vaikunta Baliga, was established in 1957 with an avowed objective of imparting quality legal education in the mofussil area. Ever since it has emerged as one of the premier institutions on the horizon of legal education. Since its inception the institution has made a very fast stride to emerge as a hub of academic and cultural activities.
121@airtel
About the Moot Competition
Vaikunta Baliga College of Law, Udupi is organizing its 6th Advocate. P. Shivaji Shetty Memorial National Moot Court Competition hosted which will be held from April 7th to 9th, 2022.
General Details
Due to Covid Protocols, the Moot Court competition shall be conducted through virtual mode onZoom App from 7th April 2022 to 9th April 2022.
Eligibility and Team Composition
Students who are pursuing 3year/5year LLB at Law Colleges recognised by the Bar Council of India are eligible to participate in the Competition.
From each College a team consisting of 3 members shall be eligible to participate in the competition.
Rules and Guidelines
The team shall notify the organizers at the time of registration as to who shall be the two Speakers and one Researcher.
The language of all the competitions shall be English.
The enclosed Registration Form should be duly filled in and returned on or before 20th March 2022. The maximum number of entries would be restricted to 24 teams.
There shall be a registration fee of ₹ 3,000/- (Rupees Three Thousand Only) for each team
The teams shall pay the registration fees through GPAY . (Mobile no : 9964069522) or scan the QR Code
Fill the details of payment in the Registration Form with a transaction ID.
Each team shall be provided with a "Team Code" as soon as their registration is confirmed, and the same must be used for all purposes during the Competitions.
Link for Provisional Registration: https://docs.google.com/forms/d/e/1FAIpQLSec-qdCIfzaocS4gXYr2yqG-SIDyVtDcsPbCjhsxP52ObcqMg/viewform
Link for Moot Problem: Click here
Hard copy of the registration form has to be sent to the below mentioned address:
Sri. Raghunath K.S Co-ordinator Assistant Professor
Vaikunta Baliga College of Law Kunjibettu Post
Udupi
Karnataka-576102
Mob No. 9964069522
Important Dates
| | |
| --- | --- |
| Last Date for Registration | March 20, 2022 |
| Last Date for Submitting Soft Copy of Memorial | March 28, 2022 |
| Last Date for Submitting Hard Copy of Memorial | April 3, 2022 |
Awards & Prizes
| | |
| --- | --- |
| 1. Winners | Rs. 25,000 |
| 2. Runners-up | Rs.15,000 |
| 3. Best Memorials | Rs. 5,000 |
| 4. Best Male Advocate | Rs. 5,000 |
| 5. Best Lady Advocate | Rs. 5,000 |
Contact details
Prof. (Dr.) Nirmala Kumari K. Principal
Faculty Co-ordinator:
Shri. Raghunath. K.S Assistant professor
Mob No: 9964069522
Email Id: vbclmootcourt2022@gmail.com
Student Co-ordinators Ms. Shaima
Contact Number: 0748389794
WhatsApp Number: 8105796239
Ms. Prathyusha
Mob Number: 9380715989
WhatsApp Number: 8762748639
Disclaimer: All information posted by us on LexPeeps is true to our knowledge. But still, it is suggested that you check and confirm things on your level.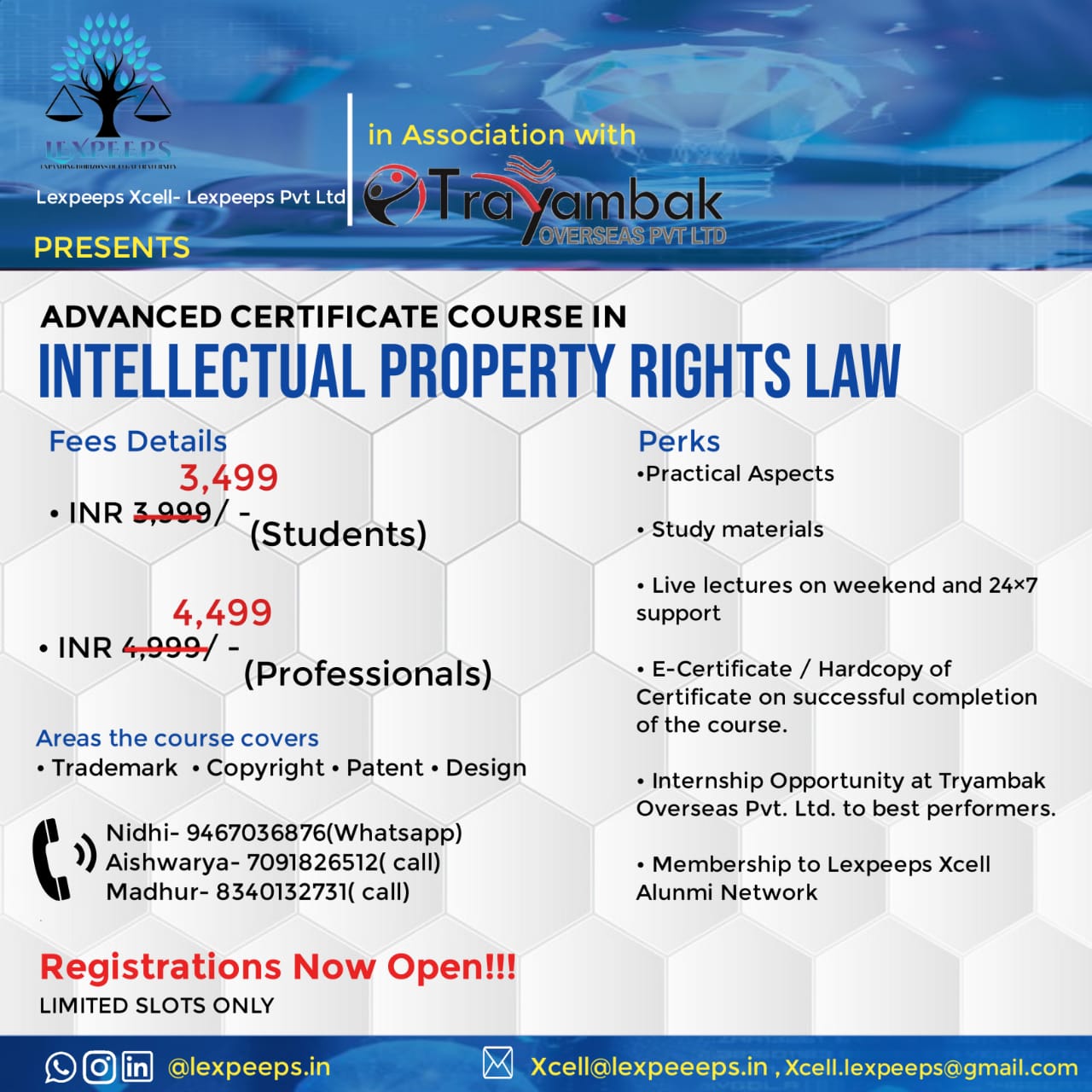 WhatsApp Group:
https://chat.whatsapp.com/GRdQLsHRwmB7QVRmS3WK
Telegram:
LinkedIn:
https://www.linkedin.com/company/lexpeeps-in-lexpeeps-pvt-ltd