"Jidnyasa 2022″ will consist of a narration of Mahabharata in the local language-Marathi and the publication of an edited book on "Mahabharata and Law" in English.
ABOUT
Law is a dynamic concept that has nexus with other disciplines of knowledge. From a contemporary point of view and a holistic approach, it has become significant to understand the concept of law along with other disciplines of knowledge.
Therefore, interdisciplinary-multidisciplinary and cross-disciplinary research has got vital importance in academics. National Education Policy 2020 emphasizes holistic and multidisciplinary education in higher education institutes.
ELIGIBILITY
The event is open to all students, researchers, academicians, and all interested people from all faculties. So, anyone can participate in Jidnyasa 2022 who is keen to know the detailed narration of Mahabharata and also, and one can contribute as an author in an edited book.
SUBMISSION GUIDELINES
Font: Times New Roman
Font Size: 12 (for Footnotes-10)
Word Limit: 3000-5000 words (including footnotes)
Line Spacing: 1.5 (for Footnotes 1.0)
Citation Method: The Bluebook Style of Citation, 20th Edition
Language: English only
Authorship may be extended maximum up to two authors
In accordance with the double-blind process of review, the name of the author/s and their institutional affiliation must not be mentioned or indicated anywhere in main body of the manuscript.
SUBMISSION PROCESS
The interested researcher should send an abstract of not exceeding 300 words accompanied by a brief profile of the author/s including Name, Designation, Institutional Affiliation, Contact details, and email ID.
Submissions shall be through E-mail only & all correspondences may be addressed to cids@sclc.edu.in
IMPORTANT DATES
Last date for registration: August 30, 2022
Last Date for Submission of Abstract for Contribution in Edited Book: September 24, 2022
REGISTRATION FEE
Participation (for Students): INR 350
Participation (for Research Scholars, Professionals etc.): INR 650
Participation and Contribution as Author (for Students): INR 450
Participation and Contribution as Author (for Research Scholars, Professionals etc.): INR 950
Participation/ Contribution as Author Students of Marathwada Mitra Mandal: INR 250
CONTACT DETAILS
https://www.google.com/url?sa=D&q=https://forms.gle/t1y7Ap5RZgfTSgZE8&ust=1658645820000000&usg=AOvVaw2gqueMQ7gYv557yN3OVR8f&hl=en&source=gmail
Disclaimer: All information posted by us on Lexpeeps is true to our knowledge. But still, it is suggested that you check and confirm things on your level.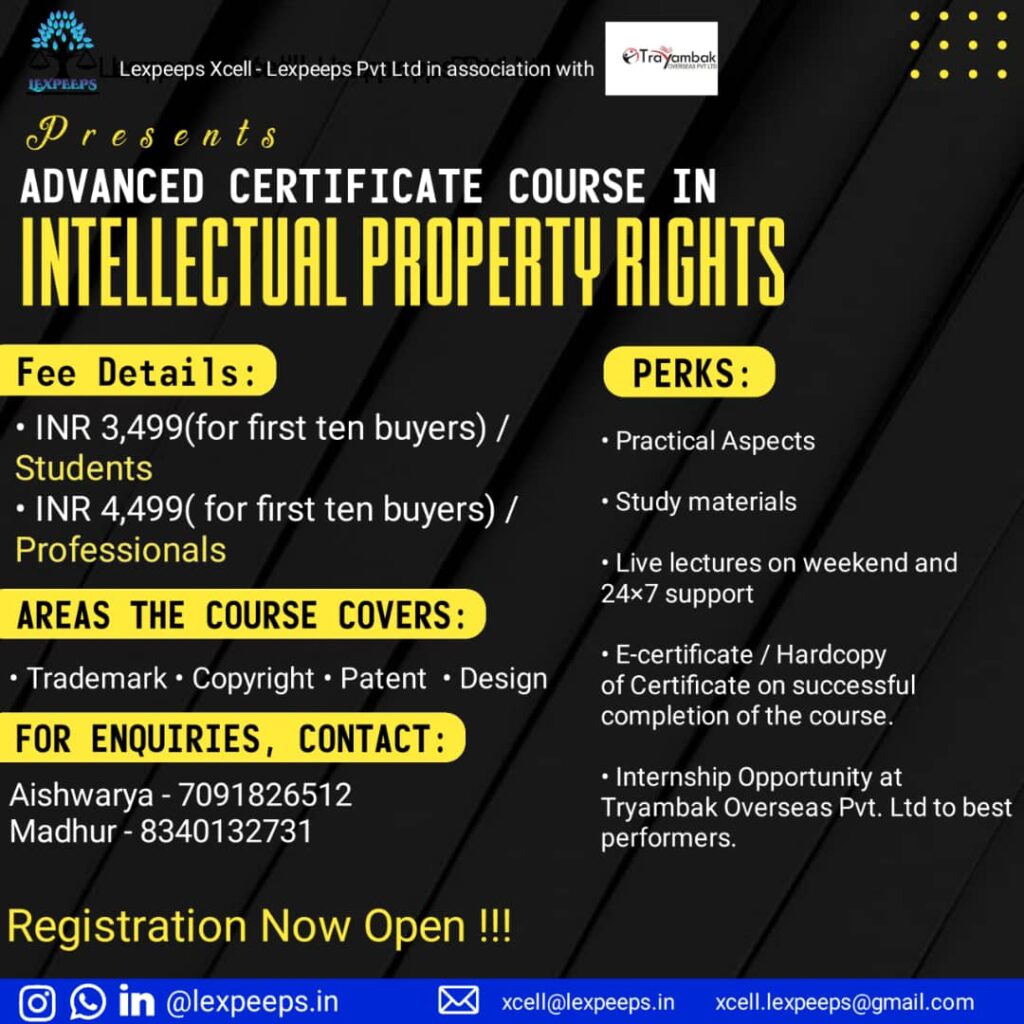 WhatsApp Group:
https://chat.whatsapp.com/G4bxdgRGHY8GRzOPSHrVwL
Telegram:
LinkedIn:
https://www.linkedin.com/company/lexpeeps-in-lexpeeps-pvt-ltd