ICFAI LAW SCHOOL is organizing a Three Day International Conference on Legal Contours of Victimology.
ABOUT
This conference is an attempt to provide a platform for meaningful interaction in the field of victimology, more so with regard to victim rights and victim justice in the administration of the criminal justice system. This conference aims to bring together discussions on various aspects of the subject of victimology. Further, the event is aiming to amalgamate theory and practice in the field of victimology. The objective of these three days international conferences is to assemble different actors and academicians, including scholars conducting research in the said field to give rise to sound deliberations on the subject in the study of victimology in the criminal justice system. We aspire to make it a holistic event with the active participation of all the stakeholders.
THEME
Jurisprudential Facets and Legal Framework
Realities and Visions of Victimology
Gender-Based Victimization
Digital Victimization
SUB-THEMES
● Legal responses to Victimization
● Victimization and Victims' rights
● Victims and Restorative Justice
● Victim participation in Criminal Justice System
● Global Dimensions of Victimology
● Violence and Victims
● Victimization of Vulnerable groups and Indigenous people
● Socio-psycho and legal implications of Victimology
● Positive and Radical Victimization
● Forensic Victimology
● Gender-based Victimization
● Cost and Consequences of Gender-based violence
● Sexual orientation Victimization
SUBMISSION GUIDELINES
Submissions for paper presentations at the conference are to be mailed in the form of an abstract of 300 words and full research papers (Not more than 6000 words) with footnotes in bluebook 20th edition format.
The Abstract has to be sent to email ID: cenexcrime@ifheindia.org.
The research paper is to be typed in font Times New Roman with font size 12 and line spacing 1.5, headings to be typed in font size 14 Bold, and footnotes in font size 10.
The abstract should be 300 words with a minimum of five (5) keywords and must be accompanied by a cover page consisting of the author's/co-author's details.
After acceptance of the abstract, the full paper has to be submitted to the same email ID: cenexcrime@ifheindia.org
Selected papers may be facilitated for publication with a reputed publisher.
REGISTRATION LINK
https://docs.google.com/forms/d/e/1FAIpQLSdc1gJg78Gi8zwOJQaLGvQM0340VJ9gmzZMg2D5uXhEhl-Wng/viewform?usp=sf_link
IMPORTANT DATES
Last date for Abstract submission: 1st July 2022
Intimation of Abstract Acceptance: 15th July 2022
Last date for registration: 1st August 2022
Last date for full paper submission: 1st August 2022
CONTACT DETAILS
Disclaimer: All information posted by us on Lexpeeps is true to our knowledge. But still, it is suggested that you check and confirm things on your level.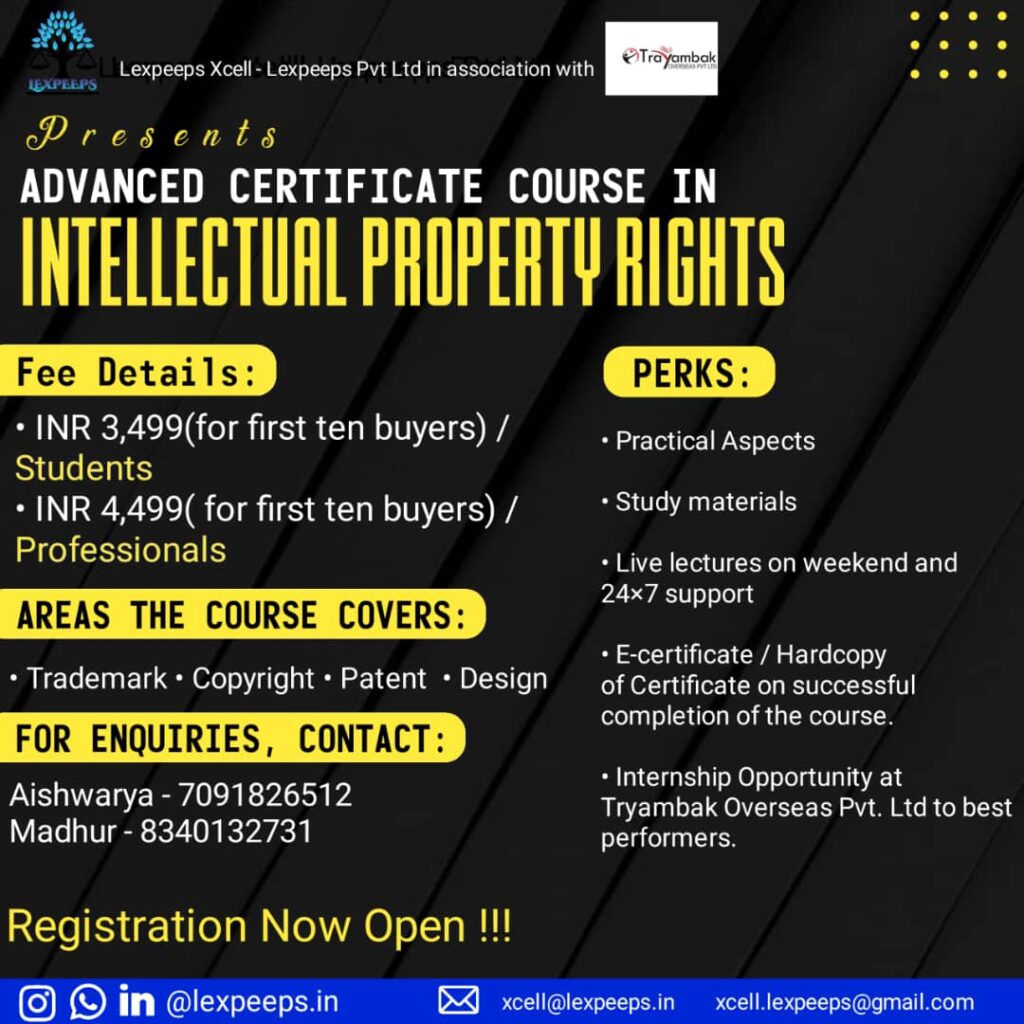 WhatsApp Group:
https://chat.whatsapp.com/G4bxdgRGHY8GRzOPSHrVwL
Telegram:
LinkedIn:
https://www.linkedin.com/company/lexpeeps-in-lexpeeps-pvt-ltd