About NLUO
National Law University Odisha, Cuttack is one of the premier law institutes of India. It is a prolific addition to law institutes across India, with emphasis on teaching and research in law. The qualified faculty along with a batch of assiduous and engaging students has resulted in the university yielding results in research publications, academic proficiency, moot court competitions, and other curricular and co-curricular activities.
About SLL
The Society of Law and Literature, National Law University Odisha, Cuttack was established in the year 2020. The Society seeks to create an atmosphere where literature is to be read and promoted through artwork, theatre, article writing, article/book review, film making, street play and the analysis of the literary aspect of judgments.
The Event
The quiz will be conducted online and seeks to test participants' knowledge of literary classics, poetry, as well as modern cinematic representations such as movies and shows. The questions will revolve around the theme, plots and trivia about such literary works.
Format: There will be three rounds each being an eliminator round, with progressively difficult questions. The first two rounds will take place on 18th and the final round will take place on 19th December
Eligibility: Students from UG, PG Courses from Universities across the country. Only individual participation is allowed.
Platform: Online [1st and 2nd Round- Google Form; 3 rd Round- G meet]. Details regarding the form and how to access the form will be shared with the individual participants before the quiz.
Date: 18th and 19th of December 2021
Registration Link: Click here
Registration fees per person: Rs. 50/-
Method of payment: Google Pay – 8077806022Note with payment
Last date for registration: 15th December, 2021, 12:00 am
General Guidelines
There will be no negative marking. Performance in the Quiz will be evaluated based on "Maximum Correct Answers in the Shortest Time". For example, if many individuals secure 100 marks, they will be ranked on the basis of the time taken to complete the Quiz, as electronically determined.
Link will be sent to registered participants on their respective E-mail Id submitted via Google Form.
To validate participation in the Quiz it is necessary that the participants must attempt the Quiz through the registered E-mail Id only. Any kind of malpractice, such as impersonation, double participation, etc., will render the participation of the individual null and void.
Organizer will not accept any responsibility for entries that are lost, or are late or incomplete or have not been transmitted due to computer error or any other error beyond the organizer's reasonable control.
Organizer reserves the right to amend or withdraw the quiz at any time.
The organizer reserves the final right with respect to the results declared.
Once the registration form with details is submitted, the participant bounds himself/herself by the guidelines aforesaid.
Prizes
First Prize: [1200]
Second Prize: [500]
Third prize: [300]
Additionally, certificates of participation will be awarded to all
Contact Details
Indrasish Majumder: 9330413760
Mukesh Kumar: 8077806022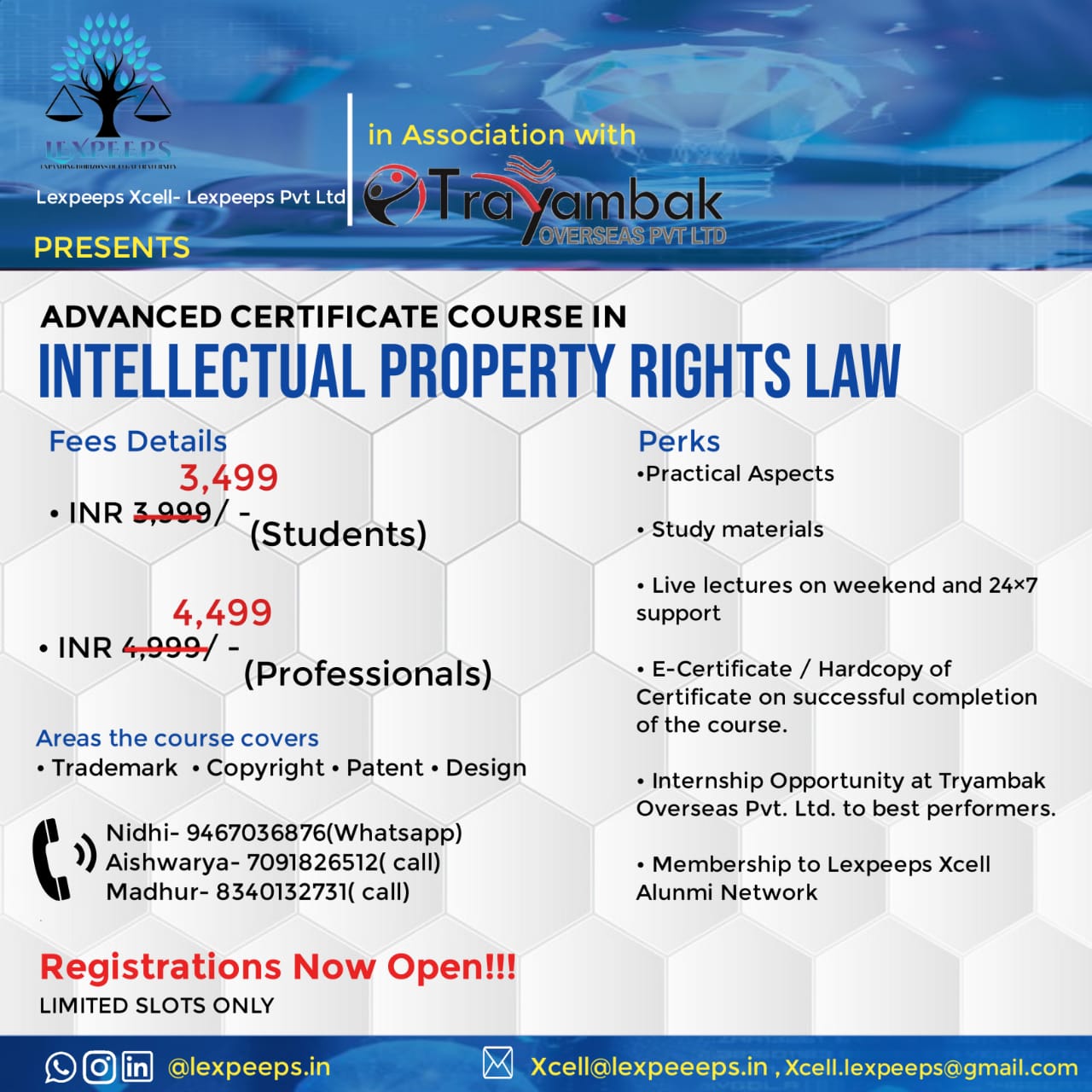 WhatsApp Group:
https://chat.whatsapp.com/GRdQLsHRwmB7QVRmS3WK
Telegram:
LinkedIn:
https://www.linkedin.com/company/lexpeeps-in-lexpeeps-pvt-ltd