About Moot Court Competition
CT University's 1st Prof.(Dr.)Basant K. Sharma Memorial National Moot Court Competition (Virtual) aims at providing a
platform to law students to hone their mooting and articulation skills. During the past 2 years amidst pandemic, approximately every family's dynamics changed, putting lots of long lasting impacts. This Moot Court Competition is designed to enable law students to identify the contemporary legal issues in the family law domain.
This Moot Court Competition is organised in the memory of (Late) Prof. (Dr.) Basant K. Sharma who served as an academician with Department of Laws, Panjab University, Chandigarh for more than 30 years. His zeal for teaching and love for community service can still be found amongst his students and the people he worked with.
Here is the link for moot problem- https://drive.google.com/file/d/1xhI8Ho1CFrc4ptIMPC6jiKqcAWPZgA7B/view
Guidelines for the moot court competition
The 1st Prof. (Dr.)Basant K. Sharma Memorial National Moot Court Competition(Virtual) has been organized by CT
University.
Eligibility Criteria :
The Competition shall be open for 'bona de' students who are pursuing an integrated 5 Years or 3 Years law Program during current academic year in India from an institution recognized by the Bar Council of India.
Only one team is permitted to participate from each participating institution.
Language & Dress code:
The Language shall be English and the dress code shall be formal.
a. Ladies: White Salwar and Kurta or White shirt and black Pant/black skirt along with black coat and black shoes.
b. Gentlemen: White shirt, black trousers, black tie along with black coat and black shoes.
Team Composition:
Each team shall consist of 3 Students (1 as speaker,2nd as speaker and 3rd as researcher).
Each team should identify such speakers and researchers at the time of registration. e researcher is not permied to speak
There shall be no substitution of any team member after a team has submitted its Registration form, except with the permission of the Organizers
Registration
All interested teams shall have to make payment of registration fees amounting to INR 500/- (non-refundable) in the
account given below –
MODE OF PAYMENT
ICICI Bank
Jagraon
Account name- CT University
Account No- 087901003704
IFSC Code – ICIC0000879
*Kindly keep record of the payment done and take a
screenshot as the same is to be aached in registration form.
After payment of registration fees interested teams shall register themselves by diligently ling the registration Google Form by clicking the following link: shorturl.at/emALN
Forms received after the deadline shall not be considered for registration.
The receipt of form shall be acknowledged within 48 hours of submission via mail.
Registration of a team shall be confirmed only after receipt of payment and registration form by the organizers. The confirmation of registration shall be conveyed via email.
Upon validation of registration, each team shall be allotted a team code before the competition. During the competition shall be identified by the team code allotted to them.
Register here-
https://docs.google.com/forms/d/e/1FAIpQLSeHCEEqwYNZhdVN-oXC17OADZHFK0U8SdbazdO5Liy-ffzBXQ/viewform
The official notification-
https://ctuniversity.in/storage/2021/10/Law-Moot-competition-Final-with-QR.pdf
For further details please contact-
Mail: mcc2021@ctuniversity.in
Contact no. : +91 88475-87227, +91 89688-64209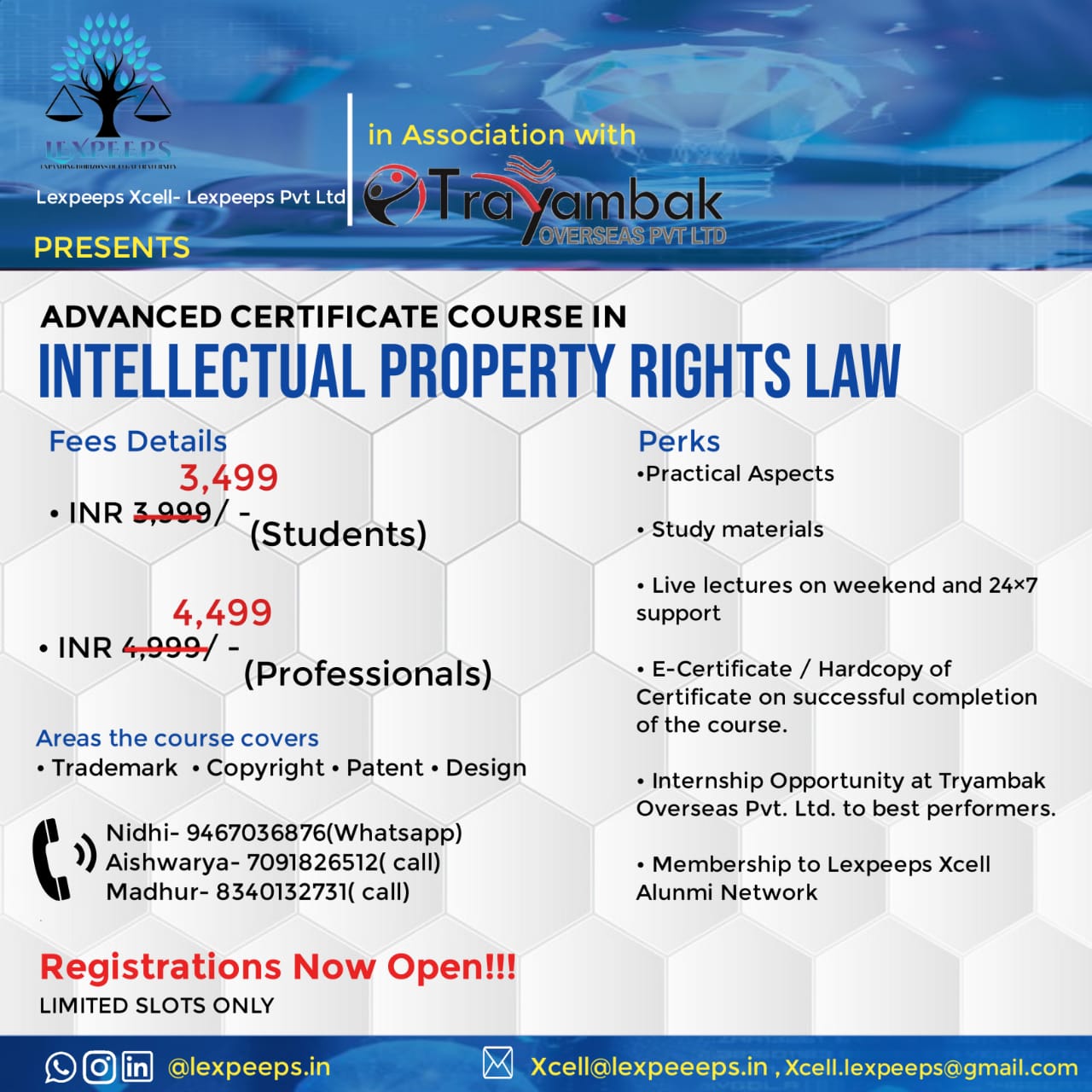 For regular updates, join us:
WhatsApp Group:
https://chat.whatsapp.com/GRdQLsHRwmB7QVRmS3WK
Telegram:
LinkedIn:
https://www.linkedin.com/company/lexpeeps-in-lexpeeps-pvt-ltd