IDIA BIHAR is organizing a PIL COMPETITION.
ABOUT
Increasing Diversity By Increasing Access to Legal Education (IDIA) is a nationwide movement to empower underprivileged and marginalized communities by creating top-quality lawyers from within. Founded by legal academician, late Prof. (Dr.)Shamnad Basheer, it runs on the backbone of more than 600 passionate student volunteers spread across India. IDIA is premised on the notion that access to premier legal education empowers marginalized communities by creating exceptional lawyers and community leaders from within. Underprivileged and marginalized students in India lack equitable access to quality legal education. This can be traced to a lack of awareness about law as a career that can improve their lives; Extremely high fees and expenditure for the 5-year law degree and Lack of financial aid to students from low-income backgrounds. IDIA identifies underprivileged students with an aptitude for law and trains them for law entrance exams over a 1-2 year period. IDIA not only enables access to legal education it also fosters diversity at the leading law schools and enriches the very process of legal education.
SUBMISSION GUIDELINES
Each Participating Team must submit ONE PIL draft.
If a participant/team wishes to submit any annexure to support his/her arguments contained in the PIL (for instance Reports, Commentaries, News Clippings, Pictures, etc.) a compendium of all the relevant annexures must be prepared and should be sent along with the memorial.
All PIL drafts must be sent to the email address: idiabiharevents@gmail.com by 10 July 2022 midnight with the Subject of the email as "PIL Draft, Team Code _"
Any submission made after the deadline will not be considered for evaluation and will result in the cancellation of candidature as well as forfeiture of the contribution made.
Any submission with any name reference to the participant will be disqualified.
Substantial Plagiarism shall amount to disqualification, therefore, the Participants must not submit plagiarized content.
In case the draft of two or more participants/teams is found "substantially similar" to each other, both the participants/ teams shall be disqualified.
It should be noted that at any point in time and in case of any conflict the decision of the committee shall be final & binding.
IMPORTANT DATES
Last Date for Registration – 5th July 2022
Last Date of Submission- 10th July 2022
Oral Rounds – 20th July 2022
THEMES
(These themes are only suggestive – the participants may select any topic that is related to the themes given below)
Environment and Wildlife Protection;
Accessible Education for Persons with Disabilities;
Gender Justice: Contemporary Issues.
The participants are allowed to select a topic other than the abovementioned suggestive themes. In that case, the topic must relate to a contemporary issue.
ELIGIBILITY
The competition shall be open for the students currently pursuing their Bachelor's Degree in law i.e. 3- a year LL.B. course or a 5-year LL.B. course from any recognized university/college in India. There is no restriction on the number of entries from any college or university. Cross teams would be allowed to participate.
TEAM COMPOSITION
"Individual Participation" as well as "Participation in a team of two" is allowed.
Participants from two different universities may also form a team.
The substitution of any Team Member is not allowed after the registration deadline except in extenuating circumstances and only with permission of the Organizer.
Contact Details
Event Convenor – Mukesh Kumar (8083004848)
Event Co-Convenor – Shubh Gautam (8507130175)
https://drive.google.com/file/d/1WIFD1UZjA17tqmp1GdiPjCQbhMXAs7Dw/view
Disclaimer: All information posted by us on Lexpeeps is true to our knowledge. But still, it is suggested that you check and confirm things on your level.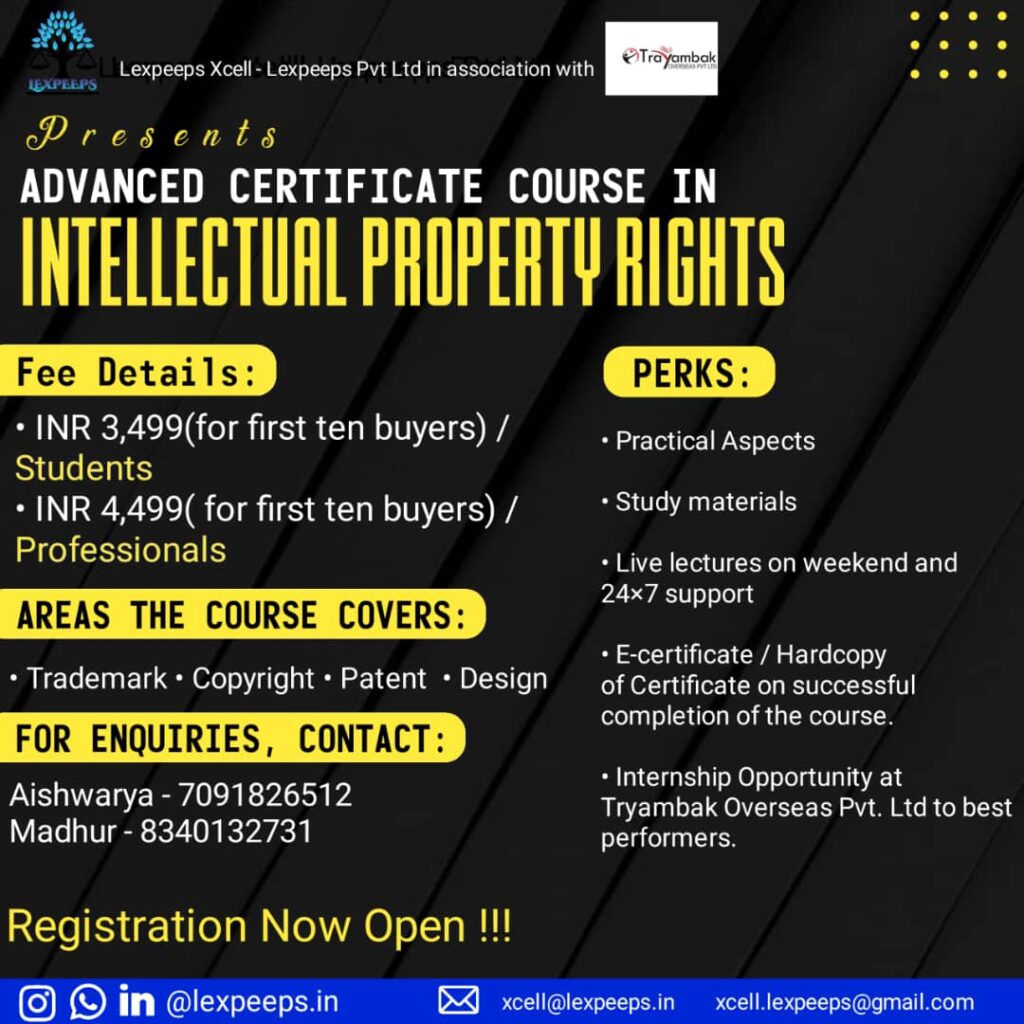 WhatsApp Group:
https://chat.whatsapp.com/G4bxdgRGHY8GRzOPSHrVwL
Telegram:
LinkedIn:
https://www.linkedin.com/company/lexpeeps-in-lexpeeps-pvt-ltd