JECRC UNIVERSITY is organizing a NATIONAL MOOT COURT COMPETITION 2022.
ABOUT
Established with state-of-the-art infrastructure in the Industrial and Institutional hub in the Pink City of India, JECRC University is driven by the spirit of innovation-led research. This spells out both in our infrastructure as well as practices. JECRC is a multifaceted research institute that encompasses subject-specific exploration as well as contexts of the business environment in which our students operate and perform. JECRC is known for its strong research culture, close industry linkages, and corporate connections. JU has been established vide The JECRC University, Jaipur Act, 2012 (Act No.15 of 2012) published in the Gazette of Rajasthan dated May 2, 2012, and the University is approved by UGC. JECRC University has been recently accredited by NAAC (An Autonomous Institution of UGC) and JECRC has become the 21st University to be accredited by NAAC. These achievements have opened the floodgates of opportunities for the students studying in various courses in these institutions.
GENERAL INFORMATION
These are the rules for the III JECRC Uttam Devi Mohanlal Khatuwaala Memorial National Moot Court Competition, 2022.
The III JECRC Uttam Devi Mohanlal Khatuwaala Memorial National Moot Court Competition, 2022 will be held from August 13th to 16th 2022, at JECRC University Campus, Jaipur.
The Organizing Committee (OC) shall function as the point of contact and any changes in the Rules of the Competition shall be notified by e-mail to all participating teams.
The Competition shall be conducted in accordance with the rules mentioned hereunder. Participants are required to comply with the rules and procedures prescribed herein.
The official e-mail for all correspondence concerning the Competition is ju.mootcourt@jecrcu.edu.in
The students must be present in their formal uniform ie, a White shirt, Black trousers, Black Tie, and a Black Coat.
Selection will be on a first come first basis as there will be limited seats.
The language must be English in all the rounds.
ELIGIBILITY
Students of three-year or Five-year integrated law degree courses from any University/Law School/College/Department are eligible to participate in the Competition. However, a maximum of one Team shall be allowed to participate from any one University/Law School/College/Department.
TEAM COMPOSITION
Each Team shall consist only of three members, comprising two speakers and one researcher.
Any alteration of the names of the team members shall be informed through writing mail to ju.mootcourt@jecrcu.edu.in
Once the Competition commences, the team composition cannot be altered under any circumstances whatsoever. The inability of any team member to participate in accordance with the rules of this Competition shall lead to immediate disqualification of the Team from the Competition.
PARTICIPATION AND REGISTRATION PROCEDURE
Yp9k9im22_2aqLMnIaNKwE8Mj0A/viewform?usp=sf_link
The last date of final registration and payment is July 25th, 2022.
FOR MORE QUERIES CONTACT
+91 7895073317
https://drive.google.com/file/d/1snJMDcFqIDgbXSy9BZR7Up1uylpEcSLl/view
https://drive.google.com/file/d/1r-ox0x2wPGR5QvXPCyfvbck-qHrFy90m/view
Disclaimer: All information posted by us on Lexpeeps is true to our knowledge. But still, it is suggested that you check and confirm things on your level.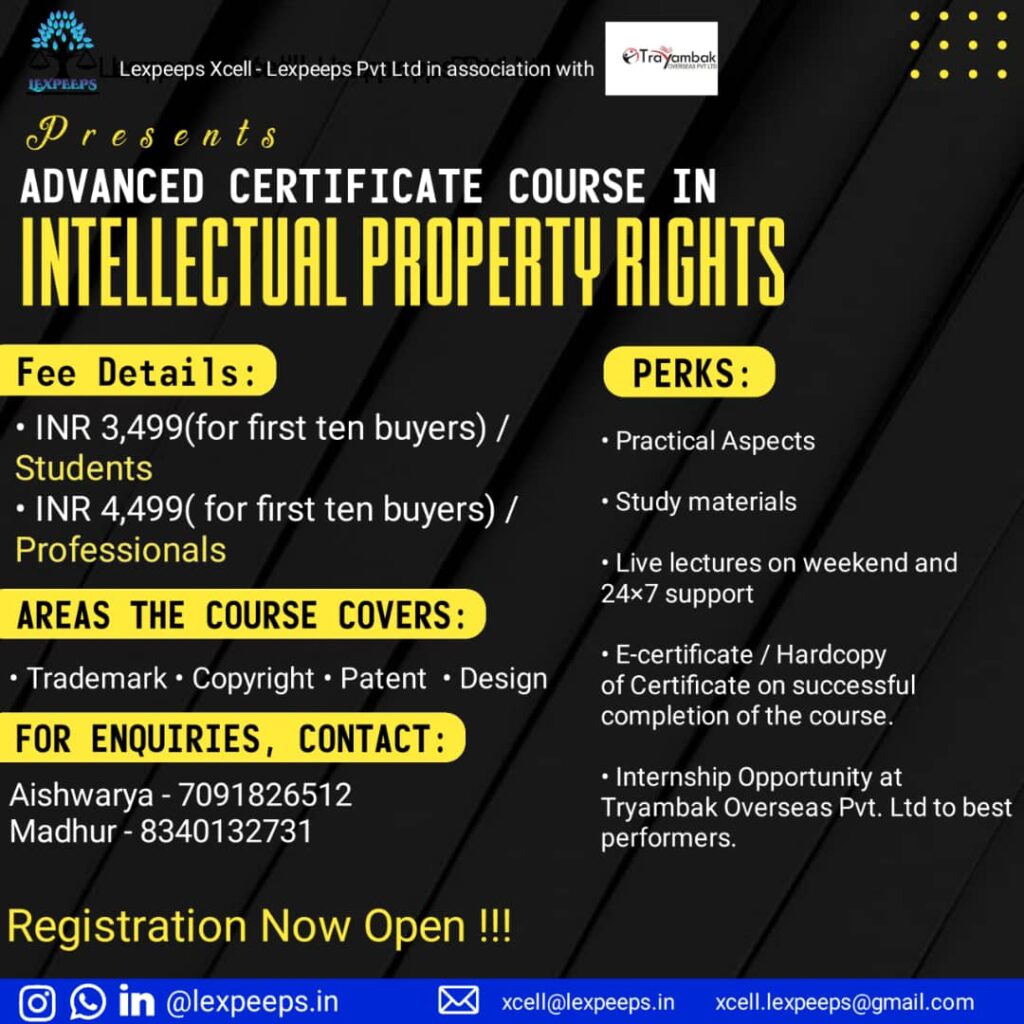 WhatsApp Group:
https://chat.whatsapp.com/G4bxdgRGHY8GRzOPSHrVwL
Telegram:
LinkedIn:
https://www.linkedin.com/company/lexpeeps-in-lexpeeps-pvt-ltd