About the Organizer
The School of Law, VISTAS is approved by the Bar Council of India, New Delhi. Vels Educational Trust was founded by Dr. Ishari K Ganesh a visionary and an eminent educationist, in fond memory of his father Thiru.Isari Velan. The Moot Court is named after Thiru. Isari Velan and the present 2022 Moot Court is the 4th Consecutive National Moot Court Competition hosted by the Moot Society – VISTAS.
About the Moot
Thiru. Isari Velan Memorial National Moot Court Competition (IVMNMCC) is an annual all India moot court competition organized by the School of Law, Vels
Institute of Science, Technology and Advanced Studies (VISTAS), Chennai. The competition is one of the most sought-after mooting events among the Law schools in the city of Chennai. It started in the year 2019 and this year will be its fourth edition.
The past IVMNMC competitions have been graced by eminent Jurists and Judges namely Hon'ble Mr. Justice Kurian Joseph (Retd.), Former Judge, Supreme Court of India, Hon'ble Mr. Justice M.S. Ramesh, Judge, High Court of Madras, Hon'ble Mr. Justice M. Nirmal Kumar, Judge, High Court of Madras, Hon'ble Mr. Justice G.R. Swaminathan, Judge, High Court of Madras, Hon'ble Mr. Justice G.K. Ilanthiraiyan, Judge, High Court of Madras and Hon'ble Mr. Justice D. Bharatha Chakravarthy, Judge, High Court of Madras.
School of Law – VISTAS (Vels Institute of Science, Technology and Advanced Studies) is organizing National Virtual Moot Court Competition 2022, scheduled to be held on February 25 and 26, 2022. The present moot problem is based on Constitutional Law involving power structures and nuances of Electoral Law. The IV Ishari Velan National – Virtual Moot Court Competition seeks to provide students with a platform to develop abstract thinking, logical reasoning and practical problem-solving.
Participation Guidelines
Eligibility Criteria: Students enrolled in Five-Years Integrated Law Degree Programme or Three-Year LL.B Programme at the time of the competition are eligible to participate in the Competition. Each Law College/Law School/Law University shall nominate a maximum of Two Teams to participate from their Institution.
Team Composition: A team shall comprise of Minimum Two or maximum Three Members i.e. Two Speakers and One Researcher. The Teams shall identify the speakers and researcher during registration.
Official Language: The official language of the Competition is English.
Dress Code: The teams are required to maintain dress code as mentioned below.
Boys: White Shirt, Black Trousers, Black Blazer, Black tie, and Black Formal shoes.
Girls: White Shirt, Black Trousers/Salwar (White and Black), Black Blazer, and Black Formal shoes.
Registration Details
The participants as a team are requested to register online from December 09, 2021 onwards. Participating teams must fill the provisional registration form in the google form link: https://forms.gle/GWsT72Zkd862eZ2w8
The registration fees of Rs. 1000/- is to be paid online. The UTR/Ref. Number of screenshot of payment must be uploaded in final registration form for completing the process of registration.
While transacting the registration fee, ensure that you enter as MOOT COURT COMPETITION in the Comment/Remarks column in the bank payment app.
Registration Fee Payment Details
Account Name: Vels Institute of Science, Technology and Advanced Studies (VISTAS).
Bank: Axis Bank, Madipakkam Branch, Chennai
Account Number: 911010014364240
IFSC Code: UTIB0000083
Branch Code: 083
MICR: 600211007
Important Dates
Commencement of Provisional Online Registration: December 09, 2021
Last date for Provisional Online Registration: February 10, 2022
Last Date for Submission of soft copy of memorials: February 15, 2022
Orientation, Prelims & Quarters: February 25, 2022
Semi-finals, Finals, Valedictory & Prize distribution: February 26, 2022
Awards and Certificates
Winning Team: Rs. 25,000/-
Runners Up: Rs. 15,000/-
Best Speaker: Rs. 5,000/-
Best Memorial: Rs. 9,000/-
Contact Details
Mail to: ivmmcc@velsuniv.ac.in
Disclaimer: All information posted by us on LexPeeps is true to our knowledge. But still it is suggested that you check and confirm things on your level.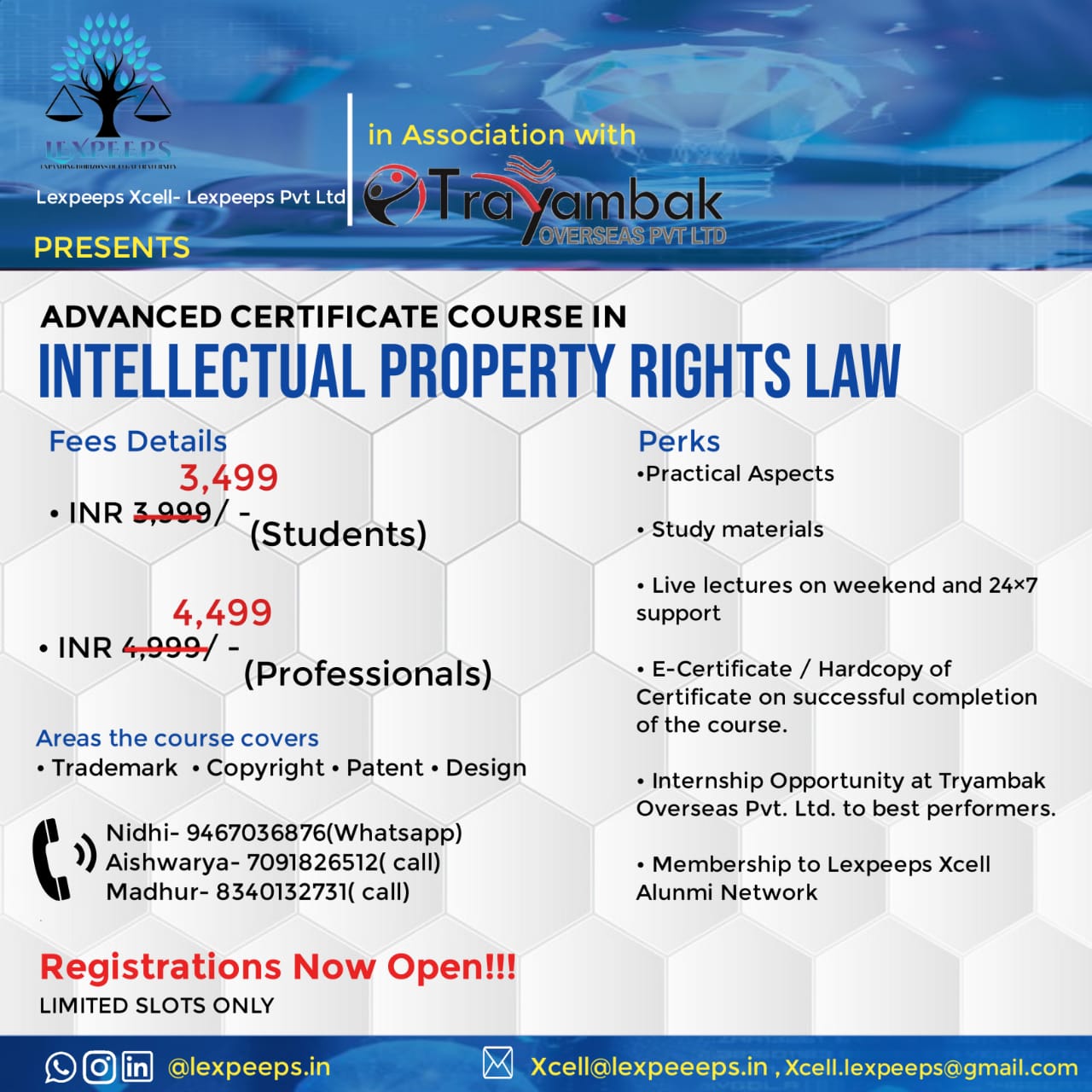 WhatsApp Group:
https://chat.whatsapp.com/GRdQLsHRwmB7QVRmS3WK
Telegram:
LinkedIn:
https://www.linkedin.com/company/lexpeeps-in-lexpeeps-pvt-ltd