About UPES
Established in the year 2007, UPES has emerged as a premier institution and is the first Indian University specializing in Energy Laws. The School of Law, under the aegis of UPES, is a unique, domain-specific institution with specialization in courses like Energy Law, Corporate Law, Taxation Law, Cyber Law, Criminal law, Labour law and IPR, among others.
The mooting culture in UPES School of Law flourishes with National and International competitions that the university hosts, with a vast array of seminars, webinars, workshops and sessions by experts happening regularly, for both inter and intra university facilitation.
UPES School of Law has been successfully organizing Surana & Surana and UPES School of Law National 'Insolvency Law' Moot Court Competition for the past three years. The competition aims at creating opportunities for learning and testing one's skill in the field of insolvency law.
About the Moot 
Surana & Surana and UPES School of Law National Insolvency Law Moot Court Competition has been conceived with the aim of creating opportunities and platform for discussion of developing jurisprudence on emerging trends in Insolvency Law besides developing cutting-edge skills in research, writing, and advocacy.
Since its inception, the competition has grown by leaps and bounds with excellent participation from all over the country. The university has been a host with utmost zeal and drive for all of the past editions, and plans to continue the tradition with the same affection for knowledge this year too.
In the light of the pandemic, the 4th edition will be held virtually this year, but that isn't going to stop us from making it a memorable one. The platform for the competition is via virtual conference.
Eligibility, Team Size and Other Information  
The competition is open for students who are pursuing LLB three year/five- year course during the current academic year.
Each team should consist of 3 members. This number cannot be modified under any circumstances.
There shall be 2 speakers and 1 researcher designated for each team. The researcher shall be allowed to argue with prior permission of the court and National Administrator in case of illness of the designated speakers.
Teams should not disclose the identity of their institution; such disclosure shall invite penalties including disqualification. The decision for the same shall be at the discretion of the National Administrator.
E-mail ID: mootcourt@ddn.upes.ac.in  
Registration Details
Online registrations are open from 5th December 2021. The last date for registration is 1st January, 2022 at www.moot.in  
For the purpose of an efficient competition, there is a capping of only 30 teams on first-come-first-serve basis who shall participate in this competition. 
Registration fee of Rs. 1500/- shall be charged for this edition. 
The registered participants will receive a team code within 2 days from the last date of registration and confirmation of payment, which will function as their identity for submission of the memorials. 
Awards
Winning Team: Rs. 20,000/-
Runner-up Team: Rs.15,000/-
Best Memorial: Rs. 5,000/-
Second Best Memoria:l Rs. 2,500/-
Best Student Advocate: Rs. 5,000/-
Second Best Student Advocate: Rs. 2,500/-
In addition to the above awards, certificates will be given to other categories of winners. All participants will be awarded participation certificates. The awards ceremony shall be conducted virtually.
Important Dates 
| | |
| --- | --- |
| Commencement of Online Registration | 5th December 2021 |
| Last date for Online Registration | 1st January 2022 |
| Last date for seeking clarifications of Problem | 10th January 2022 |
| Last Date for Submission of Memorials | 26th January 2022 |
| Inauguration, orientation and Researchers Test | 4th February 2022 |
| Oral Rounds – Preliminary Round, Octa-Finals and Quarter-Finals | 5th February 2022 |
| Oral Rounds – Semi-Finals and Finals | 6th February 2022 |
| Valediction & Prize Distribution | 6th February 2022 |
Contact Details
Mail to: mootcourt@ddn.upes.ac.in
Disclaimer: All information posted by us on LexPeeps is true to our knowledge. But still it is suggested that you check and confirm things on your level.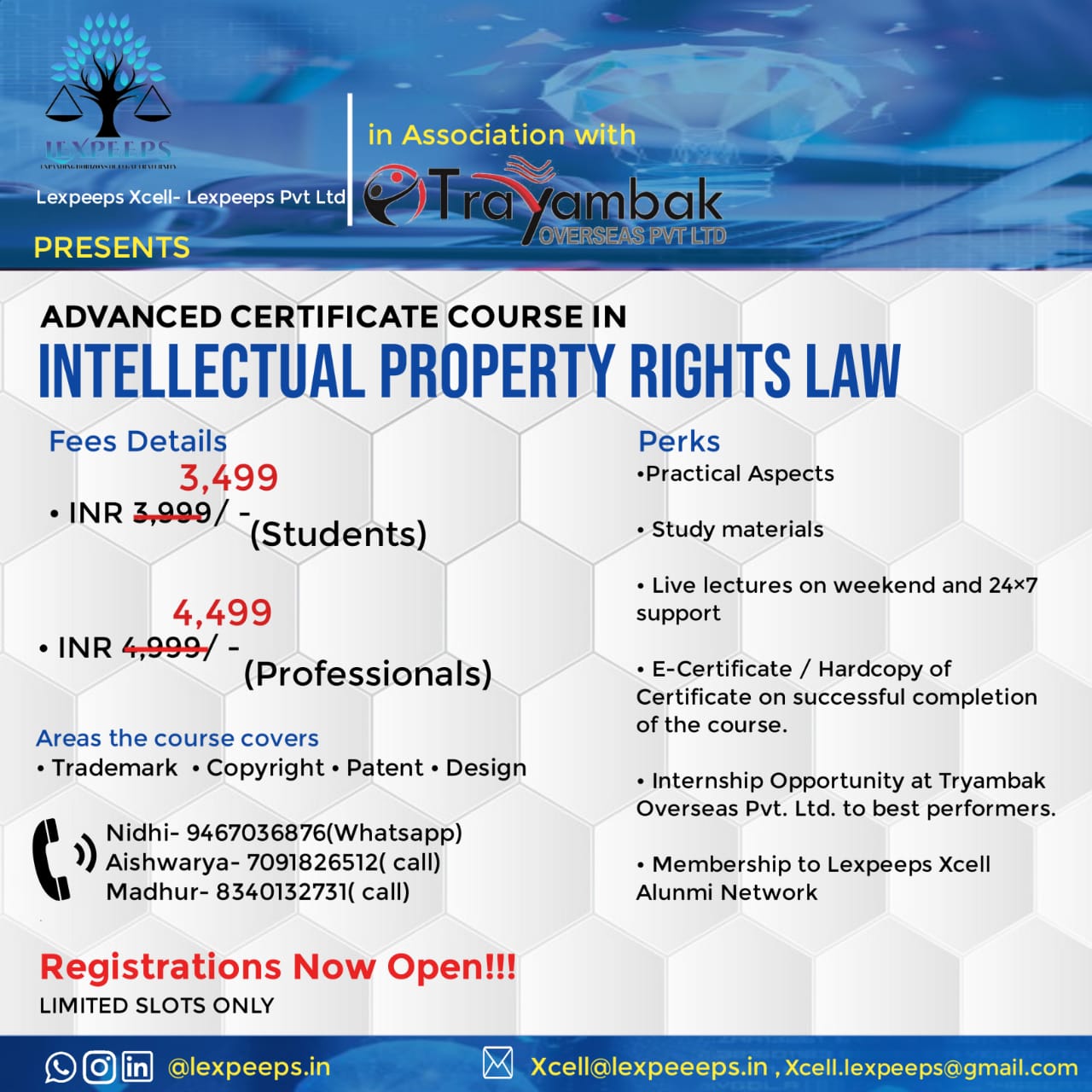 WhatsApp Group:
https://chat.whatsapp.com/GRdQLsHRwmB7QVRmS3WK
Telegram:
LinkedIn:
https://www.linkedin.com/company/lexpeeps-in-lexpeeps-pvt-ltd