About NIMS
NIMS School of Law is a constituent unit of NIMS University Rajasthan, Jaipur. It came into existence in the year 2010-2011.
To provide adequate knowledge and competence in the area of law invaluable for lawyers of future. School's emphasis lies to inculcate skills such as critical thinking, creative and innovative mindset, problem-solving abilities, understanding of cultural and social values.
About the Moot
The All-India Inter-University Moot Court Competition-2022 for Law students sponsored by the Bar Council of India will be held at NIMS School of Law, NIMS University, Jaipur-303121, Rajasthan from 11th to 13th June, 2022 to be organized by the Bar Council of India Trust Pearl First.
Venue
School of Law, NIMS University, Jaipur Rajasthan
Eligibility
The Moot Court Competition is open to all students enrolled in a LLB degree provided by a recognised university in India. A university will be represented by only one team and the team shall comprise of 3 members.
Only Universities are eligible to sponsor teams consisting of three students [two Mooters and one Researcher]. Centres of Legal Education must get in touch with the Universities to which they are affiliated to and get their nominations sent through Registrars of the concerned University.
Any nominations received from the Law colleges directly [instead of through the University] will not be entertained. Only Law students studying LL.B. course are eligible to take part in Moot Court Competition.
How to Register?
Teams should register in the following way:
The participants have to fill their details required in the registration form and the same is to be sent to email: mootcourtbci2022@nimsuniversity.org by (TIME, DATE)2022 from the Official Mail id of the institution.
The hard copy of the registration form is to be sent to the following address:- Dr. B.S. Tomar City, Jaipur-Delhi Highway, (NH-11C), Jaipur – 303121 Rajasthanon or before 30th March 2022.
Teams have to prepare memorials for both the sides , i.e Petitioner and Respondents. The registered teams shall submit the pdf copy of their for the both side for the first problem by e-mail to mootcourtbci2022@nimsuniversity.org and shall send five printed copies (for each side) of such memorials addressed to Dr. B.S. Tomar City, Jaipur-Delhi Highway, (NH-11C), Jaipur – 303121 Rajasthan , Faculty Convenor, School Of Law , NIMS University.
Awards
The Bar Council of India Trust Pearl First will award National Merit Certificates and other Prizes such as Winner University Trophies, Runner Up University Trophies, Best Memorial of Each Round, Best Speaker of Each Round, Gold Medal for Best Male and Female Advocate of Final Round with Trophies & Certificates, etc. Scholarships of Rs. 12,000/- for one year will be provided to the BEST SPEAKER of each round of the competition.
Registration Deadline
March 30, 2022
Brochure
Contact details
Mail at: mootcourtbci2022@nimsuniversity.org
Disclaimer: All information posted by us on LexPeeps is true to our knowledge. But still, it is suggested that you check and confirm things on your level.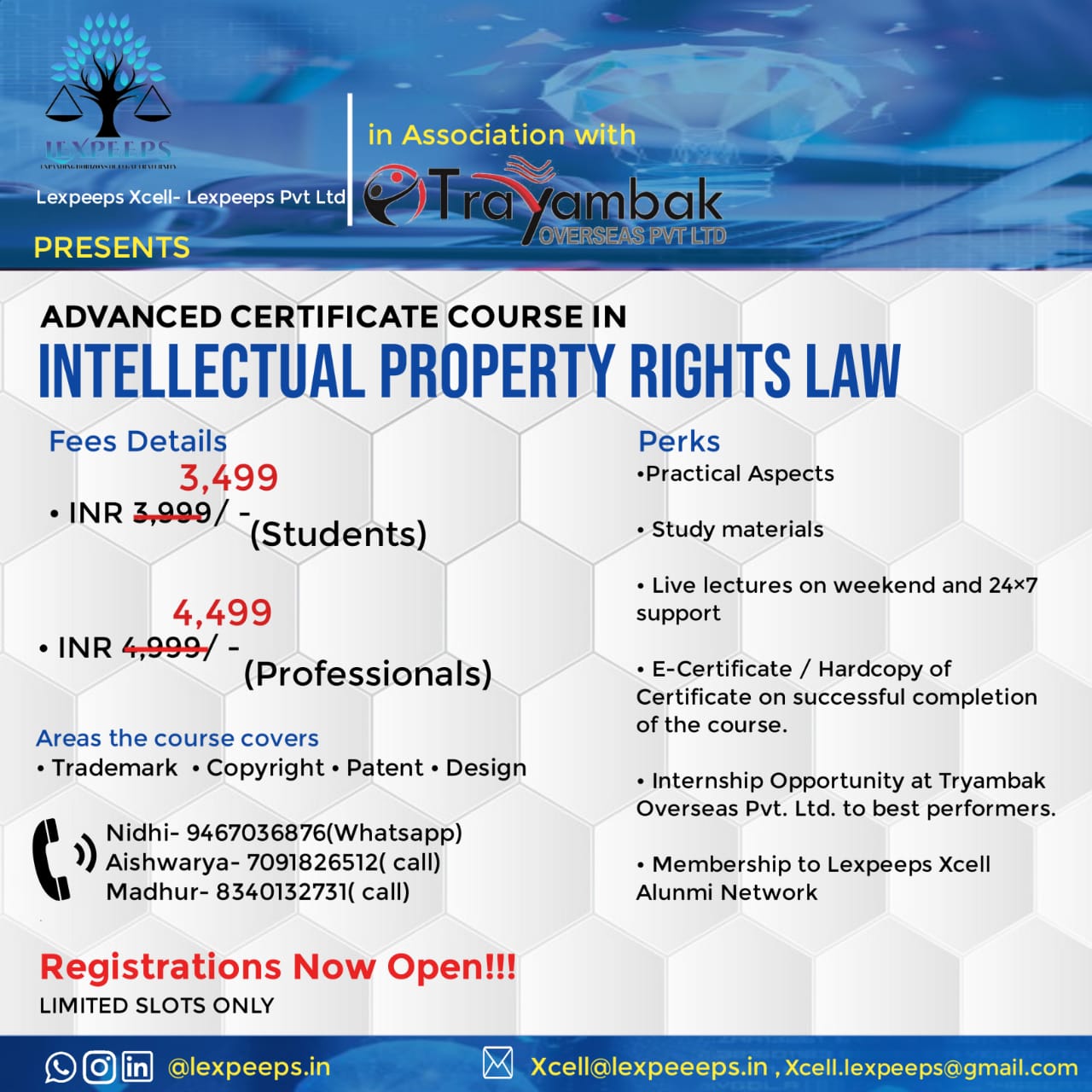 WhatsApp Group:
https://chat.whatsapp.com/GRdQLsHRwmB7QVRmS3WK
Telegram:
LinkedIn:
https://www.linkedin.com/company/lexpeeps-in-lexpeeps-pvt-ltd