About the Organizer
Manikchand Pahade Law College, Aurangabad is the oldest law college in the Marathwada region. On the eve of the states' re-organization prominent Advocates and educationists of Aurangabad took the lead to establish the "Marathwada Legal & General Education Society".
About the Moot Competition
MP Law College, Aurangabad, Maharashtra is organizing its XXII National Moot Court Competition – 2022 to be held virtually (Online) by March 26-27, 2022.
General Rules
Considering COVID-19 pandemic situations, this year also the Competition shall be held online through video-conferencing on the Cisco Webex Platform.
Each team shall comprise of 2 (Two) participants only (Mooter 1 & Mooter 2) and should
not be less or more than 2 participants. (This year no provision for Researcher)
Competition is restricted to bonafide undergraduate regular students of Law School/College/University and must be students of either from LL.B. 3 years or 5 years degree course.
Only one team can register from a particular Law School / College/ University.
The dress code shall be as prescribed for Advocates.
The home team will be eligible for competing in this competition as the moot problems have
been framed by others.
The language of the competition shall be English only.
All the Participating teams shall have to submit soft copies & hard copies of their memorials
of both rounds in due time & non-compliance with it shall disqualify the team.
How to Register?
All Participating teams shall have to complete their registration process through the link, on or before March 10, 2022, along with a duly signed authorization letter certifying your eligibility & participation from your Institution.
Only 25 valid registered teams on a first come first serve basis for the Competition will be allowed & their selection will be officially communicated in due course on the registered email of participants.
Each Team shall have to pay a registration fee of Rs. 1000 online on the following details.
A/c Name: Manikchand Pahade Law College
Bank Name: Central Bank of India, Aurangabad
A/c No: 1289605997
IFSC Code : CBIN0280678
All selected teams shall be allotted a unique team code & every member of the team shall be allotted a unique code which will be individually communicated on the registered email of participants.
Once the code is allotted, every team must use only team code for any further communication with the organizers.
Awards and Prizes
Winner Team cash prize of Rs. 7,000/- from college and Late Adv. Shri. Sudhakarrao Deshmukh Trophy
Runner up Team cash prize of Rs. 5,000/- from college and Late Adv. Shri. Sudhakarrao Deshmukh Trophy
Individual Prizes & Trophies:

Late Adv. Shri L. N. Sirsamkar: Best Petitioner from the final round cash prize of Rs. 2000/- and Trophy
Best Respondent from the final round cash prize of Rs. 2000/- and Trophy from college
Late Adv. Shri. Sudhakarrao Deshmukh Trophy for Best Mooter in both rounds
Ghate Foundation, Aurangabad: Best Mooter Trophy for Preliminary Round
Best Memorial Prize for Final Round
NOTE: Cash prizes shall be paid through RTGS/NEFT and Trophies shall be distributed in the Prize Distribution ceremony to be held shortly as COVID-19 conditions permits. The winner teams/mooters will be invited for the same.
Important Dates
Submission of online registration form: March 5, 2022
Submission of soft copies of memorials: March 10, 2022
Submission of hard copies of memorials along with Compendium, if any: March 15, 2022
Date of Preliminary and Semi Final Round: March 26, 2022
Date of Final Round: March 27, 2022
Brochure
https://docs.google.com/document/d/1UUdcnvAPGcLKbAbDGSgBotvDVFL9ZtzR/edit
Contact details
Student Conveners
Ms.Netal Agrawal: 7755976720
Ms.Tejaswini Mone: 9579785775
Teacher Coordinators
Ms.Pratibha Girbane: 9923484741
Mr. Abhay Jadhav: 9970449376
Mr. Srikishan Morey: 9325228041
Dr. Aparna Kottapalle: 9923412234
Dr. Dinesh Kolte: 9423160612
Disclaimer: All information posted by us on LexPeeps is true to our knowledge. But still, it is suggested that you check and confirm things on your level.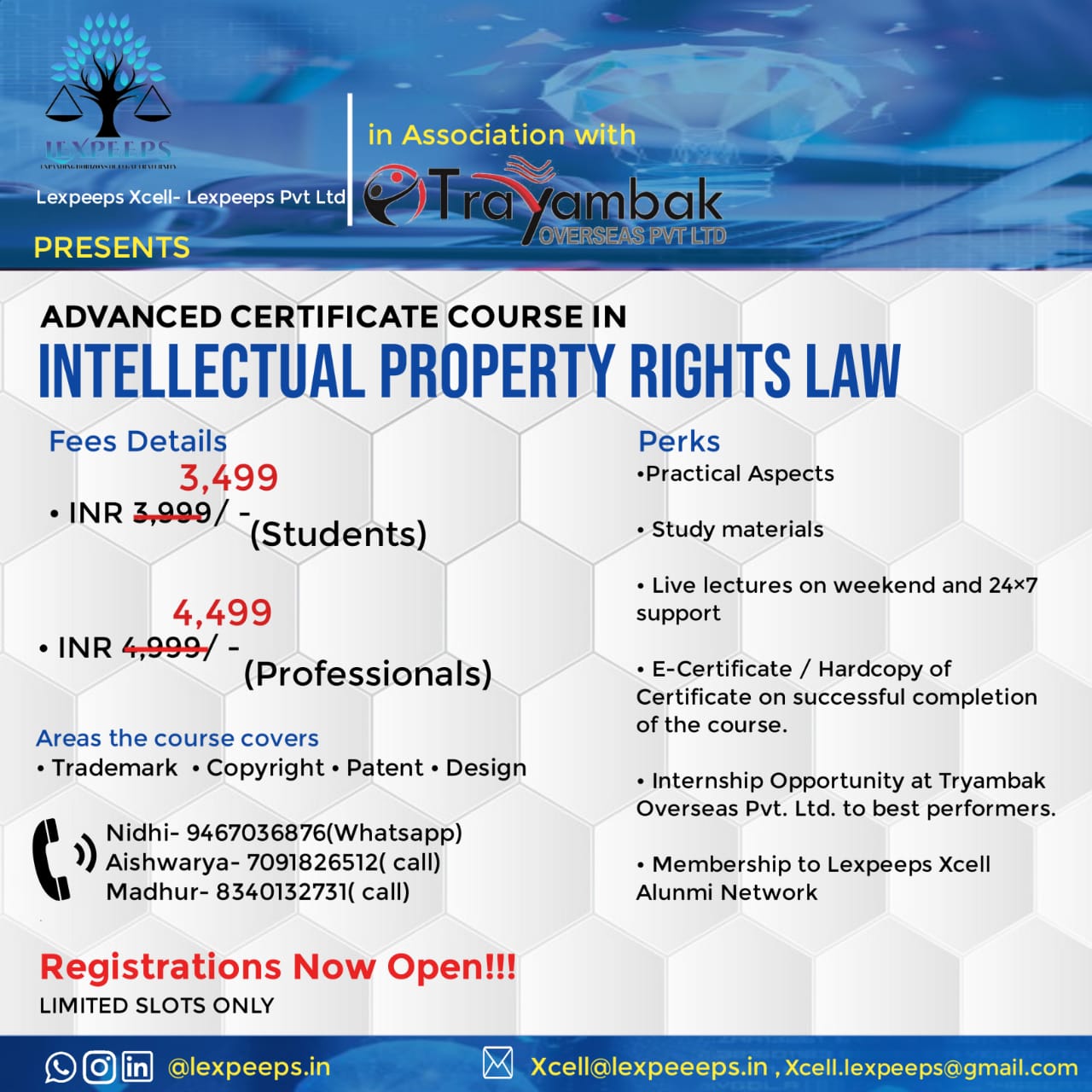 WhatsApp Group:
https://chat.whatsapp.com/GRdQLsHRwmB7QVRmS3WK
Telegram:
LinkedIn:
https://www.linkedin.com/company/lexpeeps-in-lexpeeps-pvt-ltd