About the Organiser
The Department of Laws, Panjab University was originally established at Lahore in 1889, re-established at Shimla in 1948, and finally re-located at the University Campus at Chandigarh in 1959.
Its Alumni include Judges of the Hon'ble Supreme Court and High Courts, Union Cabinet Ministers, State Chief Ministers, Cabinet Ministers and other legal luminaries. The stature of the Department of Laws is as big as its strength and has a great legacy in terms of its research and academic work related to national and international relevance.
About the Moot
The present moot court competition shall be conducted with the objective to provide learning opportunities to the students. The Department believes in imparting value-added education and thus present event shall help students in enhancing their research skills, writing and advocacy. The present moot problem is based on Constitutional Law, Parliamentary Privileges and their exercise by the members of Parliament.
Eligibility Criteria
Students enrolled in a full-time Law Degree Programme i.e. 5-year Integrated Law Degree Programme or 3-year LL. B Programme at the time of the competition are eligible to participate in the Competition.
Registration Procedure
The participants as a team are requested to register online from November 10, 2021 till November 25, 2021 through this link- https://forms.gle/u39Vz8fEt869w98EA
After this initial registration, team codes shall be allotted and communicated on mail provided in the Form by the participants.
Registration Fees: Rs. 500/-
This amount shall be paid later online and a copy of receipt must be sent to mail i.e. departmentoflawspu@gmail.com
Only after payment of registration fees along with memorial submission, participation of teams shall be confirmed and the same shall be communicated to the given mail in the registration form.
Important Dates
Commencement of Online Registration: November 10, 2021
Last date for Online Registration: November 25, 2021
Last date for seeking clarifications: November 25, 2021
Release of final Clarifications: November 28, 2021
Last Date for Submission of soft copy of memorials along-with payment of registration fees: December 05, 2021
Orientation, Prelims & Quarters: December 11, 2021
Semi-finals, Finals, Valedictory & Prize distribution-: December 12, 2021
Payment Details
Payable To: Head Deptt of Law
Account Number: 10444977656
IFSC Code: SBIN0000742
Branch: SBI, Sector 14, Punjab University, Chandigarh
Contact Details
Clarifications to the Moot Proposition shall be sought by sending e-mail to
departmentoflawspu@gmail.com by November 25, 2021.
Clarification requests sent after this date shall not be entertained.
A full list of clarifications shall be released by November 28, 2021.
Rohtash (Research Scholar)
Mb. No.- 9466609037
Shruti Dahiya (Research Scholar)
Mb. No.- 9050255515
Bhawna Kesar (Research Scholar)
Mb. No:- 8054471192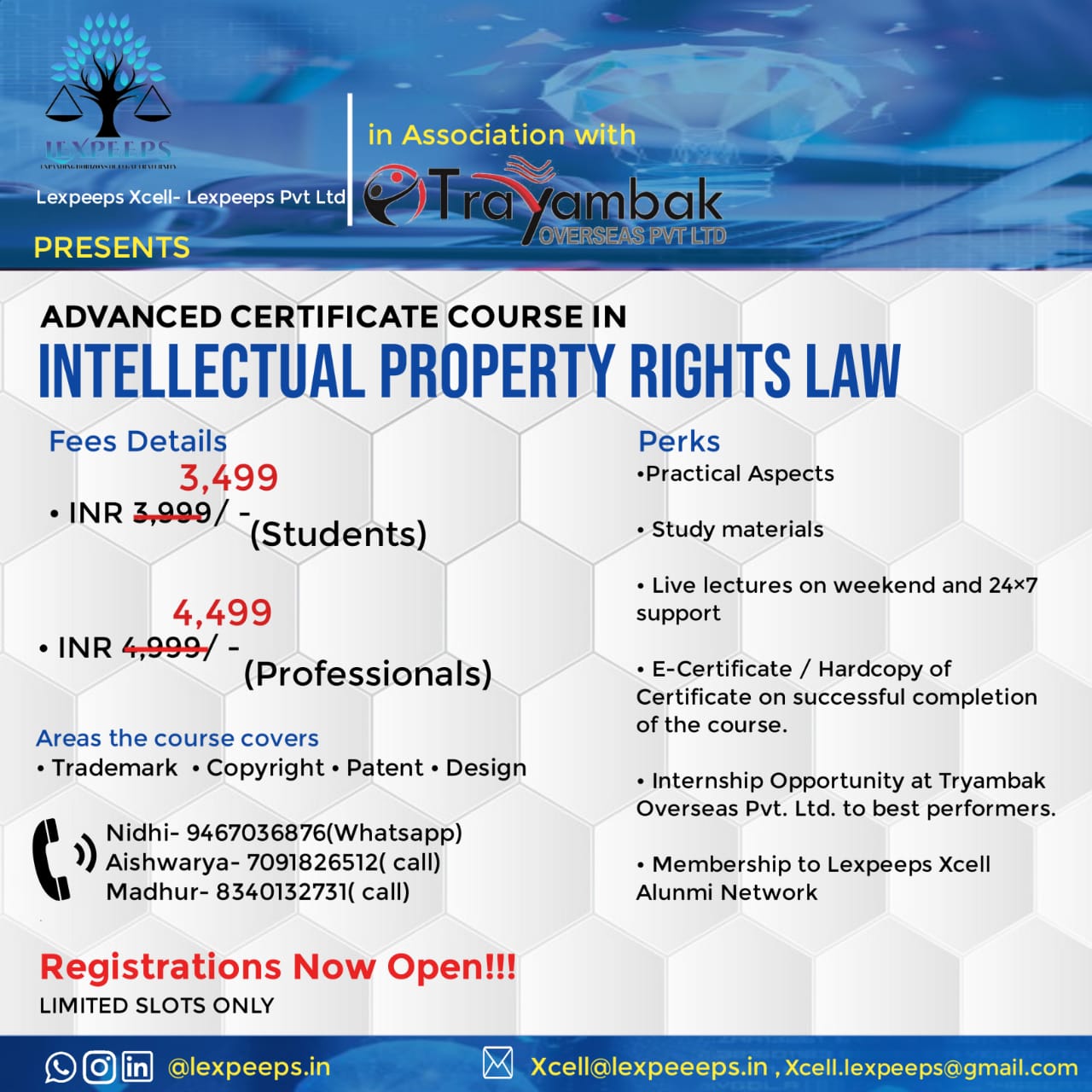 WhatsApp Group:
https://chat.whatsapp.com/GRdQLsHRwmB7QVRmS3WK
Telegram:
LinkedIn:
https://www.linkedin.com/company/lexpeeps-in-lexpeeps-pvt-ltd