About the Organizer
Delhi Metropolitan Education is a premier Educational Institute affiliated to the Guru Gobind Singh Indraprastha University, New Delhi.
About the Competition
The moot court proposition covers areas like Sexual Harassment at Workplace, Human Rights, Constitutional Law, Criminal Law, Corporate Governance and other global concerns. Violence against women remains devastatingly pervasive and starts alarmingly young. Prominent news headlines grab our attention towards sexual harassment at the workplace.
New data from WHO and partners manifests that across their lifetime, 1 in 3 women, around 736 million, are subjected to physical or sexual violence by an intimate partner or sexual violence from a non-partner – a number that has remained largely unchanged over the past decade. As of 2019, there are approx 19.45% working women in India out of the total female population which is estimated around 48% of the total population.
The rate of crime in the workplace against women has been increasing rapidly, not just in our country and also around the globe.
In a society where violence against women is posed just to show the patriarchal value operating in society, these values of men pose the greatest challenge in curbing sexual harassment. No female worker is safe and the sense of security is lacking in them.
Sexual harassment is rooted in cultural practices and is exacerbated by power relations at the workplace. Unless there is enough emphasis on sensitization at the workplace, legal changes are hardly likely to be successful. Workplaces need to frame their own comprehensive policies on how they will deal with sexual harassment. Instead of cobbling together committees at the court's intervention, a system and a route of redress should already be in place.
As a leading institution of this country, DME endeavours to provide budding lawyers with the best possible exposure in terms of practical experience, and they believe that by organising such academic events, they strive to achieve that aim.
This event incites to provide a platform to the students and faculty of law to sharpen their minds and showcase their legal knowledge.
General Details
Date: April 2-3, 2022
Mode: Virtual
Eligibility Criteria
Team Eligibility for Registration: Participation is strictly restricted to bona fide law students pursuing 3-year or 5-year LL.B. and LLM degree courses in any college all over the Globe.
Composition: A maximum of three and minimum of two members are allowed per participating team. In a team consisting of three members, two shall be designated as 'Speakers' and the third member shall be designated as 'Researcher'.
Only one team is permitted to participate from each participating institution.
Registration Details (With payment details)
Registration: All the participating institutions have to confirm participation by sending a duly filled Registration Form (Annexure-II) by email at mootcourt@dme.ac.in
Teams also have to fill the registration form through the link.
Allotment of Team Code: Every team that has successfully completed the Registration requisites under the Rules shall be allotted a unique code after the closure of the Registration for the Competition. Once the Code is allotted, every team must use only the team code for any further communication with the Organizers during the Competition.
Registration Fee
The domestic (India) participating teams are required to pay INR 1,500/-
The overseas (Foreign) participating teams are required to pay INR 2,000/-
Bank Details
Name of the bank: HDFC Bank Ltd.
Branch: Sector 18, Noida
College Name: Delhi Metropolitan Education
Account Type: Saving
Account No.: 50100187447560
IFSC Code: HDFC0001592
Change in Team Composition: Any request for the change in team composition must be intimated to the Organizer at the earliest.
Any change must be accompanied by a freshly filled registration form and an authority letter duly signed by the head of the institution.
Note:
The Registration will only be confirmed after the payment of Registration Fees;
The Registration amount is Non-Refundable.
Important Dates
Last Date of Registration: 15th March 2022
Last date to mail Clarifications: 20th March 2022
Release of Clarifications: 22nd March 2022
Memorial Submission Deadline: 25th March 2022
Last date to submit memorial with Penalty: 26th March 2022
Researcher's Test: 1st April 2022
Preliminary Round: 2nd April, 2022
Quarter Finals Round: 2nd April 2022
Semi Finals Round: 3rd April 2022
Finals Round: 3rd April 2022
Awards
Cash Prizes worth more than ₹ 1 Lakh
Best Team: INR 50,000/-
Runners Up: INR 30,000/-
Best Researcher: INR 5,000/-
Best Speaker (Female): INR 5,000/-
Best Speaker (Male): INR 5,000/-
Best Memorial: INR 5,000/-
Second Best Memorial: INR 3,000/-
Registration link
https://docs.google.com/forms/d/e/1FAIpQLScVdC9HwjcqByBWDyC5t67k6XSywBzvynoS9orQvYr__3E20Q/viewform
Contact Details
Mail at: mootcourt@dme.ac.in
Disclaimer: All information posted by us on LexPeeps is true to our knowledge. But still it is suggested that you check and confirm things on your level.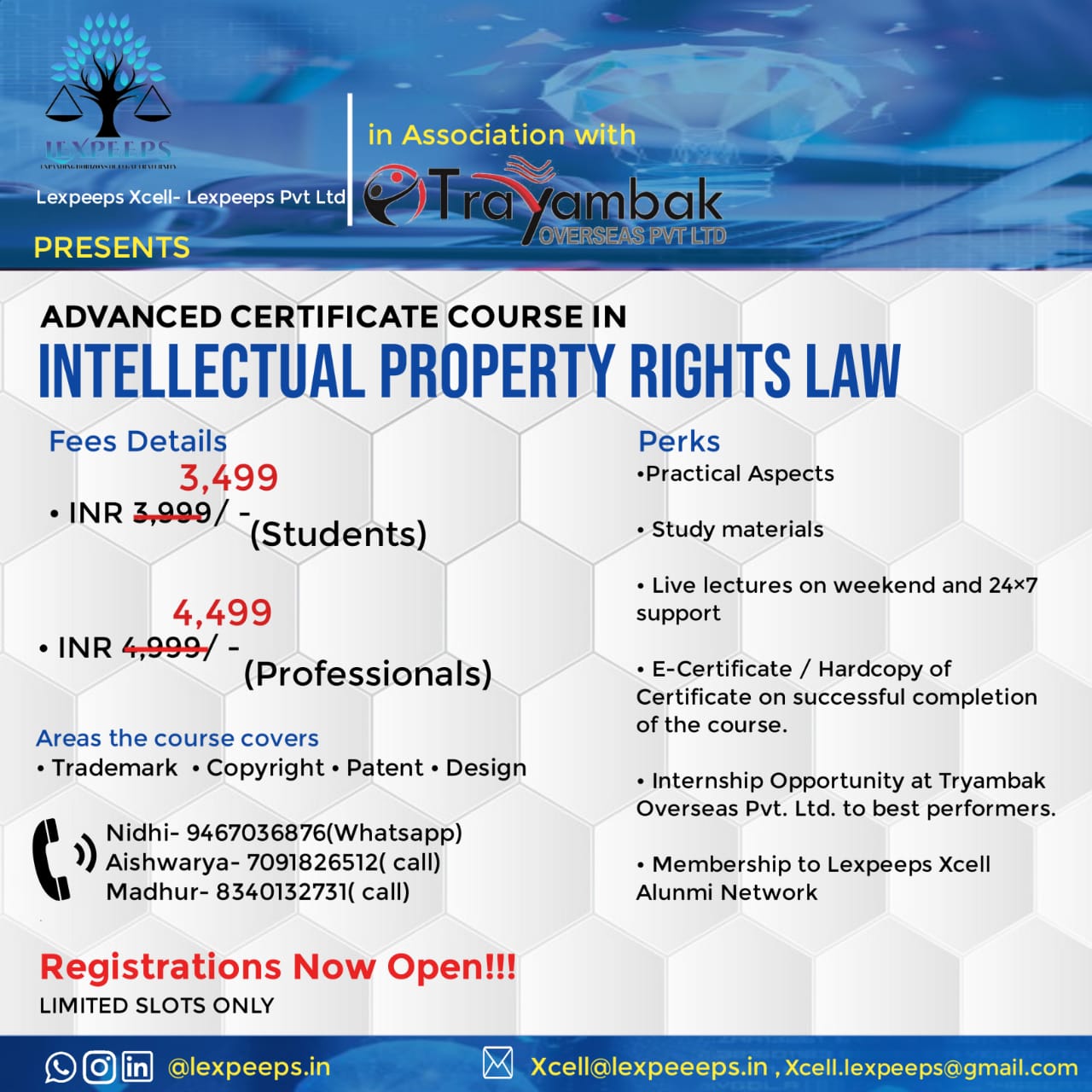 WhatsApp Group:
https://chat.whatsapp.com/GRdQLsHRwmB7QVRmS3WK
Telegram:
LinkedIn:
https://www.linkedin.com/company/lexpeeps-in-lexpeeps-pvt-ltd