About Bennett University
Bennett University has been established by the 'Times Group', India's largest media conglomerate through Act No. 24 of 2016 passed by the Government of Uttar Pradesh.
About the School of Law
Bennett University established the School of Law with a vision to strive for excellence in teaching, research and advocacy towards Justice for all by shaping thought leaders in public policy of National and International dimensions.
About Competition
Law and Technology have often shared a unique relationship. Not only does law seeks to govern various operational aspects in the usage of technology, it has also used technology for the purposes of its implementation. Technological advancements have often posed various challenges to the law which the latter is frequently struggling with. The School of Law, Bennett University is conducting its Fourth National Moot Court Competition from February 11 to 13, 2022 which revolves around this theme of law and technology focusing on the constitutionality of cryptocurrency. The Moot Court Competition aims to dwell upon this infamous relationship between Law and Technology and its implication on the legal system.
Eligibility
Only regular students enrolled in a 5-year integrated undergraduate law programme or 3-year graduate law programme are eligible to register for the competition.
Each team shall consist of two speakers and one researcher.
Registration Procedure
Teams shall register for the competition on or before 23:59 Hours, December 25, 2021 by sending an email with the subject 'Registration for Bennett National Moot Court Competition 2022' to bnmcc@bennett.edu.in after completing the online registration form.
The registration fee for the competition is Rs. 5,000/- (Rupees Five Thousand Only) per team.
The registration fee must be paid through NEFT payment mode and the scanned copy of the transaction receipt of the same must be sent in the registration email mentioned in clause (1) above. The following are the details of the bank account for payment of the registration fee-
| | |
| --- | --- |
| Name of the Bank and Branch | HDFC Bank, Sector Omega I/P2 |
| Account Name | Bennett University |
| Account Number | 50200022532364 |
| IFSC Code | HDFC0002845 |
A scanned copy of the Bona-fide Certificate of the Head of the Institution/Principal/Head of the Department/Dean certifying the team consisting of the three members are bonafide students of the respective institution is to be uploaded through the online registration form.
To register for the moot competition, click here.
Mode for the Competition
The IV Bennett National Moot Court Competition will be conducted in offline mode on the campus of Bennett University. However, the mode of conduct is subject to change into online mode if unavoidable conditions are posed by the Pandemic or if new standard operating procedures are issued by the Government.
Important Dates
Last Date of Registration: December 25, 2021
Last date for Request of Clarifications: December 29, 2021
Release of Clarifications: January 3, 2022
Memorial Submission (Soft Copy): January 12, 2022
Memorial Submission (Hard Copy): January 22, 2022
Results of Memorial Knockout Rounds: January 24, 2022
Dates for the Competition: February 11-13, 2022
Contact Information
Teams can contact the Organizing Committee via email at bnmcc@bennett.edu.in or contact the following student members of the Moot Court Committee: –
Anubhav Lamba: +91-9672020110
Riya Kharab: +91-9821971002
Vijayant Goel: +91-9005955606
Tanvi Chopra: +91-9044897343
Upasana Chopra: +91-8168314517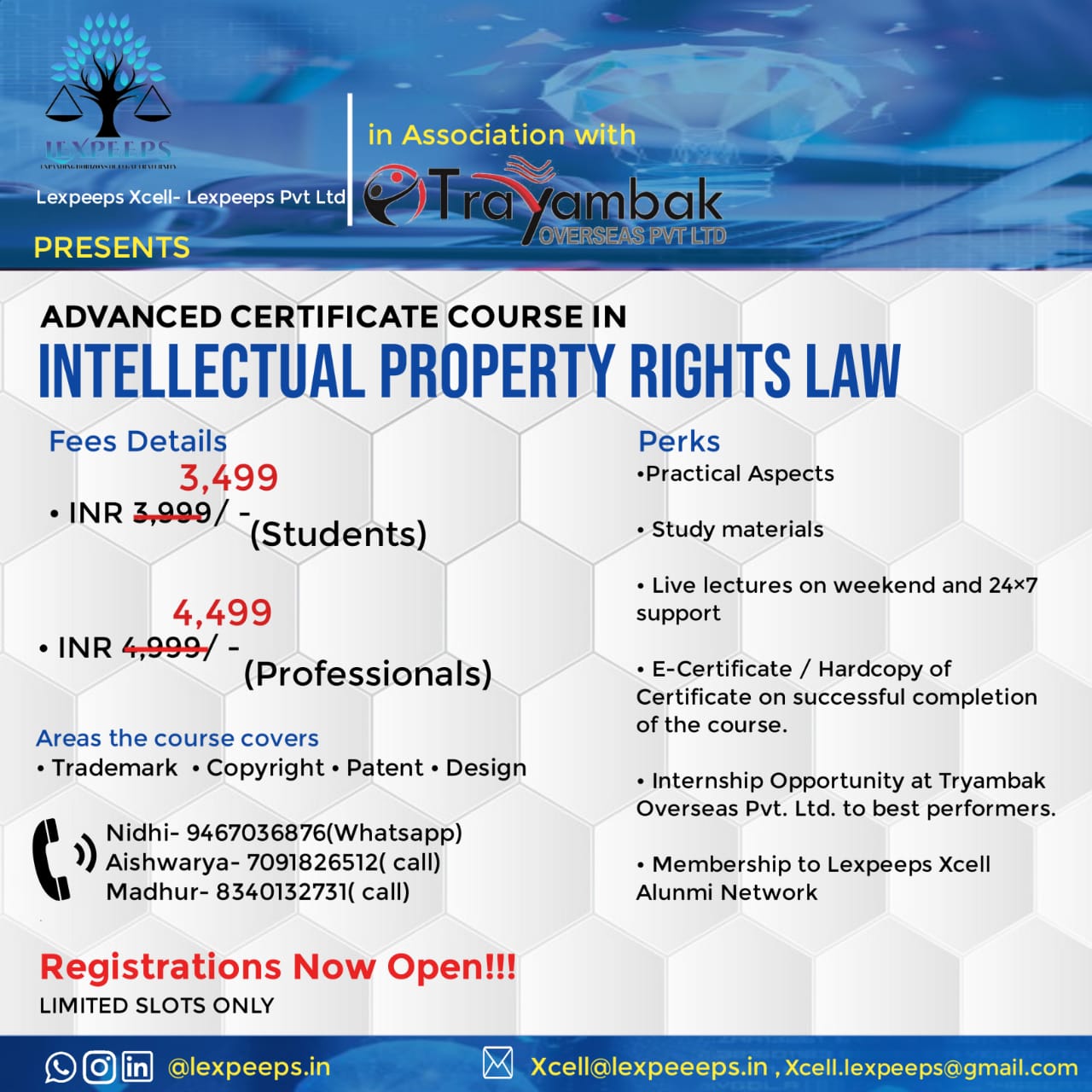 WhatsApp Group:
https://chat.whatsapp.com/GRdQLsHRwmB7QVRmS3WK
Telegram:
LinkedIn:
https://www.linkedin.com/company/lexpeeps-in-lexpeeps-pvt-ltd