About the Organiser
The SVKM's Pravin Gandhi College of Law (PGCL) was established in 2004 and is affiliated with the University of Mumbai. At this institution, we aim at giving students exposure to experiential learning in the varied fields of law and in this regard, we have conducted and hosted various workshops, seminars and competitions.
About the Competition
SVKM's Pravin Gandhi College of Law is hosting its 11th Conficiendis Legislativa National Legislative Drafting Competition, 2022.
The Legislative Drafting Competition ("LDC") is a platform where students pan India get an opportunity to draft a bill and experience the nuances borne by the legislature. Drafting being one of the most crucial aspects holds the cardinal and essence in a lawyer's journey. Thus the LDC promotes and encourages students to enhance their drafting skills.
Students have to draft a legislative bill on the topic – "Regulation on the Usage of Artificial Intelligence".
Eligibility and Team Composition
Participation is restricted to students currently pursuing their law degree.
The team may comprise a maximum number of 2 members.
A maximum of 3 entries are permitted from each institution.
Registration and Payment
All interested teams who wish to register shall send the duly completed Registration Form (see Annexure A in the brochure) to mcs.svkm@gmail.com along with the Transaction details (screenshot of the online payment) of Rs. 2000 as the registration fee.
The Account Details are as follows –
Name of Account: SVKM'S Pravin Gandhi College of Law
Name of the Bank: HDFC Bank (JVPD SCHEME, M-56)
A/C Number: 03210330000171
Type of Account: Current Account
IFSC Code: HDFC0000321
The email should include:
Name of the institute,
Name of the participants, and
Contact details of the participants
The last date for sending the soft copy of the registration form and proof of payment of the registration fee is December 20, 2021, before 23:59 hrs.
Important Dates
Last Date to Provisionally Register: December 10, 2021
Last Date to Register: December 20, 2021 by 23:59 hrs
Last Date to Submit the Legislative Bill: March 1, 2022 by 23:59 hrs
Declaration of Results: March 15, 2022
Perks
The Best Team: Cash Prize of Rs. 10,000/- and Certificates
The Runner Up Team: Cash Prize of Rs. 7,000 and Certificates
The Second Runner Up Team: Cash Prize of Rs. 5,000 and Certificates
For more details
https://drive.google.com/file/d/1VTLv_tHyZoasm1hArpLLETzGERp0Jl0e/view
Contact Details
Dr Geeta Kubsad: +91 98202 54446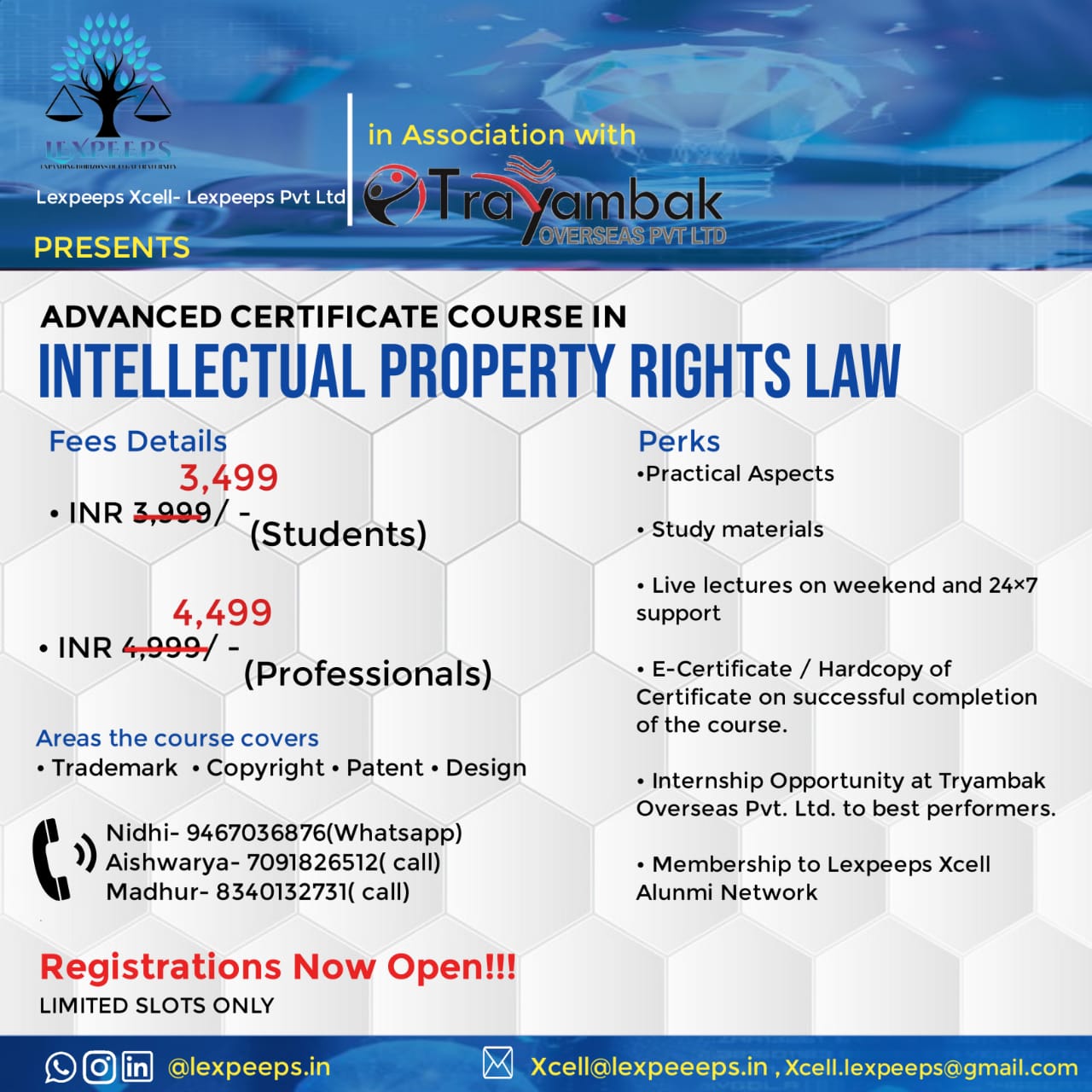 WhatsApp Group:
https://chat.whatsapp.com/GRdQLsHRwmB7QVRmS3WK
Telegram:
LinkedIn:
https://www.linkedin.com/company/lexpeeps-in-lexpeeps-pvt-ltd