Indore Institute of Law is conducting the IX Chapter of The International Law Fest, Lex Bonanza 2020, International Law Fest 2K20, Online via Microsoft Teams Application, from18th to 20th December, 2020. Lex Bonanza is a yearly event that showcases the legal battle between aspiring lawyers across the globe.
About Indore Institute of Law:
Indore Institute of Law established in the year 2003 is a college that's more like a community of like-minded people coming together to share in-depth knowledge of the law. Since our inception, we have a long record of academic excellence and have always offered an innovative learning approach to our students where they have constantly grown towards their success. We work on the principle to offer an imparting education system and endeavor this by offering a high standard of education and excellence. In a short span of me, the institute has created a benchmark of being the only institute in private sector to offer all law courses i.e., B.A.LL.B (Hons.), B.B.A.LL.B (Hons.), LL.B. & LL.M. under one roof. The institute believes in holistic development of students. At Indore Institute of Law, students have an option to choose from a variety of law courses, where they are offered complete law programmes along with practical training and research papers to get an all-round understanding of the law in detail. IIL has created a niche of academic excellence with our students bagging 38 university top out of 40, the students are provided with 5 Diploma Courses in 5 years law course in association with Enhelion India Pvt. Ltd.
About Lex Bonanza:
Indore Institute of Law with full pride and head held high, organized India's 1st National Law Fest Lex Bonanza back in the year 2012 and earned great laurels among the academicians, students and philanthropists. It provided a platform for students to showcase their legal skills and to develop their personalities. This Law Fest helped Indore Institute of Law to occupy the position of prominence in the globalized world. This Law Fest has now become a legacy since the year 2012. The VI edition of Law fest in 2017 added another feather to the cap as it went International. Teams from Nongham, U.K. and Eastern University, Dhaka, Bangladesh participated in this edtiion. Furthermore, the VII Chapter of Lex Bonanza was witnessed in the year 2018 with huge participation of 28 teams inclusive of international teams from the University of Nigeria and Eastern University, Bangladesh. The Law Fest 'Lex Bonanza' me and again has been adorned by several highly reputed Legal luminaries inclusive of two Chief Justices namely, Chief Justice Deepak Mishra and Chief Justice Altamas Kabir. Furthermore, Lex Bonanza 2018 was honored by the presence of reputed legal luminaries, Hon'ble Justice Shantanu Kemkar (Judge – Bombay High Court) and Adv. Joy Basu (Senior Advocate, Supreme Court of India).
Competitions at Lex Bonanza:
• Moot Court Competition
• Parliamentary Debate
• Client Counselling Competition
• Paper Presentation
• Street Play Competition
• Law Quiz
• Judgment Wring Competition
• Extempore Competition
• Debate Competition
Registration details and Proces:
Registration can be done by filing the student registration form by all participating students individually. The google form should be duly filed and the screenshot of the payment should attached.
Google Form:
Team Events – https://docs.google.com/forms/d/e/1FAIpQLSe1m0eBhEg-_0p7HJoLQpUUWmwUlja8vZw3ihmjyCNXNV4NaA/viewform
Individual Events – https://docs.google.com/forms/d/e/1FAIpQLSdyl5DM04QoosYhJvYt5rRjHCu7i-tNPEbAGKlur4-6n-S4OA/viewform
Visit the official brochure for the Registration Details:
Official Invitation:
Visit: http://www.indoreinstituteoflaw.org/lex-bonanza2k20.php
Contact Information:
FACULTY CO-ORDINATOR:
Asst. Prof Jaidev Mahendra 8349175326
STUDENT CONVENERS:
Arnav Ksihtij 7017646424
Mansi Jain 9826027402
REGISTRATION CO-ORDINATORS
Arpit Jain 9694419101
Shagun Mishra 7999643754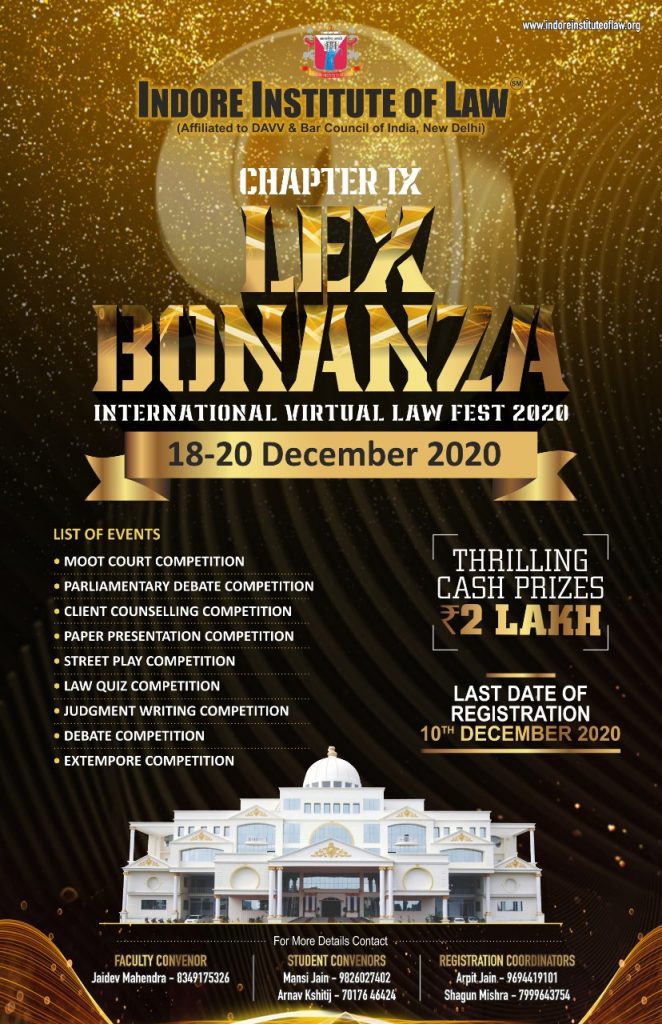 Visit us for more such opportunities: http://lexpeeps.in/