About the event
Indore Institute of Law is conducting the 3rd edition of KLBMUN from 29th to 30th April 2022. KLBMUN is established with the aim of bringing together young people all over the world to cooperate in social movements, business, technology and culture to get to know each other and bring changes for a better world.
The conference offers unique, engaging committees, friendly, professional service, and opportunities for delegates to debate, deliberate & discuss various topics of national and international importance. Through international programs aimed at building leadership skills of young people around the world who have global thinking, and bring them together to know each other, appreciate, and support one another today and tomorrow in the future. They look forward to programs that make the young generation unite in a single forum to bring the world a better place.
About the college
Indore Institute of Law was established in 2003 with the vision of bringing intellectual awakening and all-around development to our country through education in the field of law. In a short span of time, the institute has created a history of being the only institute in the private sector to offer all Law Courses i.e. B. A. LL. B (Hons.), B.B.A. LL. B(Hons.)., LL. B.(Hons.) & LL. M. under one roof and have started a new course B.B.A.LL.B (Hons.) Transnational & Global Studies with the aim to provide global exposure to both education and industry.
The institution has always prioritized the overall development of the students; it is well reflected in the academic growth of IIL along with the promotion and participation in extracurricular activities. IIL is glad to share the academic excellence of the college which is authenticated by our students who bagged 38 university top out of 40. Further to hone the skill IIL in association with Enhelion Indian Pvt. Ltd. provides its students with 5 Diploma Courses in 5 years of Law course.
Committees along with agenda:
United Nations General Assembly Disarmament and International Security Committee (UNGA DISEC) – Discussing Russia's obstinate invasion of Ukraine with special emphasis on Russia blocking UN Security Council's Resolution.
United Nation Human Rights Commission (UNHRC) – Analyzing the ongoing Humanitarian Crisis in Afghanistan.
World Health Organization (WHO)- Discussing the necessity to balance Corona Virus caused restrictions and Human Rights crunch globally (special emphasis on developing and under-developed nations)
All India Political Party Meet (AIPPM) – Discussion on Karnataka's "Hijab Row" and religious discord in current India's scenario. (Interchange agendas).
INTERNATIONAL PRESS
DATE OF EVENT: 29th – 30th April 2022.
Awards & recognitions –
Best Delegate: Rs. 5,100/- + Free publication
High Commendation: Rs. 2,100/-
Special Mention: Trophy & Certificates
Hon'ble Mention: Trophy & Certificates
Best Campus ambassador will be awarded a certificate and cash prize worth Rs. 2,100/-
E- CERTIFICATE OF PARTICIPATION TO ALL THE PARTICIPANTS
Registration fees:
Early Bird Registration – Rs. 500
Individual Delegates Registration – Rs. 700
Institutional Delegate Registration – Rs. 500 per individual (for a group of 10 or more than 10 delegates)
Last Date of Early Bird Registrations – 15th April 2022
Last Date – 25th April 2022
Accommodation – Rs. 1000 per day ( 2 nights 4 meals )
Registration criteria: Age Limit – 09th Standard to Graduation
Dates – 29th & 30th April 2022
Venue – Indore Institute of Law
Registration process:
Interested participants are requested to fill out the online registration form via the link attached below. Participants must mention their committee preferences and previous experiences as per the form.
Brochure
Contact details:
Mail at: klbmun@iconeducation.co.in
Website: https://www.indoreinstituteoflaw.org/
Instagram: https://www.instagram.com/klb_mun/
LinkedIn: https://www.linkedin.com/in/iil-klb-mun-57b324235
Disclaimer: All information posted by us on LexPeeps is true to our knowledge. But still, it is suggested that you check and confirm things on your level.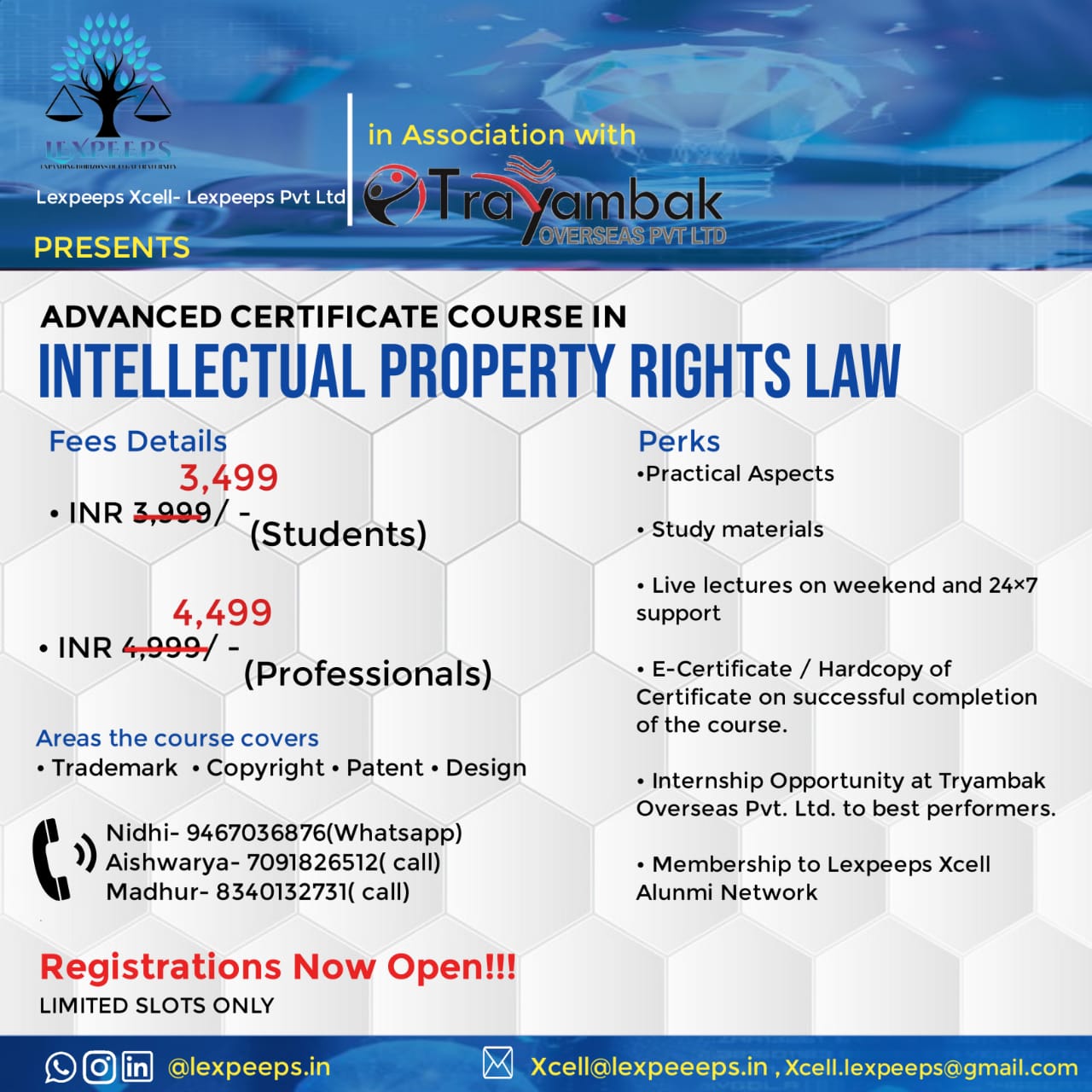 WhatsApp Group:
https://chat.whatsapp.com/GRdQLsHRwmB7QVRmS3WK
Telegram:
LinkedIn:
https://www.linkedin.com/company/lexpeeps-in-lexpeeps-pvt-ltd