About the company
Verifacts, a MODERN INDIA ENTERPRISE is a background / antecedents verification company, specializing in the field of Candidate Authentication Program (CAP). Headquartered in Bangalore, with 8 other branches in India and several associates across the globe, Verifacts provides its services to a large number of Multinational & National companies worldwide, 680+ clients and growing.
Our strong process oriented framework in the screening process has been a major contributor to the success of our projects for various MNC's and national organizations. At Verifacts, our commitment to quality and trust has helped us gain alliance partners who share these very same ethos. In such a dynamic business environment we have held our place and have been recognized by industry leaders. We have been empanelled by NSR (NASSCOM) for its India-wide background/antecedent verification initiatives.
Job Description
Job Description for Legal Officer
Location: Mumbai.
Experience: At least 5 Years from reputed firm
Candidates should have knowledge of :
• Drafting legal notices and replies to Government Authorities
• Drafting and Negotiating various types of Agreements/ Memorandum of Understanding with respect to business of the Company.
• Drafting & vetting of various legal documents including Acquisition Agreements, Development Agreements, JV Agreement, Conveyance Deed, Deed of Transfer, MOU, Agreement for Sale, Gift Deed, Lease Deed, Leave & License Agreement, Power of etc.
• Drafting and vetting of all types of Lending agreements and related documents, restructuring Agreements, Borrowing Agreements, finance Agreements.
•Follow up with Advocates & Meetings / Conference with Advocates / Solicitors.
• Filing of Legal papers, Preparation of Drafts, Preparation of Notes – Legal Matters, Details ofLitigation, Report to be Submitted to Board.
• Follow up with Seniors regarding legal cases.
• Conference with the concern person involved in the legal case.
• Drafting & vetting various legal and commercial documents including deeds, agreements, Non Compete/ NDA and Conveyances pertaining to property Service Droviders Title coorch
• Drafting & vetting various legal and commercial documents including deeds, agreements, Non Compete/ NDA and Conveyances pertaining to property, Service Providers, Title search, Consultancy and other matters.
• To Assist attorneys for trial preparation, exhibits to motions and review, organize documents for trial, filing of pleadings, motion and various court documents.
• To handle general civil litigation in several areas with special emphasis in Intellectual properly particularly trademarks and copyright infringement cases.
• Should have knowledge of Rent Control Act matters, Recovery matters, MRTP, and DCPR etc.
• Must be familiar with all legal laws, rules, practices and procedures pertaining to Real Estate and should be familiar with functioning of statutory bodies like RERA, etc.
• Should be conversant with municipal / development rules & regulations and related laws including laws related to commercial, retail and real estate development
• Should possess knowledge on Stamp duty /Registration / Adjudication etc.
• Drafting of and replying to statutory legal notices,counters, company petitions, complaints etc.
• Should possess Excellent English and good drafting and negotiation skills.
How to Apply?
https://www.linkedin.com/jobs/view/2749178521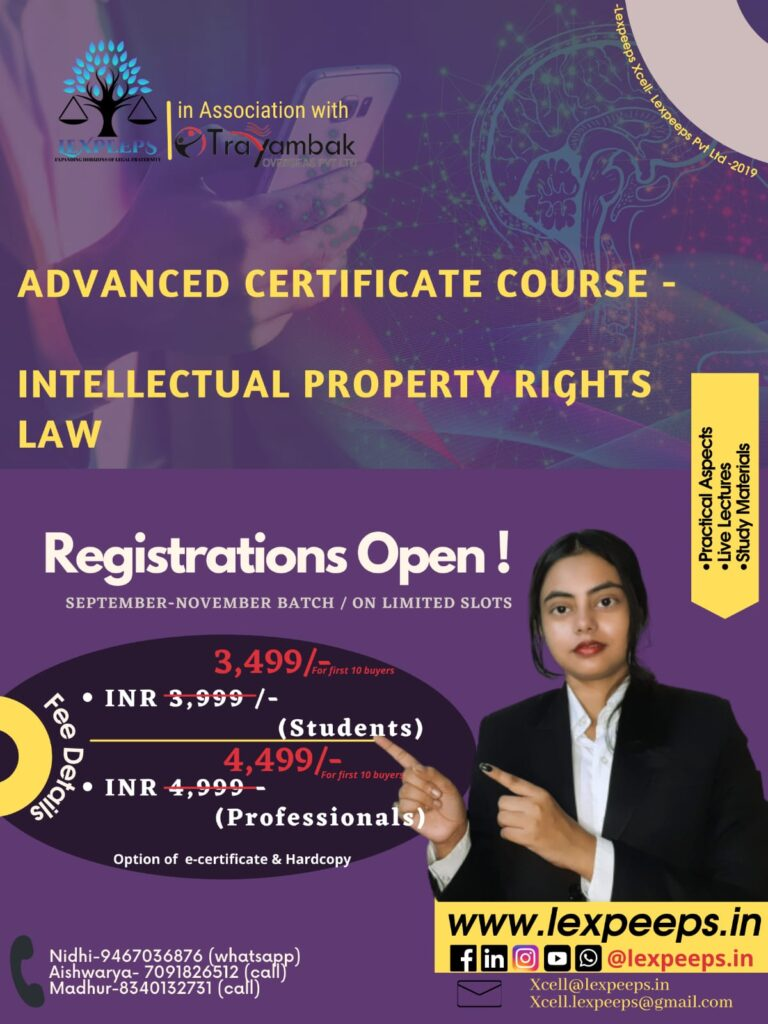 For regular updates, join us:
WhatsApp Group:
https://chat.whatsapp.com/GRdQLsHRwmB7QVRmS3WK
Telegram:
LinkedIn:
https://www.linkedin.com/company/lexpeeps-in-lexpeeps-pvt-ltd