About the Company
As the world's largest food and beverage company they are driven by a simple aim: unlocking the power of food to enhance quality of life for everyone, today and for generations to come. To deliver on this, we serve with passion, with a spirit of excellence, offering products and services for all stages of life, every moment of the day, helping people care for themselves and their families. Their culture is based on their values rooted in respect: respect for ourselves, respect for others, respect for diversity and respect for the future.
They can trace our origin back to 1866, when the first European condensed milk factory was opened in Cham, Switzerland, by the Anglo-Swiss Condensed Milk Company. One year later, Henri Nestlé, a trained pharmacist, launched one of the world's first prepared infant cereals 'Farine lactée' in Vevey, Switzerland.
Today, they employ around 273,000 people and have factories or operations in almost every country in the world. With our headquarters still based in the Swiss town of Vevey, we had sales of CHF 84.3 billion in 2020.
Our portfolio covers almost every food and beverage category-offering products and services for all stages of life, every moment of the day, helping people care for themselves and their families.
The Nestlé Group is the world's largest food and beverage company. It is present in 189 countries around the world, has 413 factories and its 323,000 employees are committed to Nestlé's purpose of enhancing quality of life and contributing to a healthier future. Nestlé offers a wide portfolio of products and services for people and their pets throughout their lives. Its more than 2000 brands range from global icons to local favourites. Company performance is driven by its Nutrition, Health and Wellness strategy. Nestlé is based in the Swiss town of Vevey where it was founded more than 150 years ago. Are you excited to join us, and ready to take the next step?
They are currently looking for a Legal Counsel, who would be joining us in our Legal Team at Nestle India's Head Office in Gurgaon.
Position Summary As a Legal Counsel – Commercial and Litigation, the incumbent would handle all legal activities in Nestlé India relating to 'Commercial Agreements' – covering drafting, negotiating commercial agreements and contracts and commercial advisory work, along with handling of Civil Litigations.
Main Responsibilities Advise on commercial laws and laws relating to
• commercial activities undertaken by the Company • Drafting & negotiating of legal commercial contracts and agreements for different business purposes incorporating company requirement
• Periodic Review of existing agreements & redesigning them
• Handling of civil litigations/disputes/notices involving trade, suppliers, landlord, etc. and other areas involving action in High Court & Supreme Court
• Advise and compliance of 'competition law' requirements
• Legal support to Businesses
Qualifications
• 5-7 years' experience with a FMCG or Manufacturing company and having work experience in the following areas of law – Contract Act, Litigation, Competition Law, and skills on drafting & negotiating agreements
& commercial contracts Expertise in commercial dispute resolution
• Knowledge of allied laws like stamp act, registration act, evidence act
• Knowledge of CPC, court procedures
Just So You Know
• Nestle India is committed to providing equal opportunities without any discrimination on the grounds of age, color, disability, origin, nationality, religion, race, gender, or sexual orientation. We are an equal opportunity employer, and we value diversity at our company.
How to Apply?
https://www.linkedin.com/jobs/view/2750180804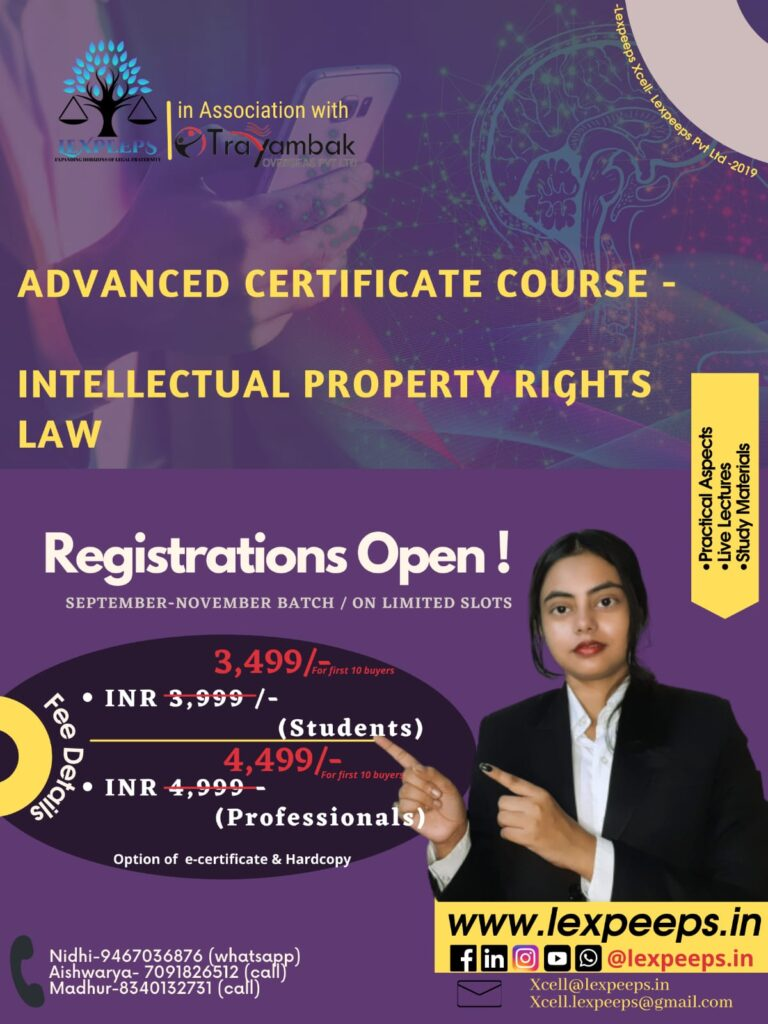 For regular updates, join us:
WhatsApp Group:
https://chat.whatsapp.com/GRdQLsHRwmB7QVRmS3WK
Telegram:
LinkedIn:
https://www.linkedin.com/company/lexpeeps-in-lexpeeps-pvt-ltd