Job Description
Responsibilities:
Compliance responsibilities:
• Providing compliance/ legal solutions and opinion to the Management and making processes and systems seamless without exposing the Organization Compliance risks
• Ensure compliances, timely filings, submissions etc applicable to the Company under various Licenses including but not limited to compliances under the SEBI (Stock Brokers and sub-Brokers) Regulations, 1992, exchange rules, circulars, bye laws etc, SEBI (Mutual Funds) Regulations, 1996, SEBI (Depositories and Participants) Regulations, 2018, SEBI (Investment Advisers) Regulations, 2013, SEBI (Prohibition of Insider Trading) Regulations, Prevention of Anti Money Laundering Act, 2002 (PMLA -AML and CFT), Know Your Customer Guidelines (KYC, e-KYC, C-KYC) and amendments thereof.
•Update the Management and other Process Owners about amendments in applicable laws or new Laws applicable to the Company, Circulars issued by SEBI/ Depositories/Exchanges from time to time along with action required to ensure compliances with the amended/new laws
•Liaising with various regulators, industry associations, legal counsels of the company and Government departments (SEBI, AMFI, Reserve Bank of India, Registrar of Companies, FIPB etc.)
• Handling Concurrent, Internal and External audits, Inspections by SEBI/Depositories/ Exchanges or anyother bodies.
•Co-ordination with Statutory, Internal & Secretarial
Auditors
• Suggest actions for rectification/ improvements regarding non-compliances/ processes and implement & maintain a process for control and follow up of rectification, corrective action
• Timely resolution to the Compliance queries raised by various functions/departments.
• Contribute to the long term business strategies and plans and annual business plans • Handling Investor Grievances as per regulatory guidelines
• Reviewing & updating the Company forms, Process notes, Website and other internal documents in line with applicable regulations
• Liaising with Exchanges, Depositories for routine matters
• Any other compliance matters as assigned from time to time
• Secretarial & Legal Responsibilities:
• Ensuring compliance with the provisions of the Companies Act, 1956/ 2013 and amendments therein, Foreign Exchange Management Act, 1999, Stamps Act, SEBI Rules, RBI norms for the Company and its Group Companies and such other regulations that might apply be applicable to Companies operating in the financial services sector
• Manage all aspects of Capital Infusion and Fund raising activities and share matching exercise;
• Maintenance and updation of statutory registers and records
• Convening meetings of the Board of Directors, committees / meetings of the industry aimed at bringing in new legislations / amending existing legislations and lead such discussions.
• Drafting, Vetting, Negotiation and Execution of various legal documents like agreements, MOUS, POAS, Legal Notices, undertakings etc;
Any other legal and secretarial matters as assigned from time to time
Requirements:
• Must be a member of the Institute of Company Secretaries of India
• Should possess 8-10 years of working experience in legal and secretarial functions
• Excellent command of spoken and written English.
•High quality communication skills and have good influencing capabilities
• Excellent interpersonal and communication skills, both verbal and written
• Client-oriented, pleasant, meticulous and obliging disposition Outspoken, initiative, self-motivated and client centric
• Flexible and ability to prioritize tasks and manage multiple tasks at single instance within compressed times
How to Apply?
https://www.linkedin.com/jobs/view/2740723757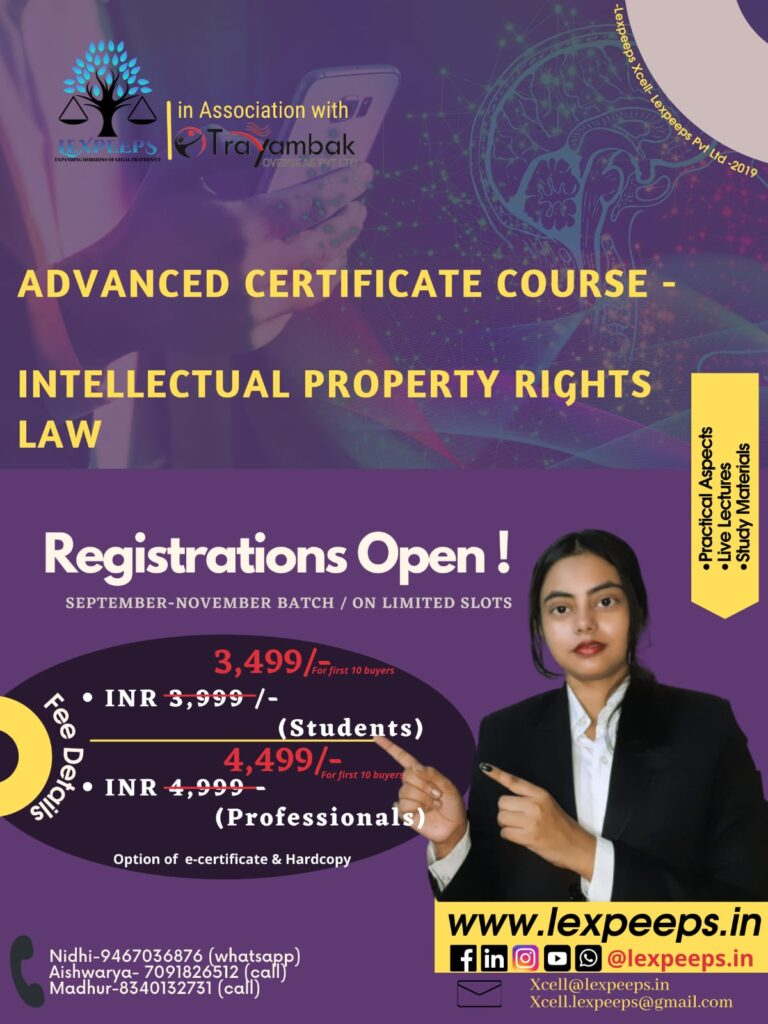 For regular updates, join us:
WhatsApp Group:
https://chat.whatsapp.com/GRdQLsHRwmB7QVRmS3WK
Telegram:
LinkedIn:
https://www.linkedin.com/company/lexpeeps-in-lexpeeps-pvt-ltd