About Flipkart
Flipkart is India's largest e-commerce marketplace with a registered customer base of over 150 million. In the 10 years since we started, Flipkart has come to offer over 100 million products across 120+ categories including Smartphones, Books, Media, Consumer Electronics, Furniture, Fashion and Lifestyle.
Launched in October 2007, Flipkart is known for its path-breaking services like Cash-onDelivery, No-Cost-EMI and 10-day replacement policy. Flipkart was the pioneer in offering services like In-a-Day Guarantee (65 cities) and Same-Day-Guarantee (13 cities) at scale. With over 1,20,000 registered sellers, Flipkart has redefined the way brands and MSME's do business online.
Job Description:
Senior Legal Counsel
About Flipkart
In 2007, we started the Flipkart journey by selling books online. But now, over a decade later, their story is quite different. Today, Flipkart is India's largest online marketplace and one of India's leading technology powerhouse that is disrupting the way India shops online. What has got them here? The dynamic, passionate and talented folks they call Flipsters!
Their core values define our identity and form the basis of their actions and reflect in everything
that they do at Flipkart. Values enable their to shape the desired organizational culture in which each Flipster can thrive and be at their best. They believe in taking bold bets and changing the paradigm, having a sense of urgency to solve problems strategically and putting great ideas into action. We look at the world from our customer's point of view and keep customers at the heart of everything we do. They strive to do the right thing always and be committed to the customers and stakeholders.
About The Role & What You'll Do
 Ability to strategically handle and advise the Flipkart Group on all matters relating Flipkart's
e-commerce operations.
 Provide legal advisory on impactful strategic business opportunities and support with the
launch of new business initiatives and constructs.
 Provide legal clarifications on new and existing regulations such as FDI in ecommerce, PPI
guidelines, data privacy, drugs and cosmetics, Food safety and standard regulations,
business correspondent and outsourcing guidelines, nodal account guidelines, payment
aggregator and payment gateway guidelines, Information Technology (Intermediary)
Guidelines, OTT guidelines, legal metrology guidelines etc.
 Research into new laws, regulations and legal regime that may impact e-commerce in India
and advise on regulatory requirements, legal risks and mitigation strategies.
 Collaborate closely with business partners to resolve all legal issues and mitigate liability
risks.
 Build awareness of legal risk exposures and set up policies and processes for legal risk
identification and mitigation.
 Risk spotting- Proactively identifying matters that could potentially impact the Flipkart
Group
 Initiates cross-functional efforts to drive organizational alignment
 Demonstrate maturity, judgement and functional expertise when solving legal issues and
dealing with business stakeholders
 Draft, review and negotiate commercial contracts relating to marketing, collaboration,
advertisement, software and IT hardware etc
What you will need?
 LLB/LLM from a reputed Law College
 Strong foundation in all laws which are applicable to the ecommerce sector.
 8-10 years of experience as an in-house counsel/in a law firm
 Collaborative, with the ability to build and sustain business relationships.
 Decisive as a leader who takes ownership of actions and responsibilities with the ability to
take constructive stand on difficult issues
 Good organizational and interpersonal skills, including ability to work effectively within a
team in a fast-paced dynamic business environment.
 Enable business without compromising on the process.
 Ability to multitask, meet tight deadlines, prioritise, plan, coordinate and execute on
assignments
 Good team player with a collaborative approach in completing assignments.
 Meticulous and punctual.
 Leverage business understanding / functional expertise to deliver value to stakeholders
 Strong communication skills and excellent command over English (both oral and written)
with the ability to interface with people across all levels in the organization
 Adept to work on high bandwidth and support variety of business needs
Open Positions:
1
Skills Required:
• Strong foundation in all laws which are applicable to the ecommerce sector and relevant experience
Location:
Bangalore,Karnataka
Education/Qualification:
LLB/LLM
Desirable Skills:
Ability to manage a team, take important and strategic calls, have excellent stakeholder management
Years Of Exp:
8 to 10 Years
Link to Apply
https://www.flipkartcareers.com/#!/job-view/senior-legal-counsel-bangalore-karnataka-2021092616483865?source=linkedin
Disclaimer: All information posted by us on LexPeeps is true to our knowledge. But still it is suggested that you check and confirm things on your level.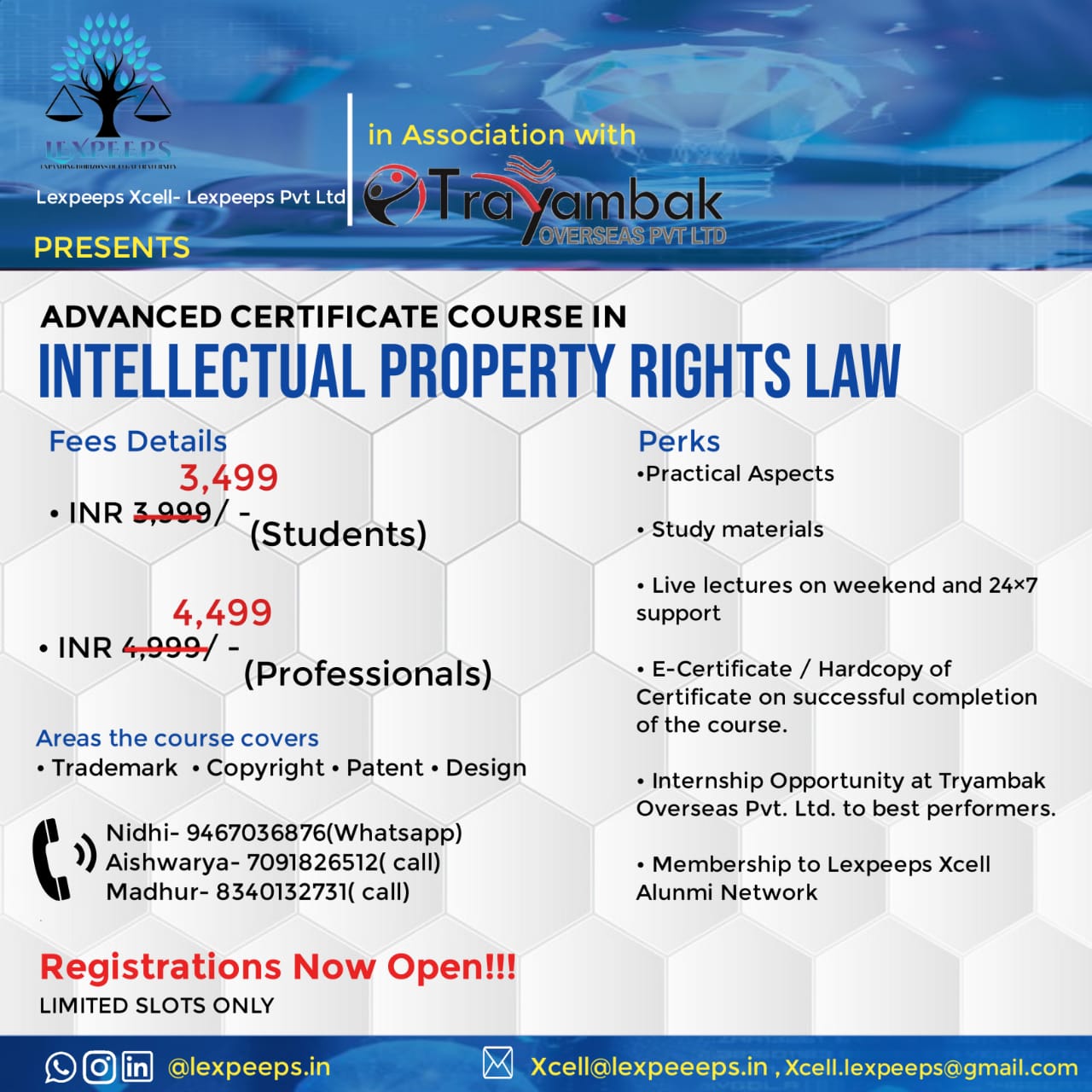 For regular updates we can catchup at-
WhatsApp Group:
https://chat.whatsapp.com/GRdQLsHRwmB7QVRmS3WK
Telegram:
LinkedIn:
https://www.linkedin.com/company/lexpeeps-in-lexpeeps-pvt-ltd