ABOUT THE COMPANY
Established in 1984, Sangam India ltd. is one of the foremost producers of PV-dyed yarn, cotton and OE yarn and also ready to stitch fabric. The NSE & BSE listed company produces 35 million meters of PV fabric and 48 million meters of denim fabric annually. This magnitude of production is possible with a highly organized production base equipped with more than 2,36,000 spindles and 2300 rotors. The Group has also introduced a seamless garment manufacturing facility with 52 seamless knitting machines that have the capacity to produce 5.4 million pieces per annum.
Sangam started with only eight weaving machines in 1984 and is now recognized as a leading brand in the textile industry, with a presence in over 50 countries. Sangam Group celebrated many such milestones in its journey so far. Some of them include backward integration to spinning in 1995 with 17,280 spindles of PV Dyed Yarn and further increasing it to 11,520 spindles in 1998. In 2003, the company built a 10.0 MW coal-based captive power plant by adding 35,232 spindles. In 2009, it installed over 1.13 Lakh Spindles, 130 Weaving Machines, 12 Knitting Machines and Captive Thermal Power Plants of 6 & 15 MW.
JOB DESCRIPTION
Job Title – Legal Executive
Department – Legal
Location – Bhilwada (Rajasthan)HO
CTC – Depends on the Interview
Candidates from Rajasthan will be preferred
Minimum Qualification – Bachelor of Law
SKILLS AND EXPERIENCE
Handling Civil & Criminal Cases of the company
Responsible to attend various courts, tribunals, forums etc. for various litigation cases.
To review and file various trademarks, copyright applications, renewals, objections, oppositions etc.
Maintaining MIS of all the legal cases of the company
Maintaining IPR tracker
Co-Ordination with advocates, trademark attorneys and various other govt. agencies as per need basis.
Good Understanding of IPR laws, N.I . Act.
To draft notices, reply to notices, complaints, written statements, various applications, evidence, written arguments etc.
Have a fair understanding of thr legal Metrology Act & Rules.
Minimum Exp – 2-5 years
Main job Responsibility – Haning Litigation and IPR Profile
APPLICATION PROCESS
Interested candidates can send their applications to headhr@sangamgroup.com
Disclaimer: All information posted on Lexpeeps is accurate to our knowledge. However, it is advised that you verify and confirm things on your end.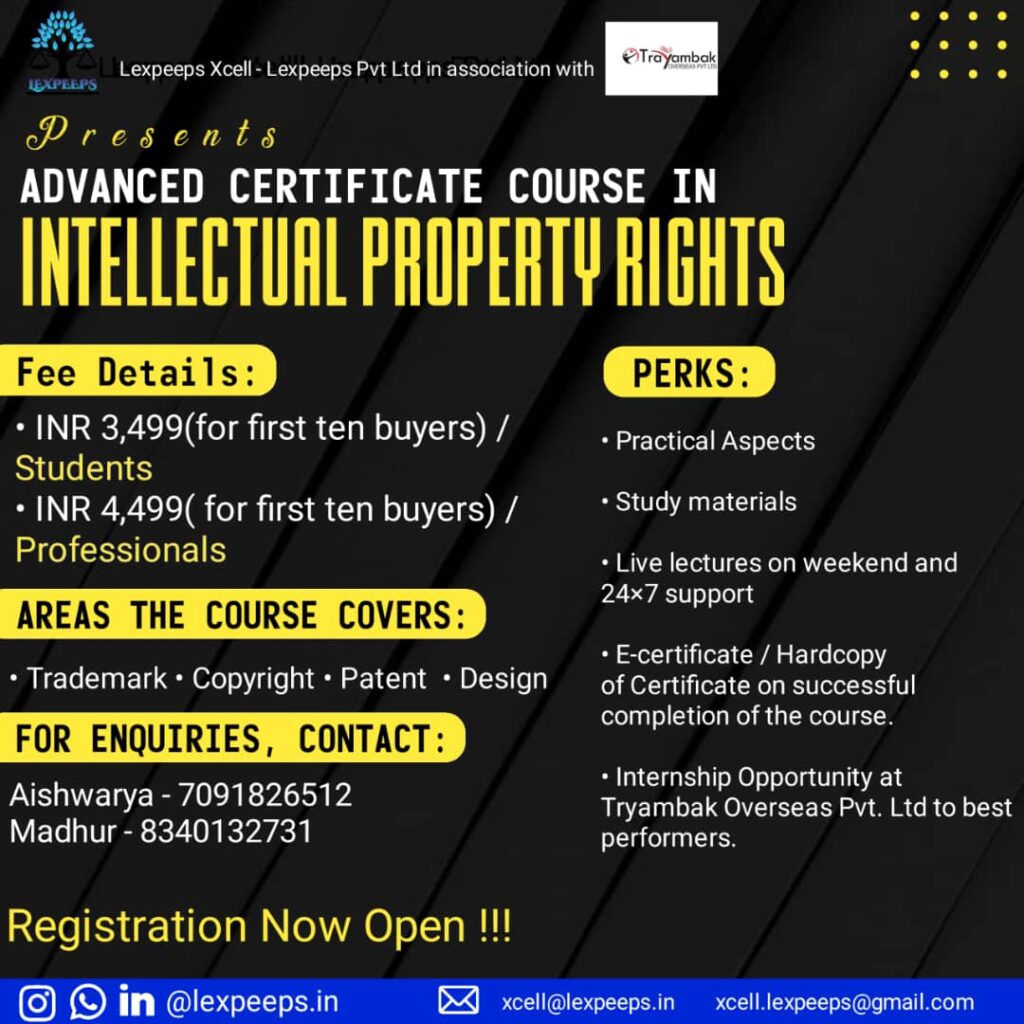 For regular updates, we can catch up at-
WhatsApp Group:
https://chat.whatsapp.com/G4bxdgRGHY8GRzOPSHrVwL
Telegram:
LinkedIn:
https://www.linkedin.com/company/lexpeeps-in-lexpeeps-pvt-ltd