Position: Legal Counsel
About MediaMonks
Media.Monks is a digital-first marketing and advertising services company connecting the dots across content, data & digital media and technology services. Inspired by the connectivity and flexibility of technology APIs, Media.Monks' single-P&L model offers brands seamless access to a nearly 6,000-strong team of digital talent organized across 57 talent hubs in 33 countries.
With us, you'll find a diverse group of colleagues with different backgrounds and perspectives. We believe everyone has something of value to offer, and that sustaining a truly diverse, equitable and inclusive workplace begins with fostering an environment where people can be themselves, authentically, every day. We want to build something with the potential to change the heart of our industry, and we'd love to include your unique perspective.
MediaMonks got its start in 2001, and since then we've grown a lot. With offices all around the globe and around 4,000+ employees, we deliver A-level work that's won hundreds of Cannes Lions and FWAs. We are leading the way in building integrated teams to bring a full suite of best in class offerings to world renowned companies. We're talking big. We accomplish amazing work through our people, by remaining agile and executing exemplary work in real-time for our global clients. Our work is bundled by teams, not by organizational layers. But it's not all work. Everyone at MediaMonks knows how to have a good time, and everyone contributes to the positive energy of our culture. If you're intrigued, read on as we may have the dream job for you. Now, about the opportunity: in the Mid-level Legal Counsel position, you'll be responsible for the day-to-day legal matters of our business in India. This position can be performed from our Mumbai office.
In this role you will:
You'll join our small-star legal team that provides aid and assistance for our offices in Delhi, Mumbai, and Bangalore, India.
The main part of the role will be based on work for our Film & Content services in India.
Reporting to our Head of Legal India, and a functional report to our General Counsel EMEA & APAC.
A big part of your job is drafting and reviewing legal documents and contracts (e.g. Master Service Agreements, Non-Disclosure Agreements, Statement of Works, RFP terms) that bolster our creative production teams in taking on bigger and bolder projects.
You'll join negotiations on commercial contracts and other legal agreements for our projects.
You'll provide legal support and advice on compliance, license terms and clearance matters for our Film & Content projects and campaigns.
Last but not least, you'll help manage our legal administration to keep our day-to-day legal practices up-to-date.
Experience you already have:
For this position, we're looking for a Mid-Level Legal Counsel with a recognized Degree in Law, and a high degree of personal responsibility.
You have 2-3 years of professional legal experience, preferably within the digital media/entertainment/creative industry at a top law firm or at an in-house environment with a focus on commercial transactions.
Ideally, you have hands-on experience with contract and commercial laws, intellectual property, and copyright matters.
Excellent written and verbal communication and interpersonal skills.
A mind for business.
You have negotiating skills and are experienced in drafting commercial contracts.
You have excellent organisational and administrative skills.
You're flexible and eager to take on tasks in new areas of law.
You like working as part of a team but can also work independently with minimal supervision.
You're proactive, hands-on, and results-oriented; able to work on tight deadlines without sacrificing accuracy.
You're a self-starter with a strong work ethic.
About MediaMonks Working at MediaMonks is arguably the coolest thing to do right now. You'll be joining a highly ambitious company on a global mission to become the best (and most humble 😉 ) production partner in any field and market while enjoying a one-of-a-kind company culture. If you meet and exceed this profile, stop playing on your phone and send us your best application so far. Please be attentive to the requirements and accompany your application with a custom cover letter detailing why you're the right Monk for the job.
About Media.Monks:
At Media.Monks, you'll be joining a highly ambitious company on a global mission to win the decade by changing the industry for good. Partner to 8 of the 10 most innovative companies in the world, Media.Monks works with established as well as up-and-coming global, regional, DTC and B2B brands, helping them own their data and build out customer ecosystems to elicit smart, efficient, high-impact engines for growth. We deliver table stakes quickly, creating cost efficiencies from day one to push up the creative effectiveness of our work with every cycle.
We are an equal-opportunity employer committed to building a respectful and empowering work environment for all people to freely express themselves amongst colleagues who embrace diversity in all respects. Including fresh voices and unique points of view in all aspects of our business not only creates an environment where we can all grow and thrive but also increases our potential to produce work that better represents—and resonates with—the world around us. 
Link to Apply
Click here to apply https://media.monks.com/careers/mumbai/legal/legal-counsel-mediamonks-mumbai#
Editor: Mudit Jain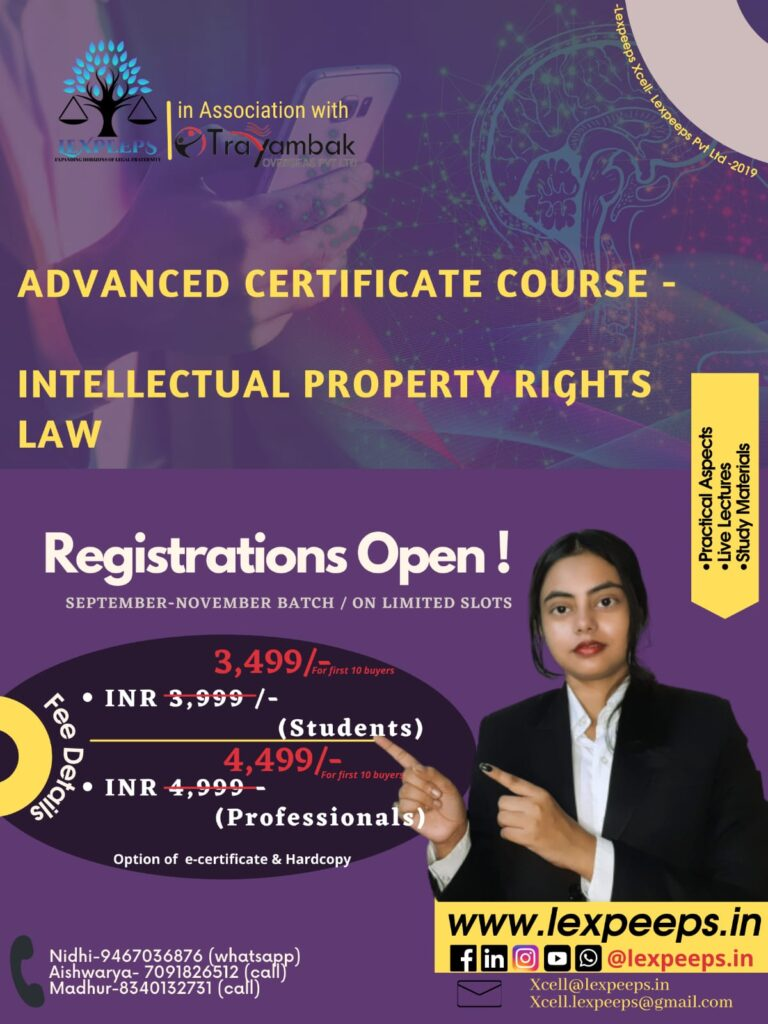 For regular updates, join us:
WhatsApp Group:
https://chat.whatsapp.com/GRdQLsHRwmB7QVRmS3WK
Telegram:
LinkedIn:
https://www.linkedin.com/company/lexpeeps-in-lexpeeps-pvt-ltd