Job Post: Guest Faculty Law at Kingston Educational Institute 
                                                                                            About the College 
                                                                                                                                                                           
 Kingston Educational Institute, under the helm of Late Utpal Bhattacharjee and Smt. Uma Bhattacharjee has already performed excellent and notable work in imparting education in West Bengal, such as, establishment and administration of the Educational Institutions i.e. Polytechnic College, Science Degree College, Management College, 5 years Law College, and a model school, affiliated in the same campus of more or less an area of 28 acres at Nilgunj, Barasat, District – North 24-Parganas since 2004. The said educational society has already extended its activities, such as establishment and administration of 3 years' Law College at Madhyamgram Campus. The society has got permission to start of B.Ed. College in the main campus from the next academic session 2018-19.
Applicants are expected to have completed their LLM and Pursuing their PHDs. The applicants if selected are required to travel to our campus i.e. in Barasat, West Bengal to conduct his or her classes and duties.
JOB Description
1) Evaluate and grade students' class work, assignments, papers, and oral presentations.
2) Compile, administer, and grade examinations, or assign this work to others.
3) Prepare and deliver lectures to undergraduate and/or graduate students on topics such as civil procedure, contracts, and torts.
4) Initiate, facilitate, and moderate classroom discussions.
5) Prepare course materials such as syllabi, homework assignments, and handouts.
6) Keep abreast of developments in their field by reading current literature, talking with colleagues, and participating in professional conferences.
7) Plan, evaluate, and revise curricula, course content, and course materials and methods of instruction.
8) Maintain regularly scheduled office hours in order to advise and assist students.
9) Conduct research in a particular field of knowledge, and publish findings in professional journals, books, and/or electronic media.
10) Advise students on academic and vocational curricula, and on career issues.
11) Supervise undergraduate and/or graduate teaching, internship, and research work.
12) Select and obtain materials and supplies such as textbooks.
13) Maintain student attendance records, grades, and other required records.
14) Serve on academic or administrative committees that deal with institutional policies, departmental matters, and academic issues.
15) Perform administrative duties such as serving as department head.
16) Collaborate with colleagues to address teaching and research issues.
17) Participate in student recruitment, registration, and placement activities.
18) Compile bibliographies of specialized materials for outside reading assignments.
19) Participate in campus and community events.
20) Act as advisers to student organizations.
21) Assign cases for students to hear and try.
22) Provide professional consulting services to government and/or industry.
23) Write grant proposals to procure external research funding.
How to Apply?

https://www.linkedin.com/jobs/view/2728258842/?alternateChannel=search&refId=SvLXk%2Fovk4%2FAeGpzP2rXMw%3D%3D&trackingId=q%2F8VZ0r3szUBdW6GKJrnRQ%3D%3D
Editor: Mudit Jain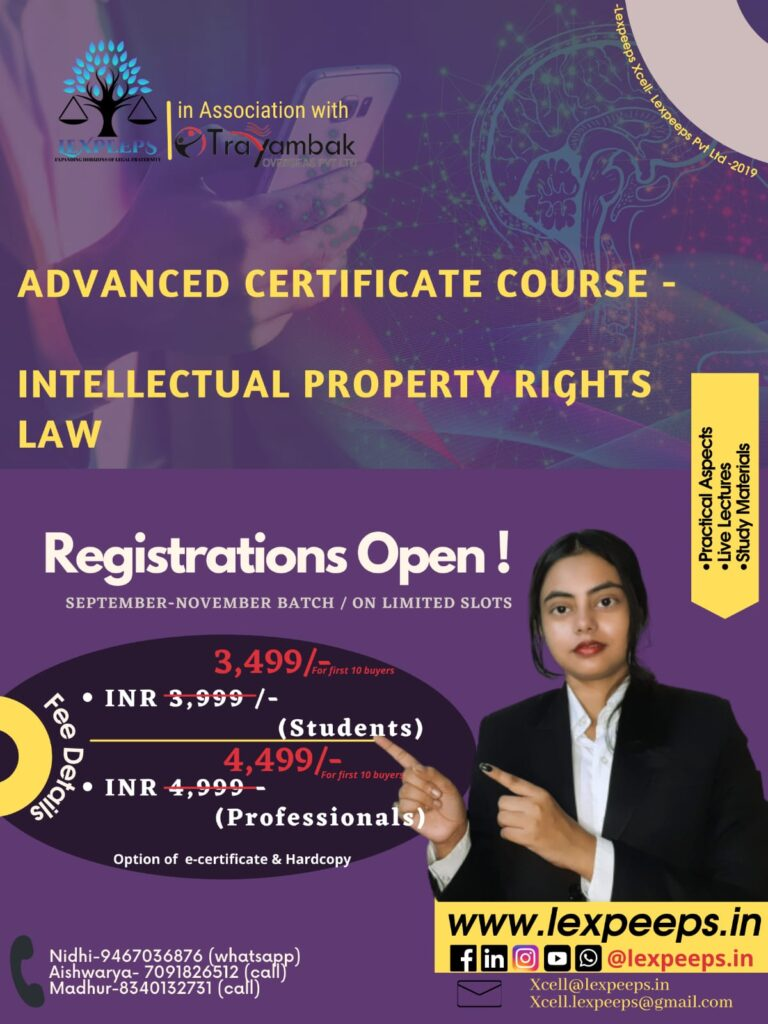 For regular updates, join us:
WhatsApp Group:
https://chat.whatsapp.com/GRdQLsHRwmB7QVRmS3WK
Telegram:
LinkedIn:
https://www.linkedin.com/company/lexpeeps-in-lexpeeps-pvt-ltd