Job Description
Division: Legal & Compliance (LCD)
Super – Department: Global Financial Crimes [GFC]
Department: Financial Crimes
Sub-Department: Financial Crimes
Region: EMEA
Job Level: Associate
Job Title: GFC Enhanced Due Diligence
Employment Type: Full Time
Location: Mumbai (Nirlon Knowledge Park)
Morgan Stanley is a leading global financial services firm providing a wide range of investment banking, securities, investment management and wealth management services. The Firm's employees serve clients worldwide including corporations, governments and individuals from more than 1,200 offices in 43 countries.
As a market leader, the talent and passion of our people is critical to our success. Together, we share a common set of values rooted in integrity, excellence and strong team ethic. Morgan Stanley can provide a superior foundation for building a professional career – a place for people to learn, to achieve and grow. A philosophy that balances personal lifestyles, perspectives and needs is an important part of our culture.

LCD comprises of Legal, Compliance, Global Financial Crimes and Regulatory Relations.
The Legal Department provides guidance, requirements and procedures for understanding and complying with the laws, regulations and Firm policies that apply to our businesses.
The Global Compliance Department identifies applicable Compliance Obligations and maintains a Firmwide Compliance Risk management program, including Compliance Risks that transcend business lines, legal entities and jurisdictions of operation.
Global Financial Crimes is responsible for the development and governance of the Firm's financial crime prevention efforts across all regions and business units. Global Financial Crimes is comprised of the Anti-Money Laundering (AML), Sanctions, Anti-boycott, Anti-Corruption (ACG) and Government and Political Activities Compliance (GPAC) programs.
The Global Regulatory Relations Group (GRRG) is responsible for strategic and centralized management of the supervisory activities of Morgan Stanley's regulators and related developments globally, with a focus on regulatory reviews and examinations and continuous monitoring activities. GRRG serves as the central point of contact for the regulatory staff responsible for supervisory activities at Morgan Stanley entities and for timely reporting to Firm management and other governance or management bodies, as appropriate, on those relationships and supervisory processes, including areas of significant regulatory focus or concern.
LCD Center of Excellence – Mumbai (LCD CoE) is a part of Morgan Stanley's Global In-house Center, which provides global support to LCD and is an integral part of Firm and LCD strategy.

Stanley conducts appropriate due diligence on its clients at onboarding and periodic review to identify and mitigate risks for those clients rated high risk. The EDD team undertake an assessment of a client's high risk attributes to identify and gather more granular information to review and mitigate potential financial crime risks. Periodic EDD reviews involve the validation of existing due diligence and the collection/refresh of client documentation / information.
Primary Responsibilities (Day Job)
The EDD Analyst will:
• Assess the Financial Crime risk associated with existing high risk clients of the Firm via the enhanced due diligence process.
• Perform research into identified negative news for the client and identify mitigants, documenting this in the client file.
• Escalate timely any issues identified in the enhanced due diligence review to line manager / key stakeholders within Legal and Compliance.
• Identify, communicate and remediate process breakdowns and best practices.
• Ensure that the enhanced due diligence reviews are accurate and completed within the specified time period.
• Participate in team meetings.
• Conduct due diligence searches in relevant third-party and internal databases where necessary.
• Assist with compliance to firm policies, (e.g., Global Screening Standards, Anti Money Laundering).
QUALIFICATIONS
Requirements
Experience
• Up to 5 years of Corporate Intelligence, due diligence; experience in the financial or professional services industries.
• Solid track record working in a professional environment.
• Bachelor's degree from an accredited college / university.
• Be certified as an Anti-Money Laundering Specialist by ACAMS or equivalent AML certification/license – or certification within 15 months of hire
Knowledge
• Understanding of AML / KYC
• Experience in Know Your Customer requirements including customer identification program, customer due diligence and enhanced due diligence.
• Should exhibit comfort working with technology and the ability to learn and display proficiency on technical systems and programs.
• Proficient with MS Office
Skills and Qualities
• Demonstrate a high level of attention to detail.
• Possess strong written and verbal communication skills, with ability to demonstrate sound reasoning.
• Have excellent interpersonal skills and the ability to work effectively with colleagues across the Firm.
• Ability to work as part of a team and adapt to the needs of the team as they arise.
• Ability to think independently, form opinions and make decisions.
• Ability to anticipate ahead of time and escalate issues and issues appropriately.
• Pragmatic and analytical problem solving skills – consistently apply sound judgment.
• Successfully meet established deadline requirements – display efficient time management skills and work to tight deadlines.
• Possess the ability to research and resolve issues independently.
• Experience in stakeholder management with excellent interpersonal skills and the ability to work effectively with colleagues across regions and Business Units.
• Have the ability to effectively handle a fast paced environment.
• Ability to identify and recommend process efficiencies.
Coverage
•    Monday to Friday from 9 AM to 6 PM India time with flexibility on standard working hours for time sensitive matters (including India Public Holidays).
Link to Apply
https://ms.taleo.net/careersection/2/jobdetail.ftl?job=3182349&lang=en&src=JB-10109
Editor: Mudit Jain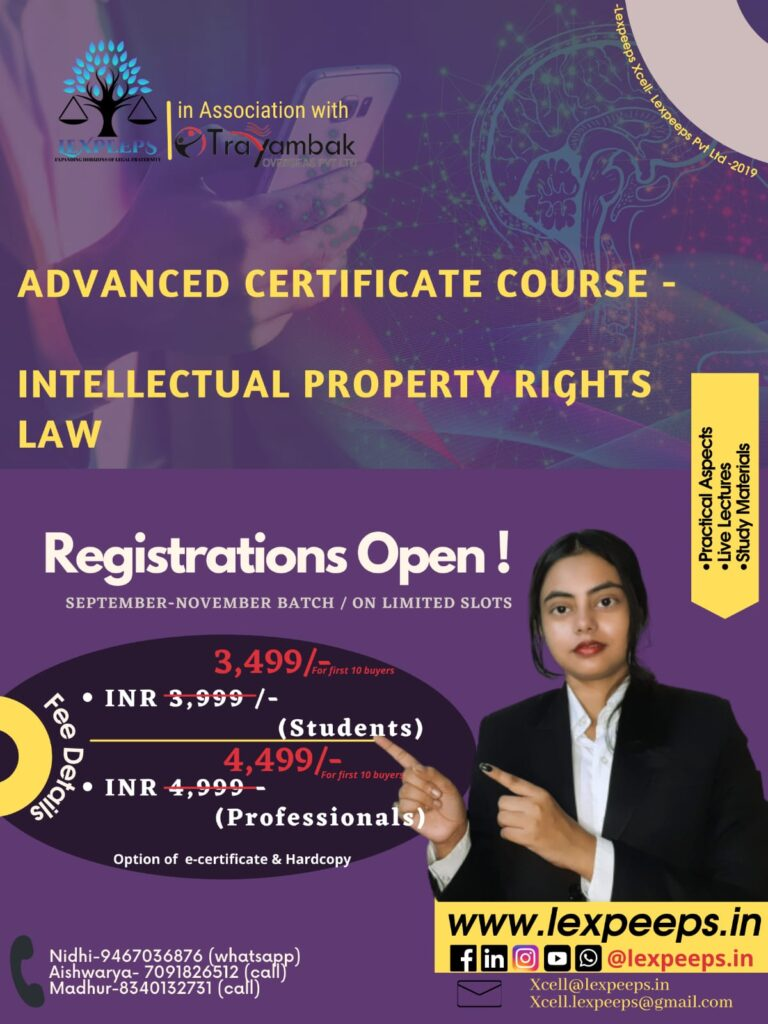 For regular updates, join us:
WhatsApp Group:
https://chat.whatsapp.com/GRdQLsHRwmB7QVRmS3WK
Telegram:
LinkedIn:
https://www.linkedin.com/company/lexpeeps-in-lexpeeps-pvt-ltd