About EY (Ernst & Young)
Ernst & Young Global Limited (Ernst & Young or simply EY), is a British multinational professional services network with headquarters in London, United Kingdom. EY is one of the largest professional services networks in the world.
EY provides consulting, assurance, tax, and transaction services. It was founded in the year 1989.
Along with Deloitte, KPMG, and PricewaterhouseCoopers, it is considered one of the Big Four accounting firms.
About the Job Opportunity
As a Regulatory Research & Monitoring attorney, at a senior associate level you will get the opportunity to work on a variety of compliance projects. The work will give you exposure to the regulatory landscape of various countries in multiple areas of law.
About the Role
The candidate should have a good understanding of financial market and concepts. These attorneys should be capable of conducting independent research to understand the business of financial firms and determine relevant compliance obligations.
They should have a good understanding of financial terms and concepts. They must have the ability to accurately interpret financial statutes and regulations. These attorneys should be good with research and know where to find the most up-to-date regulatory and statutory developments.
These attorneys should have exceptional analytical skills. They should be capable of participating in quality control process. They should identify and escalate all relevant issues as well as cascade down all relevant information. They should have excellent oral and written communication skills.
Key Responsibilities
At a senior associate level, your primary responsibilities require you to:
Conduct training on compliance areas for subordinates and guide them with subject matter requirements on live projects and otherwise.
Co-operate with team members and acts as a team player.
Supervise junior team members as a manager (goal centric career management and go to person for all issues)
Escalate project specific issues and other relevant issues, as appropriate, to the relevant stakeholders.
Understand the underlying issues of a project.
Take ownership and provide feedback to juniors and assist in resolving conflict
Achieve on time delivery (OTD) on all client deliverables or anticipate and escalate possible delay in advance.
Be thorough and meticulous with great attention to details.
Take ownership of processes and controls of the team, driving the development of methods to improve processes and/or controls to ensure that these are efficient, effective, and relevant
Understand overall client requirements to help develop project scope and drive internal discussions on resource requirements and creation of project plan
Understand project metrics such as utilization, efficiency, gross margins etc.
Be effective in communication with internal and external stakeholders
Be organized and efficient – handle responsibility assigned to them quickly and accurately.
Report back to their seniors on the status of assignments.
Be effective on the floor in terms of sharing learning/insights with peers/juniors/seniors.
Be consistently present and have active participation at team, department, and company meetings and participates in voluntary professional development programs.
Accomplish work with low to moderate supervision.
Eligibility
To do the work , they require people with a specific skill set. 
To qualify for the role, you must have
Degree in Law (Masters preferable)
3 – 5 years of experience
Skills and Proficiency
Professional proficiency in English, with in-depth knowledge of the rules of the English language, standards of style, punctuation, and grammar.
Excellent legal research, writing and organizational skills
Fundamental understanding of financial concepts and good hold on legal and compliance areas
Ability to drive team's interpretation and understanding of statutes considering financial products and services
Excellent analytical and logical skills, along with attention to details
Good project management and people management experience
Ability to create standard instructions regarding legal research and any other project scope and cascade
Experience and Competencies
Experience in legal research/regulatory compliance related work.
Ability to advice and contribute towards creation of linear and efficient workflows based on project requirement
Working knowledge of legal databases
Proficiency in MS Office, especially MS Excel
Experience in troubleshooting and issue resolution
Passion for work, desire to learn and an innovative approach towards work
Effective communication results/findings of work in all mediums (verbal and written)
Be effective on the floor in terms of sharing learning/insights with peers/seniors.
Adaptiveness to team and fosters collaborative approach
Diligence and ability to multi-task
Location
Noida, Uttar Pradesh
Link to apply
https://careers.ey.com/ey/job/Noida-Law_RRM_Assistant-Manager-UP-201305/750381501/?feedId=338701&utm_source=Indeed&utm_campaign=EY_indeed
Disclaimer: All information posted by us on LexPeeps is true to our knowledge. But still it is suggested that you check and confirm things on your level.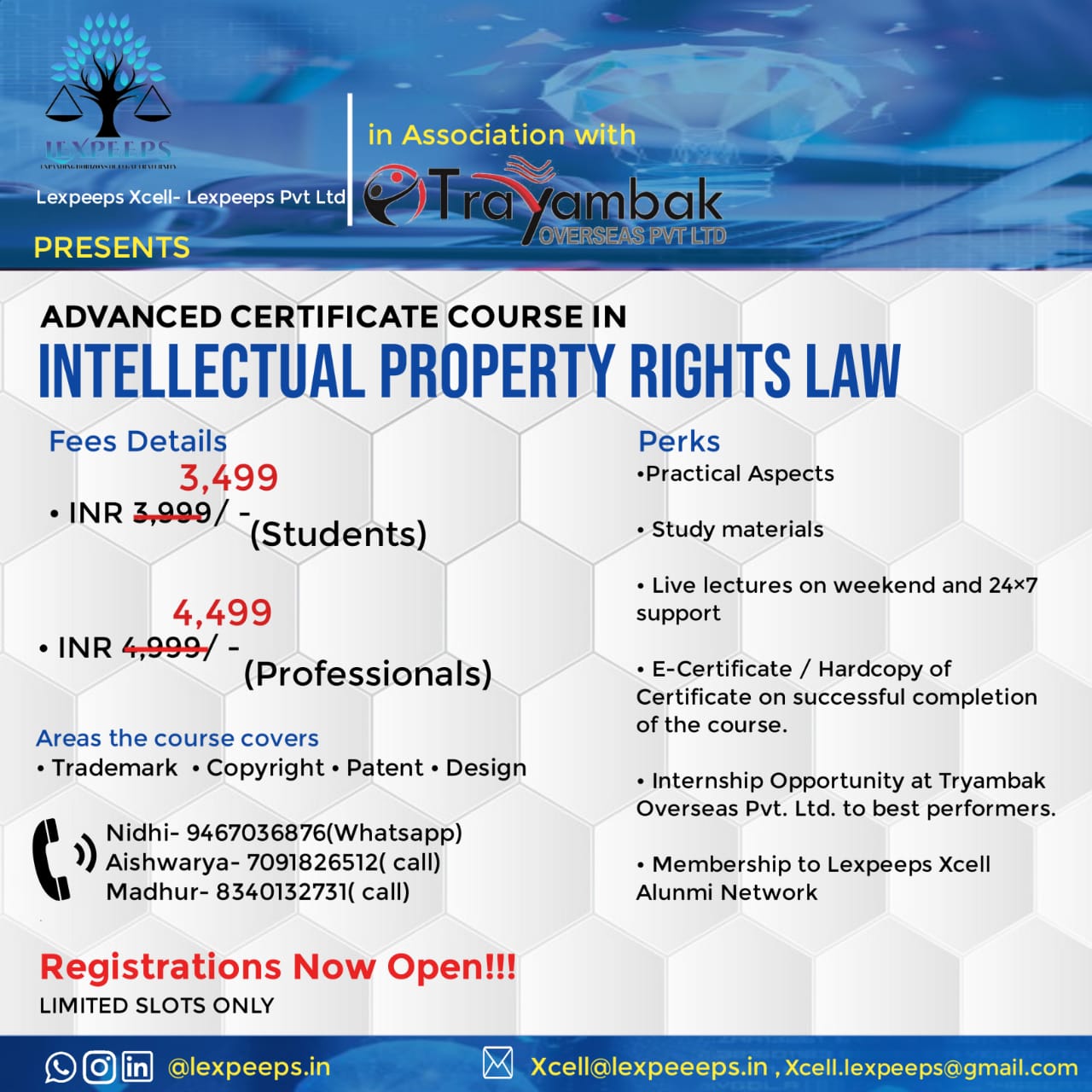 WhatsApp Group:
https://chat.whatsapp.com/GRdQLsHRwmB7QVRmS3WK
Telegram:
LinkedIn:
https://www.linkedin.com/company/lexpeeps-in-lexpeeps-pvt-ltd