About the Centre
The role of Competition laws across jurisdictions and India has evolved especially in the last decade. The advancement in technology, changes in market structure and consumer preferences have made the application of Competition laws more complex and challenging. It is in this context, there is a pressing need to advance nuanced debate in Competition law and policy issues between policymakers, practitioners and academicians.
Competition law and the digital economy are developing rapidly and landmark cases are emerging one after another across various jurisdictions. To facilitate open dialogue on both- pending cases as well as decided cases with some of the insightful experts in this field of law, shall go a long way in developing the jurisprudence and lay normative foundations of Indian Competition Law. It shall help the stakeholders understand and assess the goals of Competition law through the lens of legal philosophy and practitioners' perspectives.
The objective behind setting up of this Centre for Competition Law & Policy under the aegis of the Institute of Legal Studies & Research (ILSR), GLA University is to address these gaps and become an active participant in creating a robust competition framework in India.
Requirement
The centre is currently hiring for the following positions:
Research Intern: Two
Research Fellow: Two
Roles & Responsibilities
Preparing monthly Newsletters that shall comprise the latest developments in the field of Competition law, recent scholarly articles, recent leading cases, summary of events organized by the Centre etc.
Conducting monthly discussion on live cases, preparing and circulating a concept note before the session and documenting a summary of the take away from the session.
Assist in conducting training Programs on Competition Law for Civil Society and government officials, etc.
Advocacy with Competition Commission of India: Submitting suggestions to the CCI on behalf of the Centre.
Assist in creating a database on Competition law resources.
Writing for Op-eds, Blogs, Journals, leading websites on Competition Law.
Qualifications
4th year and 5th-year students enrolled in any Indian Law School approved by the Bar Council of India.
Benefits
This is an unpaid engagement. However, students will get an opportunity to interact with leading practitioners and scholars on Competition Law across the world.
A certificate of completion of internship/fellowship will be provided along with a letter of recommendation. Additionally, all requisite support during the tenure of internship/fellowship shall be provided.
Mode of Work & Time commitment
Online and approximately a commitment of 7-9 hours a week are expected.
Procedure to Apply
Please email your CV (max. 4 pages) and a brief statement of motivation (300 words) behind joining the Centre with the subject of the email as 'Application for Recruitment for Research Intern/Research Fellow CCLP' on nidhi.singh@gla.ac.in
Application Deadline: December 15, 2021
Results: Shortlisted candidates will be contacted by December 31st, 2021 and will be expected to join by the 1st week of January 2022.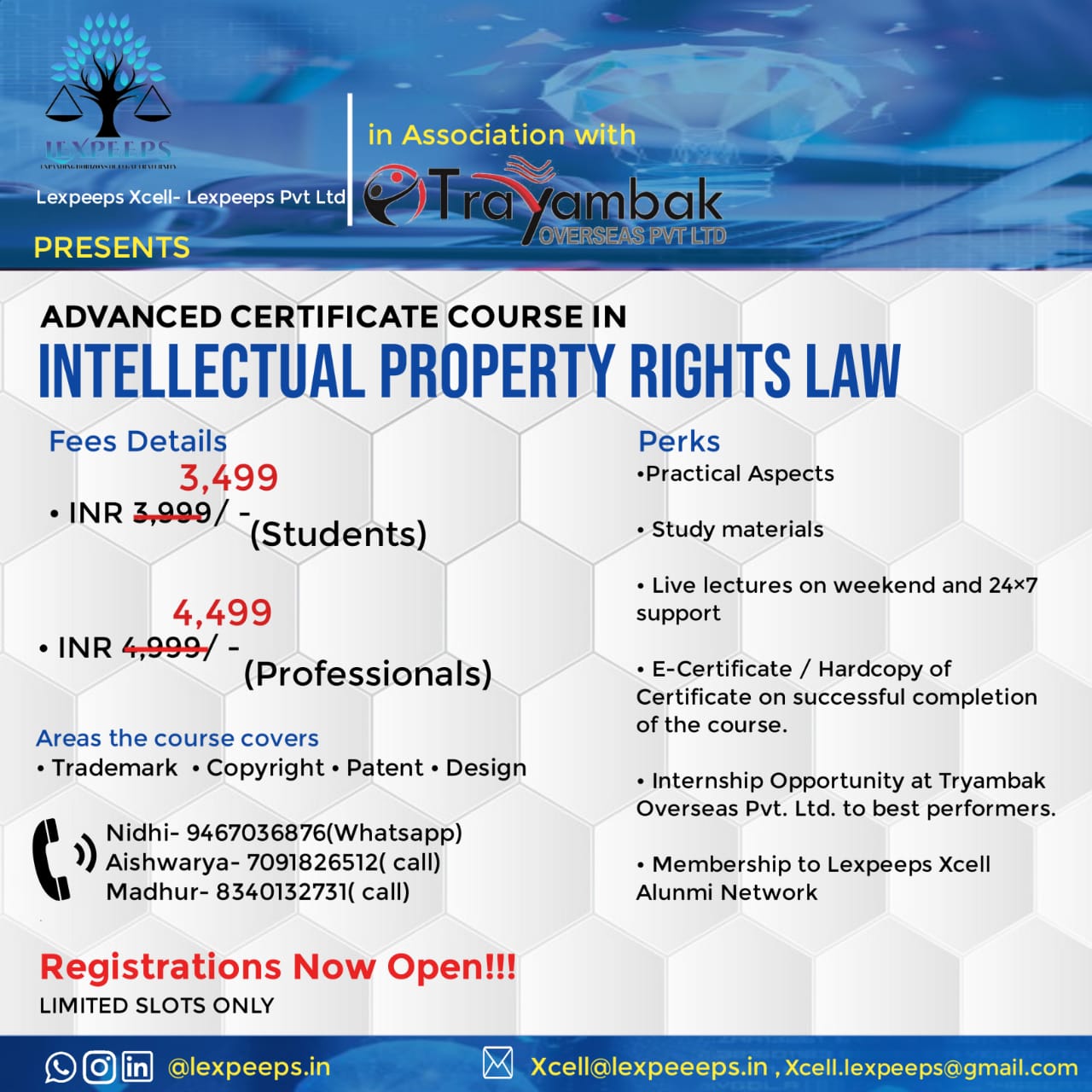 WhatsApp Group:
https://chat.whatsapp.com/GRdQLsHRwmB7QVRmS3WK
Telegram:
LinkedIn:
https://www.linkedin.com/company/lexpeeps-in-lexpeeps-pvt-ltd