About The Forage
The Forage, formerly known as Inside Sherpa, is an open-access platform designed to unlock exciting careers for students, by connecting them to company-endorsed Virtual Intern programs. Not only are they free, open access, and completely online – but also CV certified and endorsed by host companies.
About the Virtual Programme
This programme will give you an insight into the type of work done by Ashurst's Intellectual Property and Competition Law teams. In this programme you will be introduced to the concepts of patents and copyright in the context of a commercial joint venture, before focusing on a specific issue that arises regularly in the real world: when partners work together to produce new technology, who owns the resulting intellectual property?
You will also be introduced to the Competition Law practice and the concept of an unannounced dawn raid by the UK Competition and Markets Authority (CMA). In particular, it focuses on search warrants, shadowing CMA investigators during a raid and privilege claims available to the client in relation to the documents which are the subject of the CMA investigation.
This internship is:
Free
Entirely online
Accessible to everyone
Self-paced
Only takes approximately 5-6 hours to complete
Qualifications
Open to all
This Virtual Experience Programme is free for all students
Focus of the Internship
Intellectual Property
Competition Law
Learning Areas
Research Planning & Preparation: Prepare a research strategy on a discreet legal issue regarding a joint venture
Communicating research findings to the client: Identify the core commercial considerations for the client in a challenging joint venture.
Urgent Search Warrant Review: Your client is facing a surprise inspection by the CMA (a dawn raid), urgently review the relevant search warrant.
Shadow a CMA Investigation: Prepare a strategy to quickly respond in a situation where the CMA may potentially be copying privileged information.
Substantiate Privilege: Prepare a summary of the possible privilege claims that may be available to the client.
Elevator pitch (Bonus Task): Create a good first impression by confidently engaging with your supervising Partner after your last day of the vacation scheme at Ashurst.
Business Skills: In-Tray exercise: Managing Trainee style tasks including drafting and amending documents
Benefits of this Programme
Earn a Certificate

When you complete the Intellectual Property and Competition Law Virtual Experience Programme, you'll earn a personalised completion certificate to share with prospective employers and your professional network.

Set yourself up for success

No more applying for jobs without knowing what the role involves. Build the confidence and practical skills that employers are looking for.

Learn direct from Ashurst

This Intellectual Property and Competition Law Virtual Experience Programme has been created by leaders at Ashurst. You'll receive instructions from the Ashurst team and compare your work with real model solutions from Ashurst.

Gain real work experience

Throughout the Intellectual Property and Competition Law Virtual Experience Programme, you'll develop deep insights into what it is actually like to work at Ashurst.

Do it in your own time

Fit the Intellectual Property and Competition Law Virtual Experience Programme in with your busy schedule. Learn at your own pace and reach your personal goals.

Make your CV and LinkedIn stand out

You'll be able to include this experience on your CV and Linkedin profile. Demonstrate that you're ambitious, hardworking and have developed valuable practical skills.
Practical Skills to be Gained
Conducting Research
Commercial Awareness
Client Communication
Time Management
Critical Thinking
Adaptability
Interpersonal Skills
Research Skills
Substantiating Advice
Networking
Elevator Pitch
For more details, visit-
https://www.theforage.com/virtual-internships/prototype/EKK2XoTDd5ZfvqxqL/Ashurst-UK-Virtual-Experience-Programme
Procedure to Apply
Click on the link given at the end of this post.
Sign up with the required information.
Get started with the internship!
Link to apply-
https://www.theforage.com/signup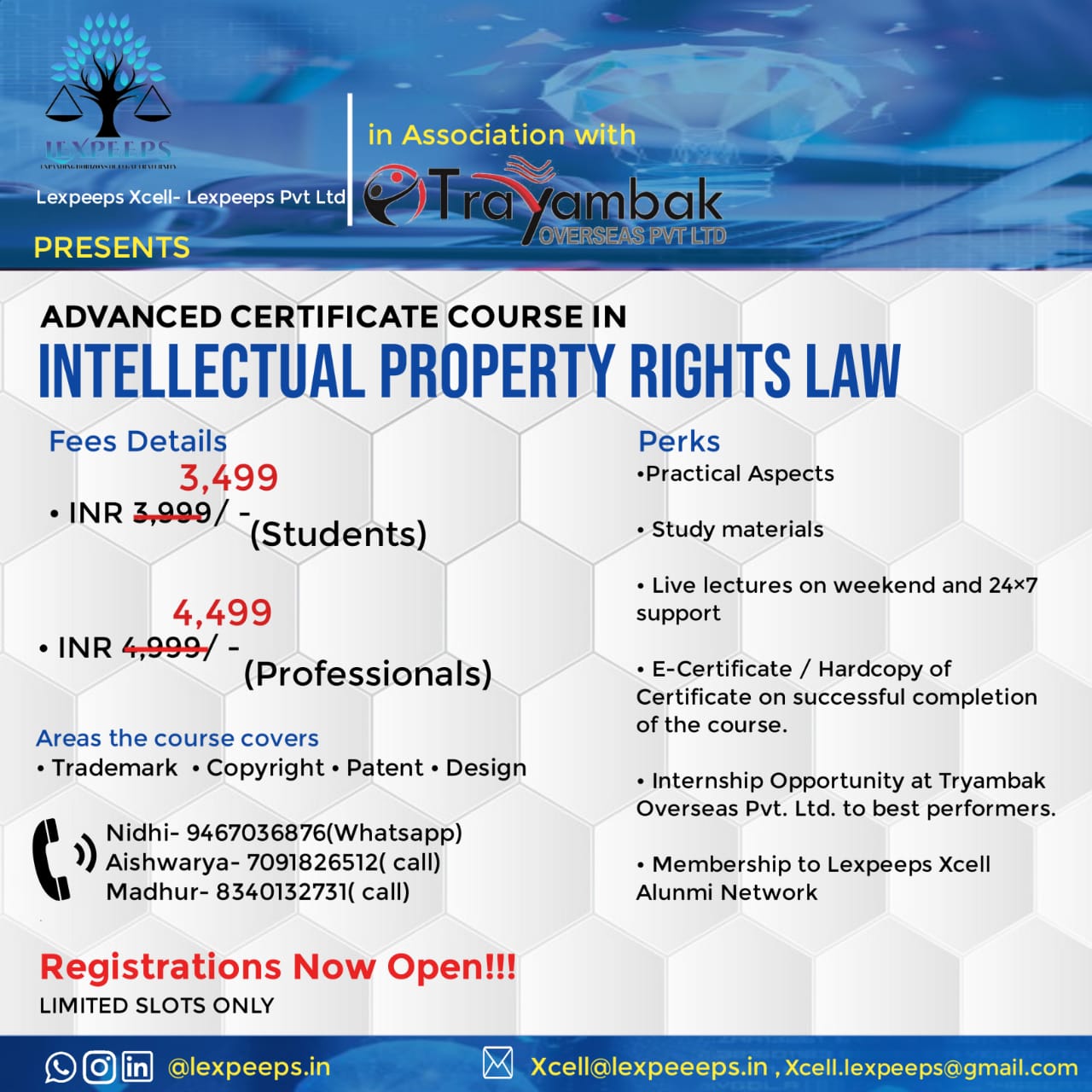 WhatsApp Group:
https://chat.whatsapp.com/GRdQLsHRwmB7QVRmS3WK
Telegram:
LinkedIn:
https://www.linkedin.com/company/lexpeeps-in-lexpeeps-pvt-ltd