ABOUT THE FIRM
Lynx Litigation Partners are a team of meticulous and specialist lawyers, passionate and experienced in various domains. They work with utmost integrity, transparency, and dedication in serving their clients and taking care of all the legal aspects of their lives and business. They provide noteworthy legal advice and consultation on a wide spectrum of complex legal events and impediments, that are backed by years of experience and profound knowledge of laws, to protect their clients from any adverse circumstances or disputes. They assist start-ups and venture-backed companies in their incorporation, financing, and growth by performing all the legal procedures and protocols on their behalf. They are also equipped with well-versed / professional Chartered Accountants and Company Secretaries to provide end-to-end business solutions for corporates from various sectors while giving them personalized services.
INTERNSHIP DESCRIPTION
Internship mode: Remote
Location: Mumbai
Experience: Law students
Duration: 2-6 Months
RESPONSIBILITIES
Efficiently assisting senior lawyers at various stages of litigation
Managing legal research and drafting of various petitions, pleadings, writs, affidavits, counter-affidavits, appeals, miscellaneous applications, civil/criminal complaints
-Drafting legal notices and responses
Handling IPR, taxation, arbitration and other corporate cases
Assisting companies in various transactions and negotiations
Assisting companies in managing compliance and other legal functions
Carrying out case analysis, reporting and presentation; and analyzing and identifying the core issues and their implications
Attending conferences, meetings and briefing senior lawyers, and assisting them in framing strategies/action plans for the successful outcome of legal matters
Liaising with police, enforcement agencies and various government officials for resolution of cases at pre-litigation and/or post-litigation phases
Demonstrating in-depth knowledge and understanding of corporate, civil and criminal law, dispute resolution, arbitration, negotiable instruments act, contract laws, insolvency and bankruptcy laws, insurance laws, consumer protection laws, motor vehicles act, technology laws and constitutional law
ELIGIBILITY
The candidates should be in the final year of LL.B. or should have completed their LL.B.
The candidates should be well versed with techniques of legal research and familiar with the usage of legal research software
The candidates should have proficiency with MS word and MS excel
The candidates should have good articulation skills and critical thinking abilities
The candidates should possess sound knowledge of the practice and procedure of litigation in India and should have an avid interest in learning and exploring new avenues
The candidate should possess excellent proficiency in English and Hindi
APPLICATION PROCESS
Candidates who wish to work "remotely" and complete their internship "online" must mention this in their email or cover letter.
Interested candidates can send their cover letter with their resume and drafting samples 
Kindly update the subject of your application email as 'Application for Legal Intern' and send to lynxlitigation@gmail.com
Disclaimer: All information posted on Lexpeeps is accurate to our knowledge. However, it is advised that you verify and confirm things on your end.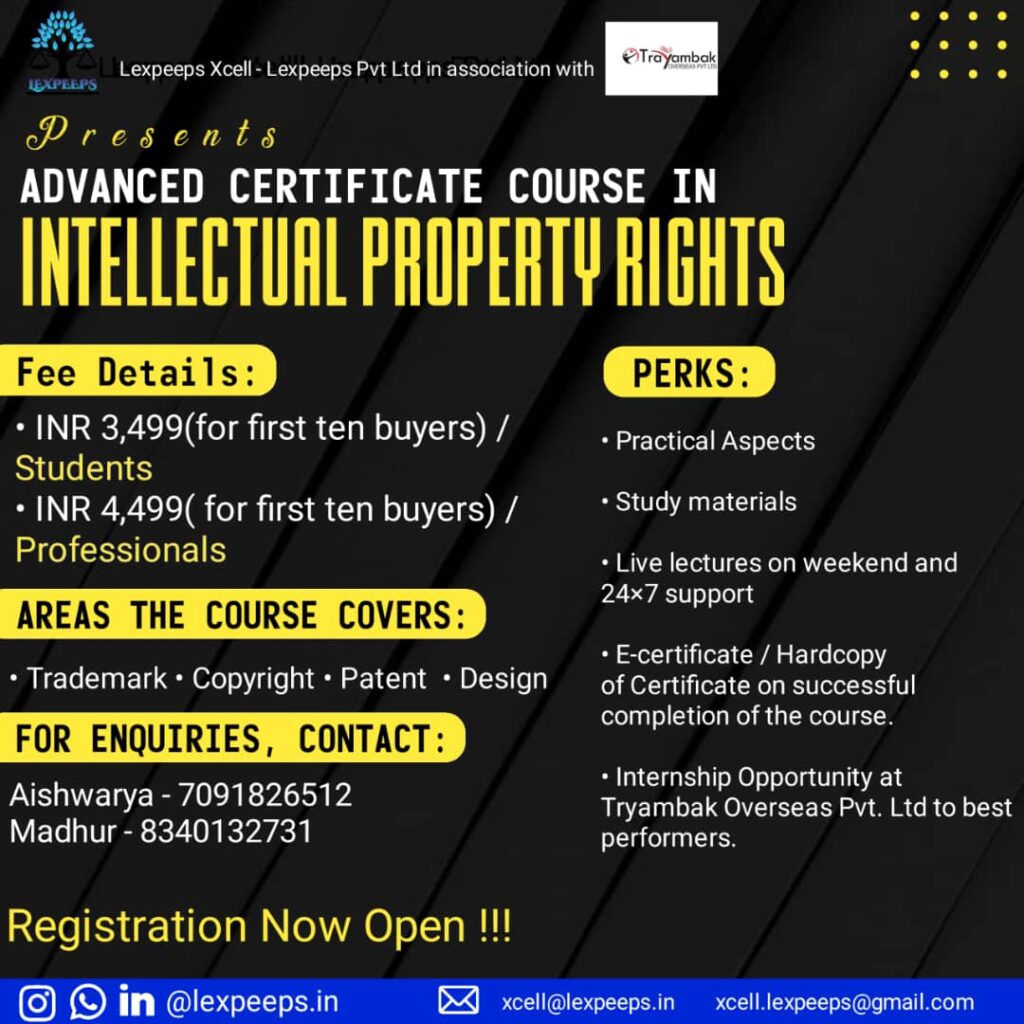 For regular updates, we can catch up at-
WhatsApp Group:
https://chat.whatsapp.com/G4bxdgRGHY8GRzOPSHrVwL
Telegram:
LinkedIn:
https://www.linkedin.com/company/lexpeeps-in-lexpeeps-pvt-ltd