About Enhelion
Enhelion is an organisation dedicated to the advancement of practical legal education in India since 2013. We offer a variety of courses which can be studied by law students and enthusiasts at their own convenience. Our focus is to bridge the gap between academia and the profession.Till date, Enhelion has a portfolio of about 450 courses on both conventional and contemporary areas of law and has collaborated with more than 40 law firms in India.
Till date, more than 50,000 students have enrolled for a variety of courses offered by us. We have also published about 30 academic books in collaboration with the renowned international publishers, Bloomsbury Publishing Inc.
About Enhelion's Student Volunteering programme (ESVP)
We are conscious of the fact that law schools are the base of the legal profession in India. The role played by law students in the development of the profession cannot be and should not be neglected. Keeping this mind, we invite applications for Enhelion's Student Volunteering Programme.
ESVP aims to build a bridge between Enhelion and the student community in law schools in India. On the one hand, the programme will help Enhelion to develop an understanding of the changing needs of the law students and develop courses to suit the their requirements, and on the other hand, it will act as a platform to disseminate Enhelion's motto- "Lifelong learning made easy and affordable". However, ESVP is not a one-sided programme. It has been structured to provide a win-win situation for both Enhelion and the law student who becomes a part of the programme.
Specific Requirements
Before applying for the student volunteering programme, please go through the specific requirements mentioned below. The applicant should be:
a. Pursuing Bachelor of Law (B.A. LL.B./ B.B.A. LL.B.) or Masters of Law (LL.M.) from
any law colleges recognized by the University Grants Commission.
b. Sincere and serious about work commitment.
c. Possessing good communication, leadership and marketing skills.
d. Able to understand and acknowledge the importance of online legal courses, specifically the courses relating to contemporary law subjects which are not extensively taught in law schools.
e. Willing to dedicate about 1-2 hours per week for fulfilling the assigned responsibilities.
If you are unable to dedicate the specified amount of time because of any internship or examination, do let us know in advance. We will be happy to accommodate yours needs!
Roles and responsibilities:
As a volunteer, you will be required to do one or more of the following:
a. Regularly update us about the schedule of the mid-term and end-term examinations, or any other major academic event happening in your college. You will also be requested to provide us information about any intra-college legal event being organized in your institution.
b. Publish a narrative on the popular courses offered by us on your social media platforms and tag @Enhelion. If you have previously done a course offered by Enhelion, you will be requested to upload your picture with the Certificate on your social media platforms.
c. Being a part of ESVP, you will act as a bridge between your institution and Enhelion. We will help you understand the importance of contemporary online legal courses in India and will thereby request you to let others from your institution know about the variety of online certificate, diploma and master courses on contemporary legal courses being offered by Enhelion.
What will you get?
Once your application for ESVP is accepted, you become eligible for one or more of the following benefits, subject to your performance during the programme:
a. An opportunity to be a part of a book project to be published by Bloomsbury Publishing Inc.
b. An opportunity to publish your articles on Enhelion's blog
c. Certificate of acknowledgement
d. Letter of recommendation from Mr. Rodney D. Ryder, Managing Partner, Scriboard Advocates and Legal Consultants and the Chief Mentor of Enhelion.
e. Get an additional 20% discount on the certificate/diploma/master course you enrol for
f. Free access to vidBoard.ai account. vidBoard.ai (www.vidboard.ai) is a video creation platform that uses artificial intelligence to convert simple text into human avatar-led videos with a click of a button. The video can be created in 40 different languages.
g. Gift voucher(s)/Stipend subject to your performance
Other details
Please read the below mentioned details before applying:
a. Once your application has been accepted, your continuation will be subject to your performance, which will be assessed by the core team of Enhelion.
b. They only accept two applications from a particular college. The applications are assessed on a rolling basis. Therefore, if you are interested, do apply soon.
Deadline to apply – 30th of October 2021
Link to apply
https://www.linkedin.com/jobs/view/2766355774/?refId=CANZkj1hoK6fMwn%2FCiQ8Zg%3D%3D&trackingId=TPgMSgmCWFr8rpoByfxifA%3D%3D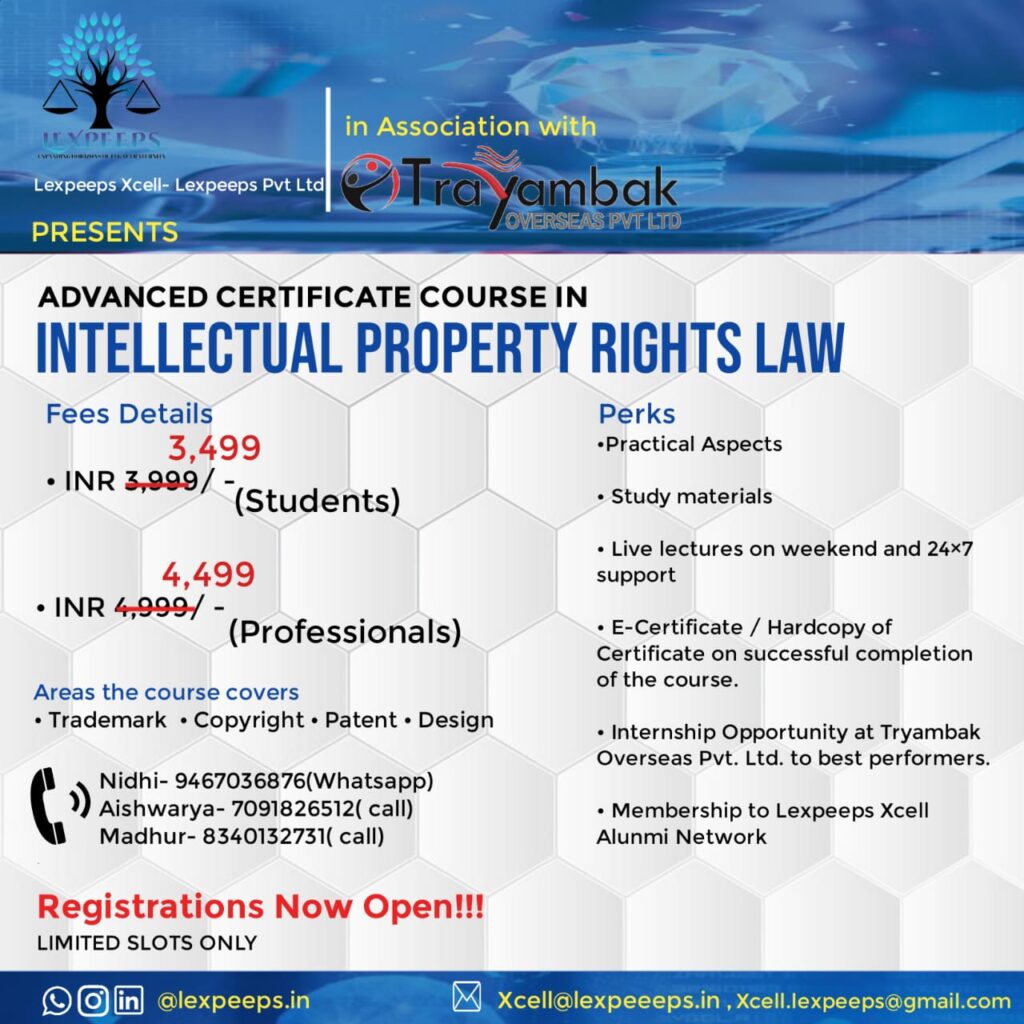 For regular updates, join us:
WhatsApp Group:
https://chat.whatsapp.com/GRdQLsHRwmB7QVRmS3WK
Telegram:
LinkedIn:
https://www.linkedin.com/company/lexpeeps-in-lexpeeps-pvt-ltd