About DIAC
The Delhi International Arbitration Centre (DIAC), formerly Delhi High Court Arbitration Centre was established by the High Court under the able leadership of its then Chief Justice Mr Justice Ajit Prakash Shah. DIAC was inaugurated on 25th November 2009 by Mr Justice K.G. Balakrishnan, the then Chief Justice of India. DIAC is the first High Court annexed Arbitration Centre.
It is an institution intended to facilitate and encourage litigating parties to take recourse to arbitration as their chosen mode for settlement of disputes. DIAC ensures the effective settlement of disputes by Arbitration, which is cost and time effective. It was founded by the High Court of Delhi to secure an independent, transparent and professional institution.
About the Opportunity
DIAC is accepting applications for its Internship Programme. It will provide first-hand, practical experience of the role and functions performed by a leading arbitral institution.
At DIAC, you will work with a dynamic, multicultural and professional team of arbitration lawyers on the administration of cases under the DIAC Rules.
Duration of Internship
The maximum period of 4 weeks, which can be extended to 8 weeks.
However, with prior approval of the coordinator of DIAC, the internship may be for a shorter or longer duration.
Mode of Internship
On successful completion of the internship, the intern will be eligible for a certificate from DIAC provided they adhere to the guidelines and have regular attendance at DIAC.
Responsibilities
Reading, commenting on and drafting documents related to current arbitration cases.
Doing research for the preparation of conferences, presentations and publications.
Assisting the team in its daily case-management tasks; reviewing, analysing and commenting on legal submissions.
Research tasks for the preparation of conferences, presentations and publications.
Other projects based on the intern's interests and background.
Eligibility Criteria
3rd year of study (or higher) of a 5 year law program OR
2nd year of study (or higher) of a 3 year law program OR
Law student pursuing LLM/pursuing PhD.
Preference will be given to students showing keen interest in or having knowledge and understanding of Arbitration,
Mediation and Conciliation.
Stipend
DIAC internships are not remunerated.
NOTE: Applicants should note that DIAC will not cover their cost of travel or any other expenses.
Procedure to Apply
Applicants should address applications in English only by email addressed to the Selection Committee at internship.diac@gmail.com
Documents required as a part of the internship application:
A short CV.
A cover letter/statement of interest describing your objectives and motivation in applying for an
internship with DIAC.
Letter of Reference preferably from the University of the applicant.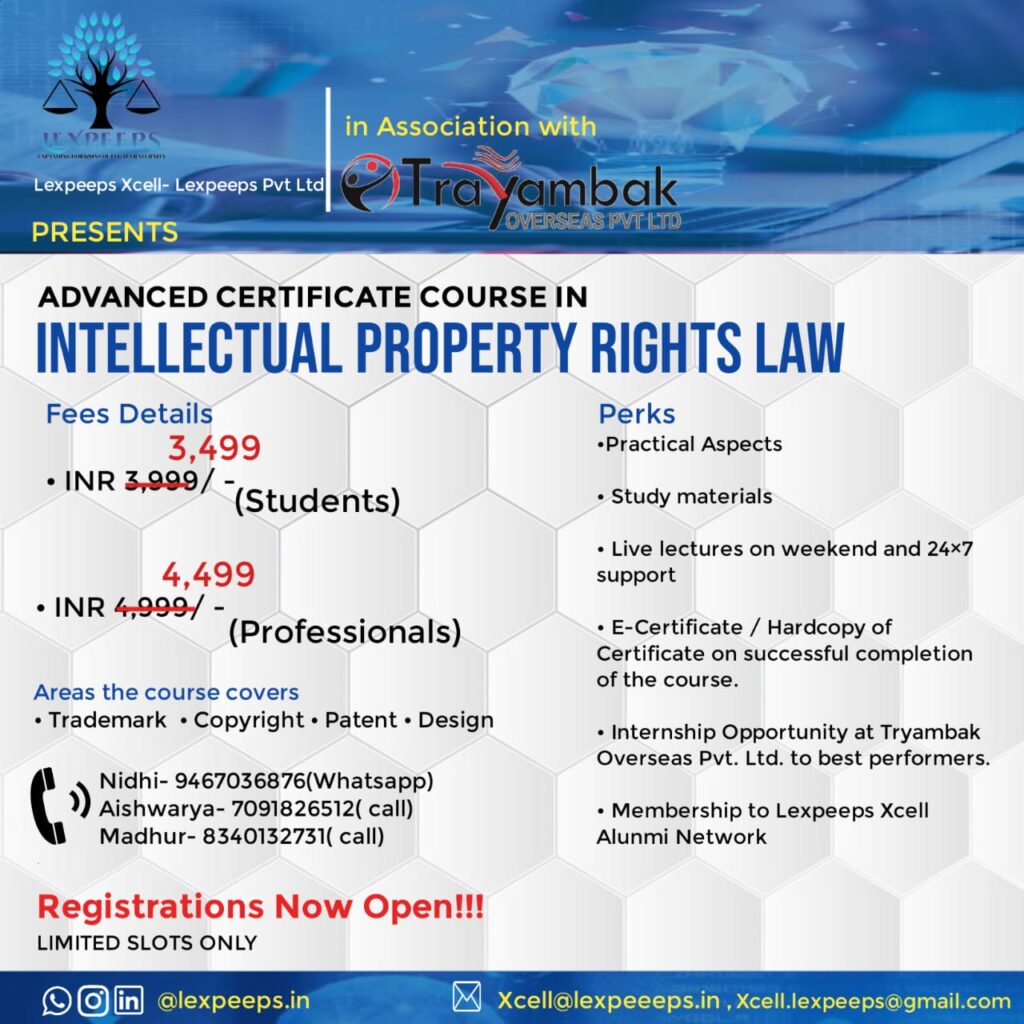 For regular updates, join us:
WhatsApp Group:
https://chat.whatsapp.com/GRdQLsHRwmB7QVRmS3WK
Telegram:
LinkedIn:
https://www.linkedin.com/company/lexpeeps-in-lexpeeps-pvt-ltd