About The Constitution Law Studies Committee
The Constitution Law Studies Committee was established under the aegis of Student Bar Association, CHRIST University, in the year 2019, with the vision to contribute to the learning, research and understanding of constitutional law. The objective of the committee is to promote and encourage the legal literacy, rights, and values that are enshrined in the Constitution among the law students by organizing lectures, seminars, workshops and conferences.
About the Competition
the committee is organising a National Essay Writing Competition on the eve of "72nd Constitutional Day" to be celebrated on 26 November 2021. The competition provides a platform for the young achievers in the legal field to showcase and improve their legal research and writing on the Supreme Law of the Land.
Eligibility
The competition is open for undergraduate and postgraduate LAW students, studying in any of the recognized Schools/Colleges/Departments of the Universities.
Individual students as authors or a team of not more than 2 students as co-authors, can also register.
Topics for Essay
State Emergency provisions in the Constitution, strike at the heart of Co-operative Federalism?
Constitutional Morality- An important concept or just a new buzzword?
Article 20(3)- right against self-incrimination: A dead fundamental right?
Submission Guidelines
All submissions must be made on or before 11:59 PM, 30th November 2021.
Participants are allowed to submit one essay only; multiple or incomplete submissions will lead to disqualification.
Co-authorship is permitted, up to two. Submission shall be in the English language only.
Word limit of the submission is 1,500 – 2,000 words, excluding footnotes.
The manuscript(s) must be in Microsoft Word (MS-Word) format, with the font size 12 in Times New Roman with 1.5 line spacing for the main text and size 10 in Times New Roman with single line spacing for footnotes, and authors must adhere to the BLUEBOOK citation format for footnotes.
Any submission that is found to be plagiarized shall be disqualified from the Competition. To protect the creative interest plagiarism shall be permitted only up to 20%.
The essay should be the original work of the authors and should not have been published in any form or manner before. The University will not be responsible for any claims made by any parties regarding copyright infringements in the works submitted by authors.
Participant shall not include his/her name in the submission's text in any form.
Copyright of the submission shall remain with the University.
In case of any conflicts, the jury shall be the final authority on the guidelines.
Important Dates
Submission deadline: 30 November, 2021, 11:59 PM
Submission Link
https://docs.google.com/forms/d/e/1FAIpQLScCcUC5lPmM7yyChlyBQbm_jIcqKB0paHU4F3HqDfO-hn_Vsw/viewform
Participation Fee
The participation fee (non-refundable) of Rs. 100/- is to be paid for registration, using the payment details given below. The payment link is here:
https://lavasa.christuniversity.in/e-services-online-payment-portal
Rewards
E-Certificates will be provided to all the participants.
1st Prize: Certificate of Appreciation + Cash Prize of Rs. 1,000/-
2nd Prize: Certificate of Appreciation + Cash Prize of Rs. 750/-
3rd Prize: Certificate of Appreciation + Cash Prize of Rs. 500/-
Contact Details
Mail at: law.lavasa@christuniversity.in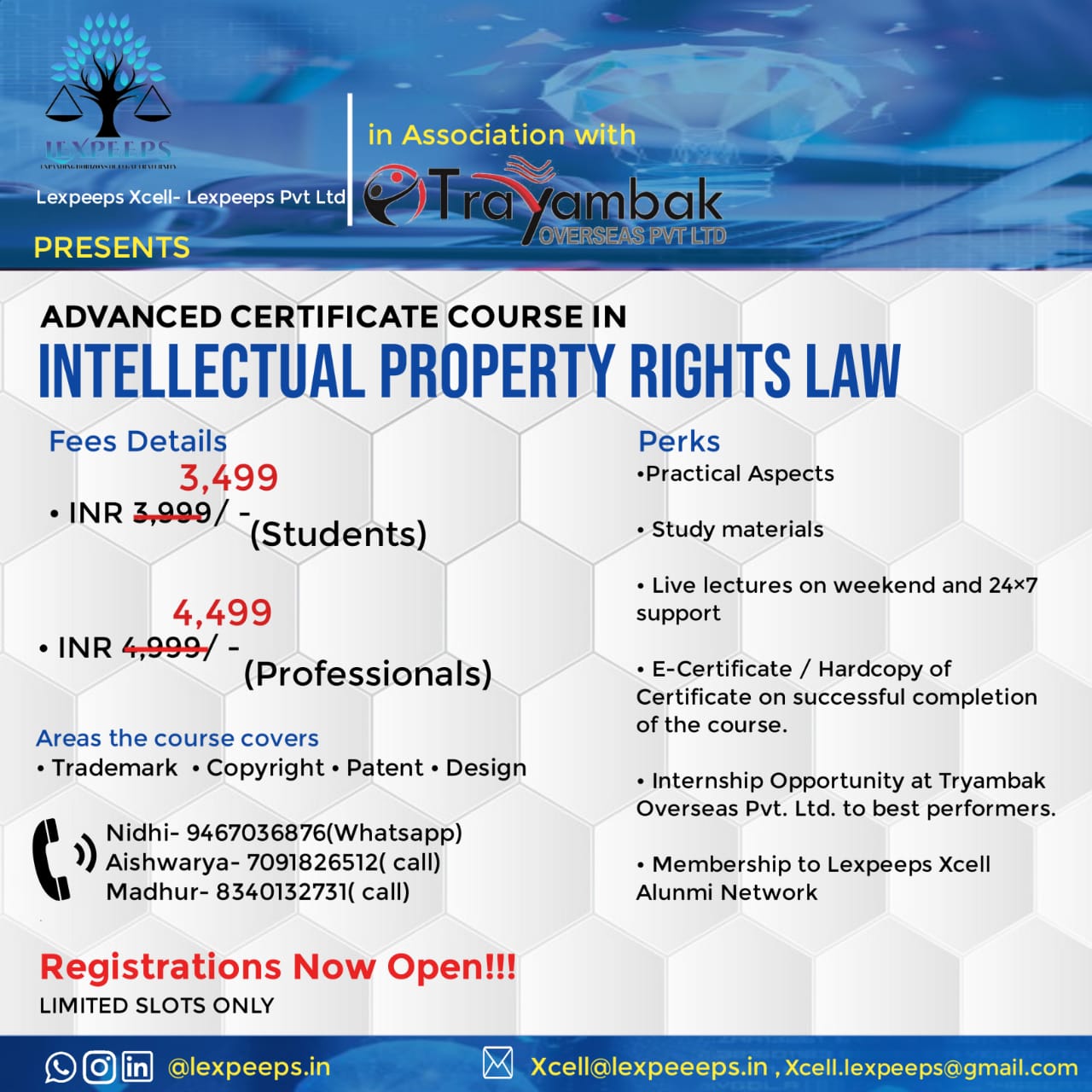 WhatsApp Group:
https://chat.whatsapp.com/GRdQLsHRwmB7QVRmS3WK
Telegram:
LinkedIn:
https://www.linkedin.com/company/lexpeeps-in-lexpeeps-pvt-ltd