About the Seminar
The 4th Edition of the NMIMS Kirit P. Mehta School of Law's Seminar, as spearheaded by the Centre for Excellence, aims to be an interdisciplinary forum for the fruitful exchange of knowledge.
The program will consist of plenary, half plenary, invited and contributed papers falling broadly within the scope of the conference. Some of the invited papers maybe tutorials in nature from keynote speakers, while others will review recent work in specialised fields.
The theme of the Seminar
Cyber Law is a relatively new field that draws from traditional law. It is becoming an increasingly important field in the modern technological world. It is multi-disciplinary, covering criminal and civil issues ranging from financial crimes to cyberbullying. Privacy, control, and access are all areas with which cyber lawyers regularly engage. As a quickly developing and growing field, cyber law promises to ensure more diverse possibilities in the future. The eminent English jurist Salmond has rightly observed that law seeks to regulate the conduct of individuals in society.
Cyber Law can be described as an endeavour to integrate the challenges presented by human action on the internet with legacy systems of laws applicable to the physical world. Cyber law has three basic building blocks-netizens, cyberspace and technology. It covers a broad area, encompassing many subtopics as well as freedom of expression, digital and electronic signatures, access to and utilisation of the internet, data protection and online
security or online privacy. Generally, cyber law is alluded to as the law of the web, but the term does not have a fixed definition.
The main reasons to enact cyber laws are, firstly, to prevent computer abusers from carrying on their illegal activities for personal gains; secondly, to prevent political rivalry so that innocent people do not become victims of their criminal acts. The internet is not just a world full of information, friends, fun, education and sports, but also a world full of drug dealers, cyber stalkers, psychopaths and even recipes to make bombs, and therefore cyber law plays a vital role in maintaining cybersecurity.
Therefore, the Centre for Excellence, through its Seminar, aims to disseminate legal knowledge pertaining toCyber Law.
Format of the Seminar
Abstracts of 250 words will be invited, inclusive of 5 keywords.
Upon selection of abstract and communication of acceptance to the author, the submission of the research paper will be invited.
Submissions in the form of research papers, 2000-5000 words in length, inclusive of footnotes, are invited from professionals, academicians, research scholars, and students.
A presentation will be made by the participants through PPT or any other means of presentation, upon selection of their manuscript.
Further, we will strongly encourage the presentation of new and unpublished work.
The seminar shall be conducted on an online platform.
The top 3 presenters will receive cash prizes and otherawards.
Submission Guidelines
Registration Form and link for submission of abstract: https://forms.gle/1nNgVA2Rp7LBEyAH8
Original research papers are welcomed on the above-mentioned topic but not restricted to the sub-themes as given.
The paper can be co-authored. However, a maximum of three authors per entry is allowed.
The author(s) shall specify in their submission:

Title of the paper with the sub-theme.
Names of author(s).
Name of the College/University.
Email address and contact number.
Sub-theme under which submission is made.

The Abstract and the Full paper should be submitted in .doc/.docx format with the following specifications:

Font Type: Times New Roman
Font size: 12 pts
Line spacing: 1.5
Footnotes Font Type: Times New Roman
Footnotes: Font size: 10 pts
Footnotes Line spacing: 1
Margin to be of 1 inch on all sides
Citation: Any uniform pattern of citation.
Important Dates
Last Date for Abstract Submission: 13/12/2021
Last Date for Payment of Registration Fee: 14/12/2021
Last Date for Paper Submission: 17/12/2021
Date of Seminar: 18/12/2021
Communication of acceptance or rejection of abstract will be within 24 hours of submission.
Registration Fees
Student Single Author: Rs. 500/-
Student Co-Authors (2): Rs. 800/-
Student Co-Authors (3): Rs. 1000/-
Professionals/Academicians/Research Scholars: Rs. 900/-
Contact Details
Mail to: kpmsol.nationalseminar@gmail.com
Disclaimer: All information posted by us on LexPeeps is true to our knowledge. But still it is suggested that you check and confirm things on your level.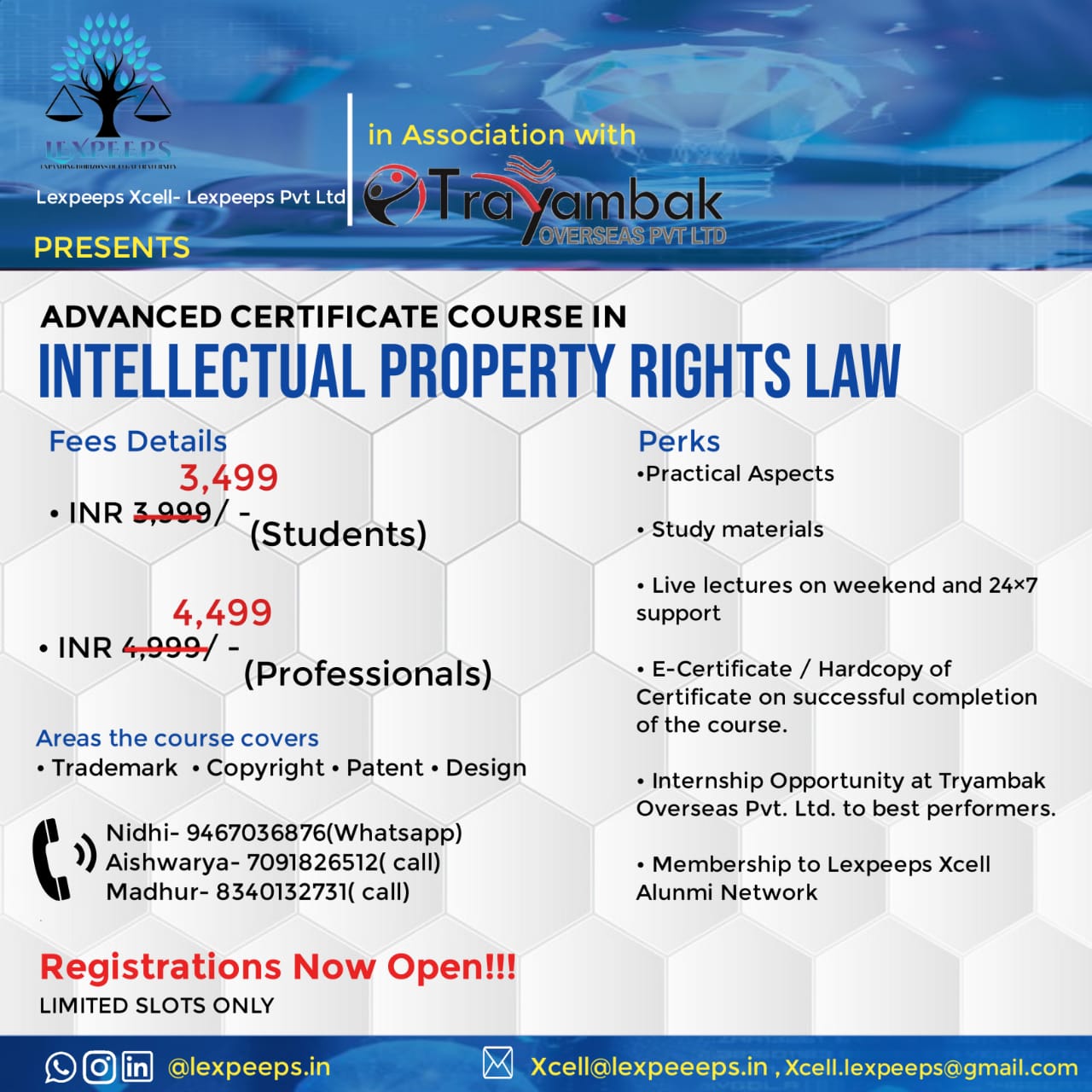 WhatsApp Group:
https://chat.whatsapp.com/GRdQLsHRwmB7QVRmS3WK
Telegram:
LinkedIn:
https://www.linkedin.com/company/lexpeeps-in-lexpeeps-pvt-ltd