About the Journal
International Journal of Legal Science and Innovation [ISSN 2581-9453] is a referred, bi-monthly scholarly peer-reviewed International journal, established under the aegis of VidhiAagaz – India's Leading Academic Publisher [A team of 50+ Academicians and Professionals spread across 7 countries registered under Ministry of Micro, Small & Medium Enterprises, GOI via UAM No. MP40D0012645 and ISO 9001:2015 certified educational venture specialised in academic publication].
Themes
IJLSI invites manuscripts on any theme under the ambit of Law.
Submission Process
All the Articles, Short Articles, Case Comments and Book Reviews being contributed for IJLSI are to be submitted via the Online Submission system at https://www.ijlsi.com/online-submission/
The Manuscripts can be tracked at https://www.ijlsi.com/track-manuscript/
In case you face any difficulty with Online submission, Submit your paper via email to submission@ijlsi.com with the subject as "Submission of Research Paper – Volume 3 Issue 6".
Processing Charges (To be paid after Acceptance)
For Indian Authors: INR 1000
For Foreign Authors: $ 25
Submission Guidelines
The work submitted shall be original and unpublished.
Plagiarism of any kind is prohibited.
When reviewing submissions, the Editorial Board considers whether the manuscripts are contemporarily relevant, topical and creative.
Citation: Any uniform method of Citation can be used.
The body of the paper shall be – Font: Times New Roman, Font Size: 12, Line Spacing: 1.5
The Footnotes shall be – Font: Times New Roman, Font Size: 10, Line Spacing: 1
The copyright of the entry to the Journal will rest with the Editorial Board once the entry has been selected and the authors (s) of the same have been notified.
The final decision as to the acceptance of manuscripts rests with the Editorial Board of IJLSI.
Co-authorship is allowed till the maximum of 4 Authors. However the charges gets increased if there are more than 2 Authors.
Word Limit [exclusive of footnotes]
Research Papers: 3000 – 6000 words
Short Articles: 1,000 and 3,000 words
Case Comments: 2,000 to 3,500 words
Book Reviews: 1,500 to 3,500 words
Important Dates
Deadline for Submission of Manuscript: December 6, 2021, 8:00 PM.
Review Results: Within 2-3 days of submission
Publication: Within 2 – 7 working days of Completion of Formalities.
Certificates
An E-certificate of publication will be provided to the published manuscripts. Hard Copies of certificates and paper booklets can be bought available separately.
Contact Details
Mail to: submission@ijlsi.com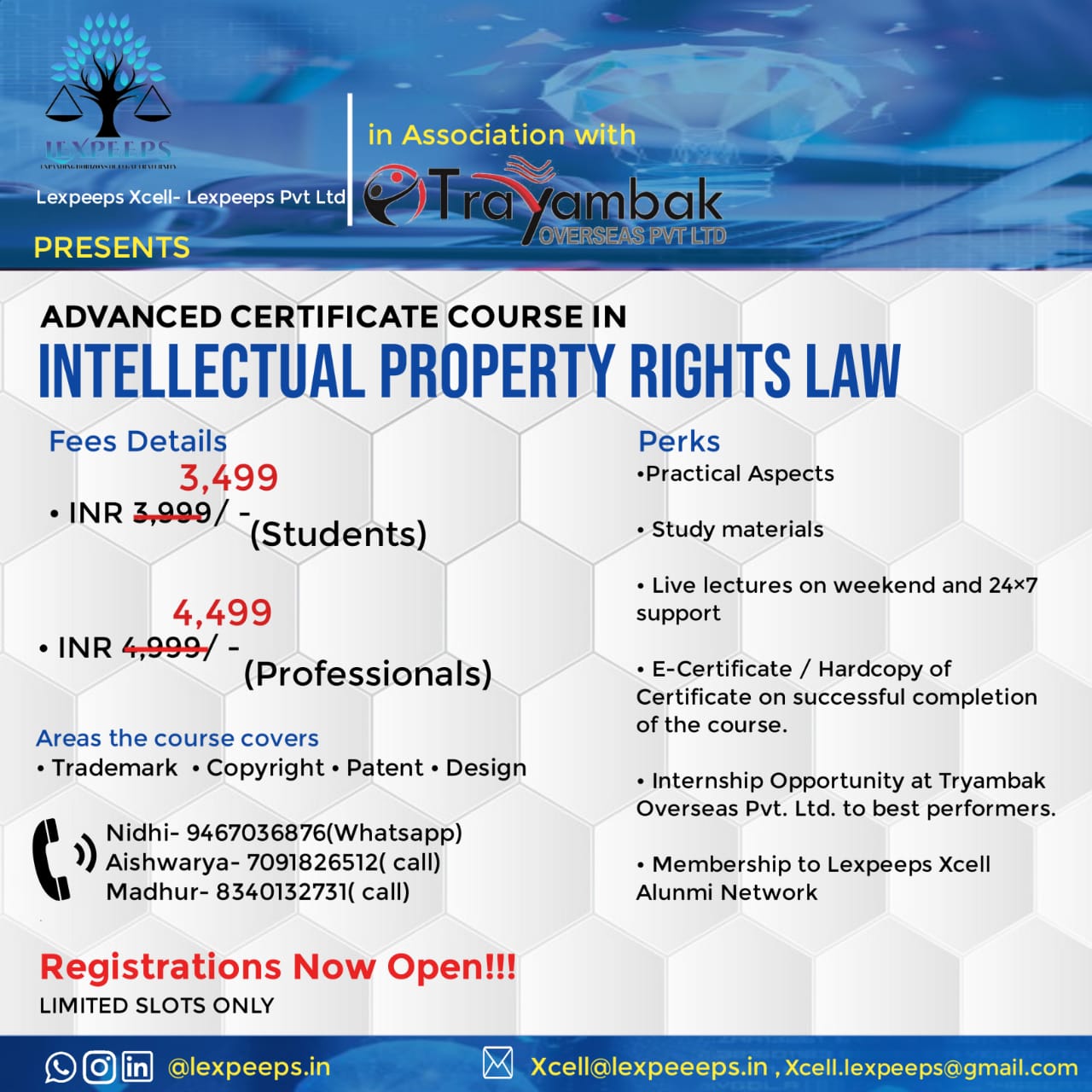 WhatsApp Group:
https://chat.whatsapp.com/GRdQLsHRwmB7QVRmS3WK
Telegram:
LinkedIn:
https://www.linkedin.com/company/lexpeeps-in-lexpeeps-pvt-ltd