About the University
NLUJ (National Law University of Jodhpur) is a leading law school in India, located in the bright and colourful city of Jodhpur, Rajasthan. Since its inception in 1999, NLUJ has strived to develop extraordinary lawyers and legal scholars who push and challenge established knowledge boundaries.
NLUJ draws students from all around India who come from a variety of social, cultural, and religious backgrounds. Students who graduate from NLUJ work in top law firms in India and overseas, others practise in courts, and others teach in law schools. NLUJ students have also gone on to study at famous universities around the world, including Harvard, Yale, Oxford, LSE, and King's College, on distinguished scholarships.
The law school is dedicated to the growth of knowledge and learning, and it aspires to be a centre of legal excellence. It is committed to creating committed lawyers with the greatest academic and professional standards, as well as high-quality legal intellectuals.
About the event
One of the most important objectives entrenched in the Indian Constitution is to ensure political fairness, as stated in the Preamble. Constitutionalism in India has been moulded by the country's unwavering belief in democratic values and efforts to secure them. Since its inception, the Constitution has successfully met numerous obstacles while remaining true to its purpose of achieving entrenched democracy.
Nonetheless, seventy years later, the functioning of India's Parliamentary democracy requires a thorough examination. There is a vast range of options available nowadays.
a wide range of concerns and questions that demand in-depth investigation and discourse The field's interdisciplinary nature is reflected in the diversity of scholarly interest in Constitutional Law and Political Justice. A real and committed commitment on our side can go a long way toward securing our future and fostering a culture of democracy and effective governance.
A two-day national seminar on "Assessing India's Performance as a Parliamentary Democracy" is being held at the National Law University in Jodhpur. The Seminar will take place over two days, with eminent speakers from around the world discussing and debating the most pressing issues concerning India's parliamentary democracy. The conference will be held on the Cisco Webex Platform (ONLINE).
Themes
The following are the exhaustive list of proposed themes for abstract submission, which shall become the basis of the paper presentations:
Parliamentary Procedures

Role of Speaker;
Anti-Defection;
Motions & Procedures;
Opposition Rights; and
Public Participation in Law-Making.

Judicial Intervention

Role in upholding parliamentary practices;
Revisiting the Collegium System; and
Listing of cases vis-à-vis politically sensitive matters.

Parliamentary Representation:

Minority Representation;
Gender Representation; and
Regional Representation.

Electoral Reforms

Appointment of the Election Commissioner of India;
Inner-party democracy;
Model Code of Conduct and selective application; and
Electoral Bonds.
The list is exhaustive and must be strictly adhered to while submitting abstracts.
Abstract submission guidelines
The abstract shall be within 300-350 words. At least 5 keywords must be highlighted.
The abstract shall contain the names, email addresses and designations of the authors.
Formatting guidelines: font: Times new Roman; font size: 12; justified; line space- 1.5.
Click on the link to upload abstract – CLICK HERE
For further queries, write to conseminar2022@nlujodhpur.ac.in
For the purpose of convenience, kindly ensure that the abstract reflects the core argument of the author and is complete in all respects.
Eligibility criteria and fee structure
| | |
| --- | --- |
| Academicians, Advocates and Researchers | Rs.1100 |
| PhD Scholars | Rs.600 |
Payment of registration fees shall start once the abstracts have been accepted.
Co-authors shall register separately.
Selected papers exhibiting exceptional research work may be published in a journal/ edited book published by the University.
Important dates
| | |
| --- | --- |
| Stages | Timeline |
| Deadline for abstract submissions | 30th November 2021 |
| Announcement of accepted abstracts | 4th December 2021 |
| Deadline for payment of registration fees | 20th December 2021 |
| Deadline for manuscripts submission | 3rd January 2022 |
| Seminar & Paper Presentation | 8th and 9th January 2022 |
Contact Details
 conseminar2022@nlujodhpur.ac.in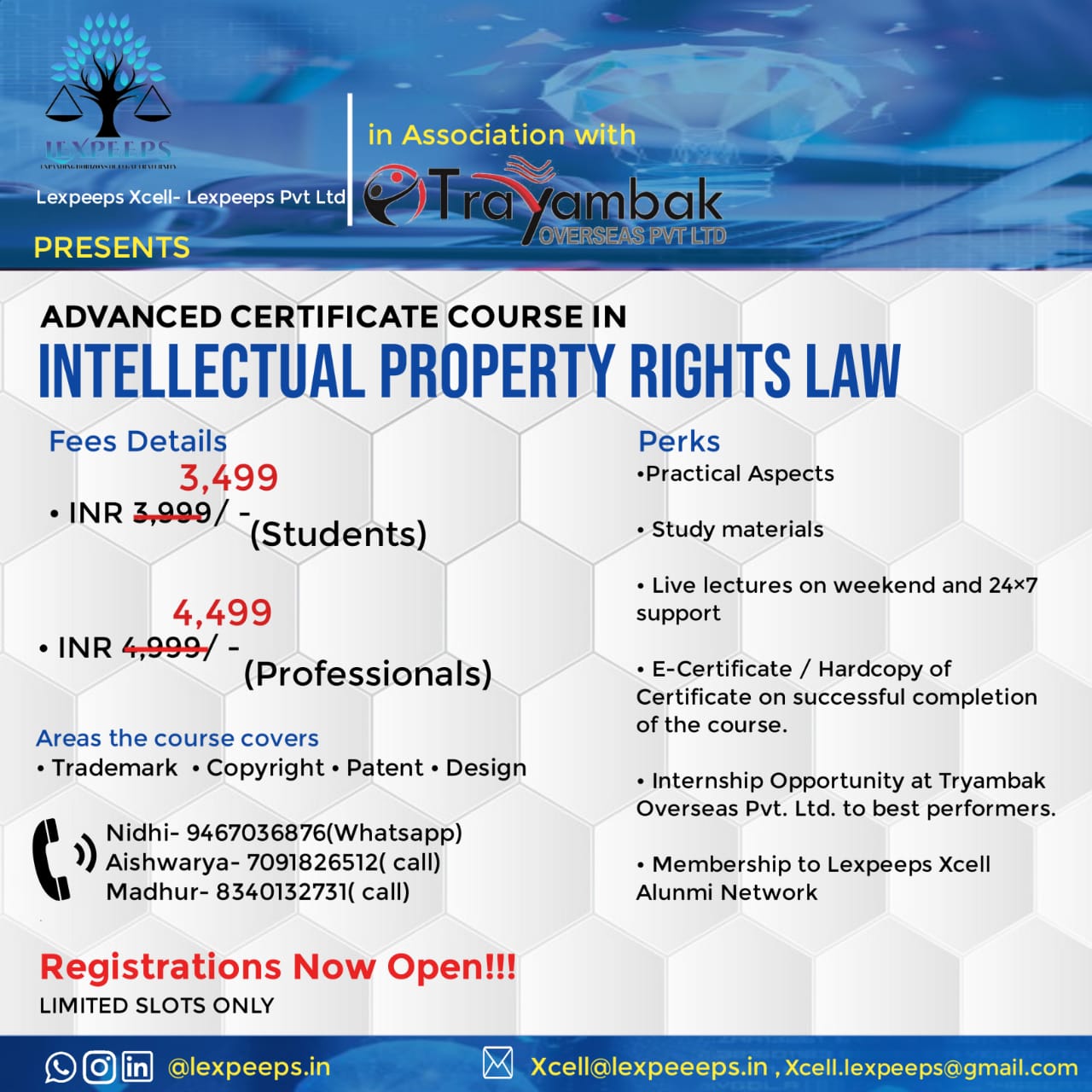 WhatsApp Group:
https://chat.whatsapp.com/GRdQLsHRwmB7QVRmS3WK
Telegram:
LinkedIn:
https://www.linkedin.com/company/lexpeeps-in-lexpeeps-pvt-ltd