The Center for Public Health Laws, Shankarrao Chavan Law College, Pune is organizing a One-Day National Seminar on Public Health Care System in India: Issues and Challenges on September 17.
ABOUT
Inadequate public health care system, less attention towards public health care system by the state, shortage of medical accessories, infrastructure, medicines, human resources, medical practitioners, lack of advanced medical equipment, etc. have been experienced by the public before and during pandemics particularly.
In addition to this, the public health care system is very weak to provide medical treatment for newly emerged diseases. Therefore, keeping in mind the broader aspects of the various legal and social issues involved in access to the public health care system, it is necessary to discourse on the lacunas that exist in several public health laws in the context of state's obligation to provide public health care system and public's right to health. This seminar mainly concentrates on these issues.
ELIGIBILITY
Papers are invited from the Academicians, Practitioners, Students of Law, and Research Scholars on the given sub-themes.
SUB-THEME
Constitutional Provisions relating to the right to health
Right to health and World Health Organization
Public Health Care System and International Scenario
People's Right to access the public health care system
Patient's rights in relevance with the Consumer's Right
The approach of the Government and the Public Health Care System
Constitutional Mandate, Government and Private Hospitals
Public Health Care System and Insurance Laws
Medical Practitioner's legal and ethical rights and duties in Public Health Care System
Food Safety Laws and Right to health
SUBMISSION GUIDELINES
All submissions should be in English.
The main text should be in A4 size, Times New Roman Font on MS-Word, dully typed in 12pt Font size with 1.5 Line Spacing.
The paper should be between 3000-5000 words.
Co-Authorship is permitted with a maximum of 2 authors only.
The citation method to be followed is JILI
REGISTRATION FEES
For Academicians, Lawyers, Law students, and Research Scholar: No fees [only participation]
For Academicians, Lawyers, and other professionals Law students, and Research Scholar other than SCLC (Research paper presentation): INR 400/-
Note- Registration fees include only participation/paper presentation certificates. The co-authorship up to two is allowed, however, the co-authors are required to register separately with full fees.
REGISTRATION PROCESS
Register through the Google form given at the end of the post.
Google Meet Link will be shared with the participant.
Payment of Registration Fees
Name: MMM's Shankarrao Chavan Law College
Account Number: 50100106697534
Bank Name: HDFC Bank
Branch: Mayur Colony, Pune
IFSC Code: HDFC0000149
Submission of Full Paper
IMPORTANT DATES
Last Date for Registration: September 4, 2022
Last Date for Abstract Submission: September 7, 2022
Notification of Selection of Abstracts: September 9, 2022
Last Date for Full Paper Submission: September 14, 2022
Date of Online Seminar: September 17, 2022
CONTACT DETAILS
+91 90285 05566
https://docs.google.com/forms/d/e/1FAIpQLSeuU-cTbzLNI7A0S5lashZXOkOX1fkPdM3Lz4HDeDzGDIjDEg/viewform
Disclaimer: All information posted by us on Lexpeeps is true to our knowledge. But still, it is suggested that you check and confirm things on your level.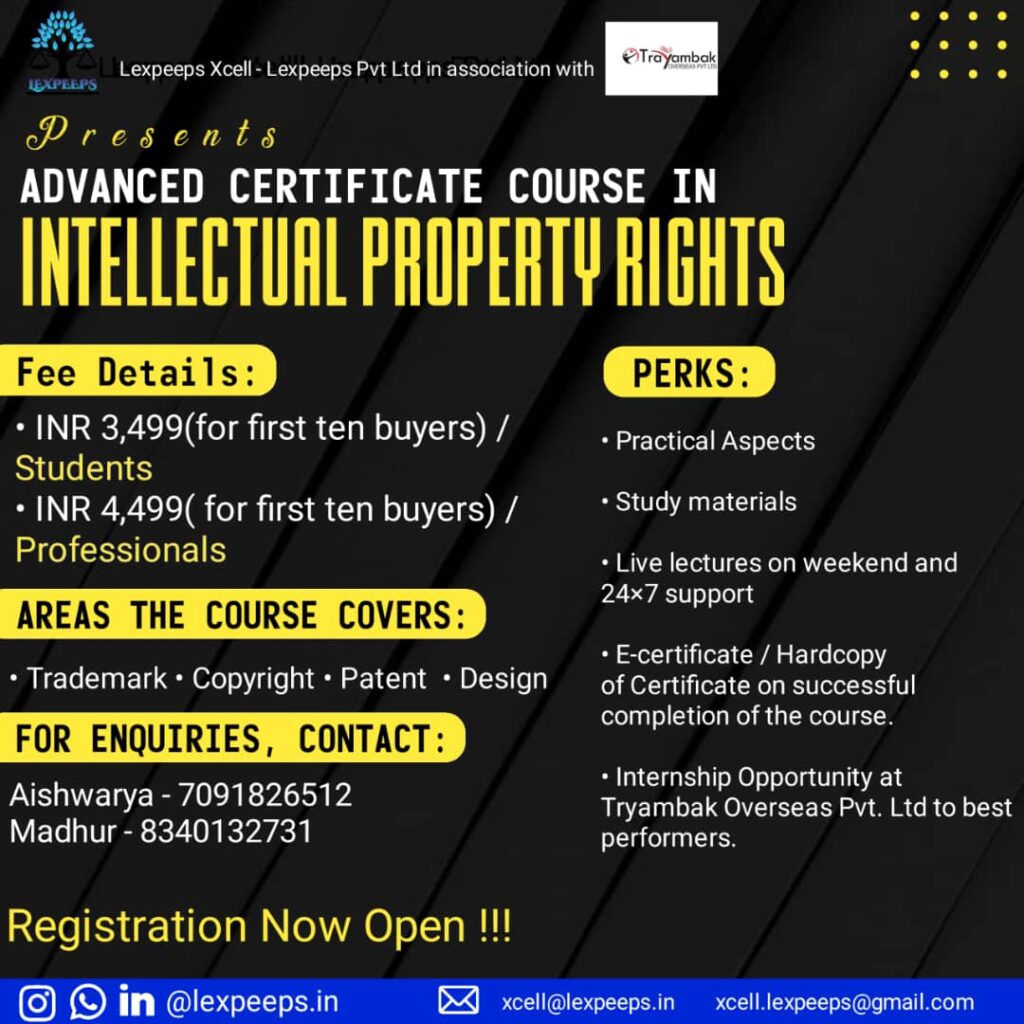 WhatsApp Group:
https://chat.whatsapp.com/G4bxdgRGHY8GRzOPSHrVwL
Telegram:
LinkedIn:
https://www.linkedin.com/company/lexpeeps-in-lexpeeps-pvt-ltd