MVN University and AGISS Research Institute are organizing a one-day National Seminar on "Environmental Law & Policy" in the Month of August/September 2022.
ABOUT
AGISS Research Institute is organizing a one-day National Seminar on "Environmental Law & Policy" in the Month of August/September 2022. The date is yet to be finalized for the same and the same shall be conveyed at the earliest 3 weeks in advance.
The objective of the Seminar is to provide the legal fraternity and academia with a platform where they can present their research and update society with the new developments and reforms taking place in the field of environmental law.
THEME
Environmental Law & Policy: Issues and Challenges
SUB-THEME
Environmental law with respect to cyberspace.
Environmental law with respect to modern technique.
Environmental law and the provision of the Indian Constitution.
Environment pollution and government policies
Environment pollution and health-related issues
Environmental law with respect to Human Rights.
Effectiveness of environmental related laws
International regime on Environmental Law.
Need for Sustainable Development
Nuclear energy & Environmental Law.
Effect of COVID-19 pandemic on environment & environmental law.
Intellectual Property & the environment
Environment & Judiciary
Effectiveness of criminal and civil laws for the environment.
Impact of global warming on nature and wildlife
Effect of water pollution on aquatic life.
Climate Change
Air Pollution
Protection of Oceans
Access to Water
Merging of Rivers
River Tribunals in India
Forests
Biodiversity
Sustainable Development
Human Rights and Environment
Protection of Environment in Armed Conflicts
Environment and Indigenous Peoples
Green Energy
Waste Management
International Trade and Environmental Protection
Conventional Crimes of pollution
Trade-related environmental crimes including smuggling of certain chemicals and Wild Life Products
Pollution and Crime arising out of Improper disposal of Waste
Forest and Wildlife-related Crimes
Polluting Oceans and Marine Resources
Polluting Air and Outer space
Falsifying data pertaining to environmental regulations
Intergenerational responsibility, youth, and the environment
Trusteeship of the Earth
Ecosystems in the Indian Ocean region and climate vulnerability
SUBMISSION GUIDELINES
Kindly do not submit the same paper to any journals/conferences/seminars etc.
The submission must be the original work of the authors i.e., shouldn't be plagiarized and also should be free from grammatical, spelling, and other errors. It must also not contain any defamatory words.
The author is required to include the declaration form stating that his work is original and hasn't been published anywhere.
Submission must be accompanied by an abstract of 300-500 words and author(s) affiliation with a minimum of 5 keywords. No Paper will be accepted without an abstract.
Author's Info to be attached
Name of the Author(s)
Qualification
Name of the Institution/Organization
Email Id & Phone Number
The submission should be made in .doc/.docx/ format only.
Co-authorship is allowed for up to a maximum of three (3) persons.
Indian Law Institutes (ILI) rule of footnoting and citation style should strictly be followed in the submissions, non-compliance to which will lead to it being summarily rejected.
The word limit for research papers is 2500 – 6000 words (maximum, excluding footnotes)
The body of the paper should be in Times New Roman, with font size 12 and 1.5 line spacing. Footnotes should be in Times New Roman, size 10 with single line spacing.
Page borders should not be used.
The email should entail the following:
Abstract (without the author's details).
Cover Letter [with the name(s), institutional affiliation(s), and contact details of the author(s)].
Abstracts & research papers should strictly be submitted at Google Form Link. Notification of the selection of abstracts shall be sent to the participants two-three days from the submission of abstracts
PERKS
Best Paper Award: Certificate of Merit + INR 5,000 /-
Best Paper Award (Student): Certificate of Merit + INR 2,000 /-
Best 2 Presentation: Certificate of Merit + INR 1,000 /-
Best 2 Presentation (Student): Certificate of Merit + INR 1,000 /-
IMPORTANT DATES
The Last date for Abstract Submission: August 20, 2022.
Final notification of selected abstracts: within 48 hrs of abstract submission
Last date of Registration: August 15, 2022.
The Last date for Submission of the full paper: October 31, 2022
CONTACT DETAILS
judicialconference2021@gmail.com
+91 98076 79324
https://forms.gle/CgTs1UXktFneaQNF9
Disclaimer: All information posted by us on Lexpeeps is true to our knowledge. But still, it is suggested that you check and confirm things on your level.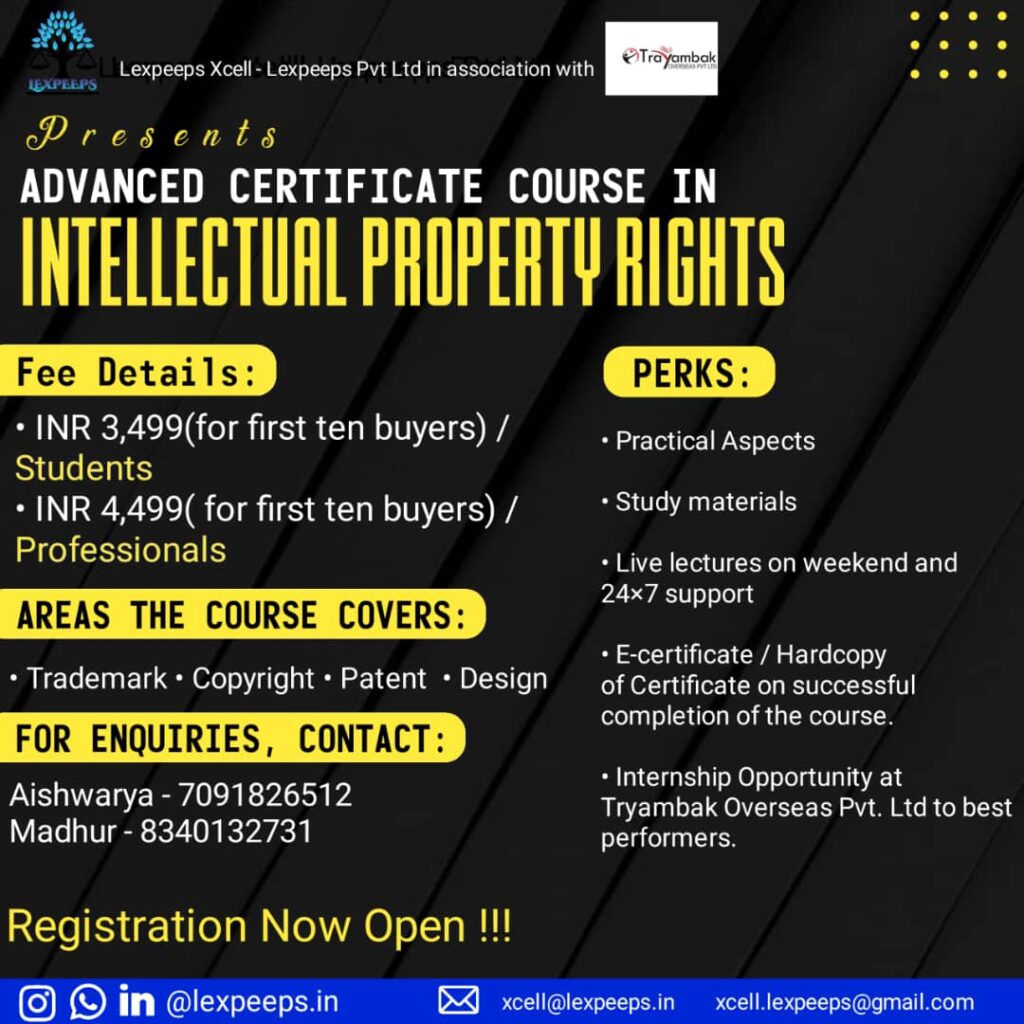 WhatsApp Group:
https://chat.whatsapp.com/G4bxdgRGHY8GRzOPSHrVwL
Telegram:
LinkedIn:
https://www.linkedin.com/company/lexpeeps-in-lexpeeps-pvt-ltd