THE CENTRE FOR RESEARCH AND HUMAN RIGHTS, KARNAVATI UNIVERSITY is making a call for papers for its INTERNATIONAL INTERDISCIPLINARY CONFERENCE ON COVID AND IT'S IMPACT ON HUMAN RIGHTS 2022.
ABOUT
Human rights and different social movements resort to human dignity in order to justify their claims and their actions. Human rights are often defined as entitlements that human beings possess just by virtue of their inherent dignity. This conceptual link between human rights and inherent dignity is as popular as it is unhelpful. It is often argued that internationally recognized human rights are common to all cultural traditions and adaptable to a great variety of social structures and political regimes. Such arguments confuse human rights with human dignity. All societies possess conceptions of human dignity, but the conception of human dignity underlying international human rights standards requires a particular type of" liberal" regime.
For decades the global debate over human rights has been a dialogue of the deaf. This interminable argument pits advocates of civil and political rights against proponents of economic and social rights. The former takes the classic liberal position that individual freedom is the foundation of liberty and, accordingly, that the only fundamental rights are "negative" ones that constrain state power.
Human rights are the common denominator of human beings because they rely upon human dignity. They are applied regardless of nationality, religion or belief, race, ethnicity, or gender. In coalition to satisfy and advance the goals of the UWSL Center for Research on Human Rights, this conference is going to address various issues including the protection of Human values and lives in the times of Covid through universal recognition.
THEME
Contributions can be relied upon the following themes, from a multidisciplinary perspective:
The impact of Covid on Right to Education
The impact of Covid on Right to Health
The impact of Covid on Right to Access to Justice
The impact of Covid on Rights of Laborers
The impact of Covid on Right to Trade Business and Occupation
Note: These Themes are indicative and not exhaustive, any other topic which is directly or indirectly related to the main theme may be taken.
SUBMISSION GUIDELINES
Submissions are accepted only in the English language.
Each applicant must submit a maximum 300 words (5 keywords) abstract through google form by 1st of July, 2022. For more information, kindly refer to https://karnavatiuniversity.edu.in/news/uwsl-news/2022/iicchr-2022/.
Abstract must contain details about the names of the author(s), contact details, institutional affiliation, and designation.
The abstract must expressly include the novelty and usefulness of the idea that the author wishes to put forth and must categorically mention the specific contribution of the article beyond the existing available literature.
Co-authorship (with a cap of two authors) is permitted.
Acceptance or Non-acceptance of the abstract will be communicated on or before 5th July 2022
The body of the abstract should be in Times New Roman, with Font Size – 12, and 1.5-line spacing. The footnotes should be in Times New Roman, Font Size 10, and single line spacing.
The citations must conform to the OSCOLA style of citation or any uniform citation.
After the conference, selected presentations would be called for full papers and the last date of submission for the same is 15th August 2022.
IMPORTANT DATE
Last date of submission of abstract: On or before 1st July 2022
Communication of acceptance of Abstract: 5th July 2022
Last date of submission of full paper (2,500 words): 15th August 2022
Participants will be responsible for their own accommodation and travel expenses.
REGISTRATION LINK AND ABSTRACT SUBMISSION LINK
https://forms.gle/Cui3JghXNZWqxLSf7
REGISTRATION FEES
Free for all Participants and Presenters.
MODE
For Participants from India: Physical Mode
For Participants from outside India: Virtual Mode
CERTIFICATES AND AWARDS
E-certificates of participation will be provided to all the registered participants.
E-certificates of the presentation will be provided to all the paper presenters from outside India.
Hard Copy of the certificates will be provided to all the paper presenters from India at the Valedictory Session.
CONTACT DETAILS
aaratrika@karnavatiuniversity.edu.in
08850711694
09979123966
conferences.uwsl@karnavatiuniversity.edu.in
Disclaimer: All information posted by us on Lexpeeps is true to our knowledge. But still, it is suggested that you check and confirm things on your level.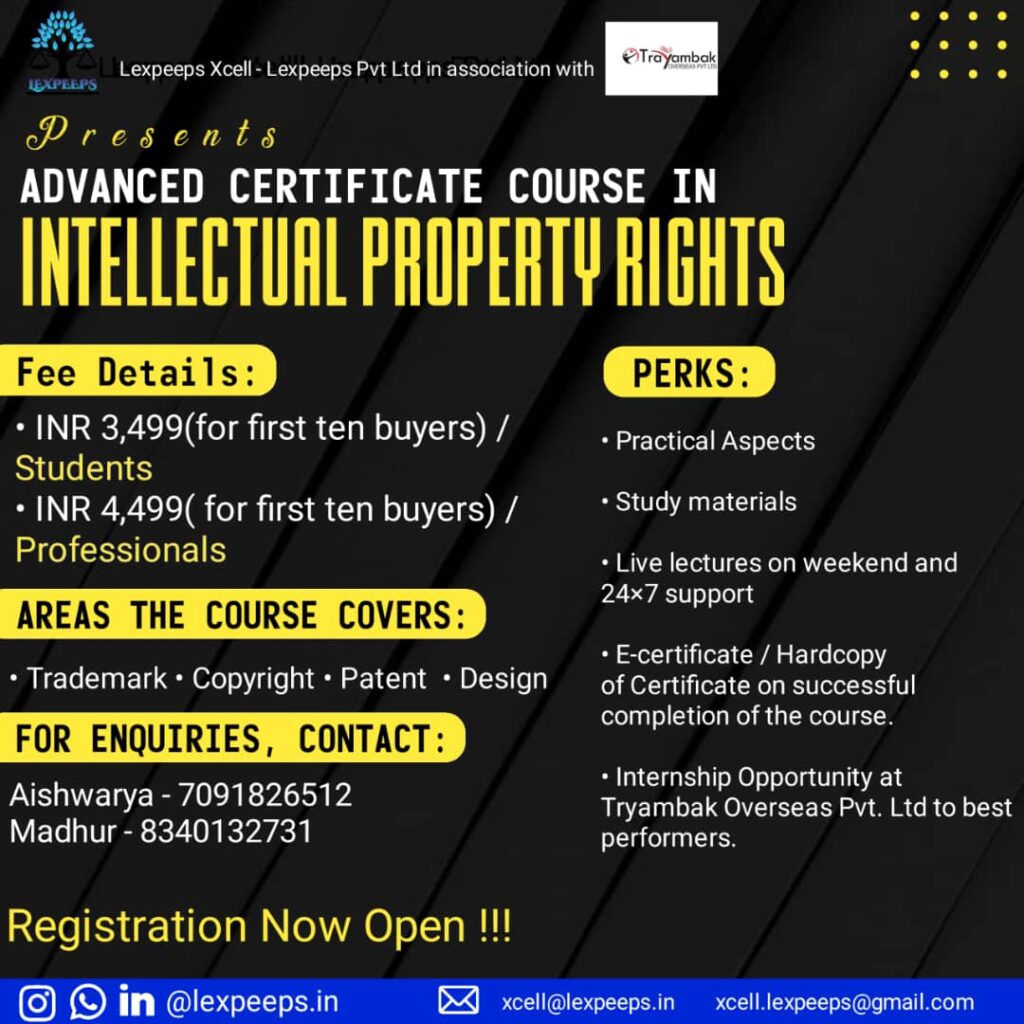 hatsApp Group:
https://chat.whatsapp.com/G4bxdgRGHY8GRzOPSHrVwL
Telegram:
LinkedIn:
https://www.linkedin.com/company/lexpeeps-in-lexpeeps-pvt-ltd