About the Organiser
The ICFAI Law School is a segment of the ICFAI Foundation for Higher Education, Hyderabad and recognized by the Bar Council of India.
About the Conference/Seminar
Two Day Virtual/Blended Conference on "Blustery Cyber Space: An Era of Dataveillance" is a proposition initiated under the auspices of Centre for Excellence in Cyber Law and Data Protection Law, ICFAI Law School, IFHE, Hyderabad for the organization of a two-day International Conference in this broad field which has international ramifications.
Data Privacy and Data Security in India are the most challenging problems in the contemporary period of Information Technology. It has paved the way for many unexplored and untapped issues on the horizon of Data Privacy and Data Protection resulting in cybercrimes and dominance of virtual reality that has not been envisaged or fathomed out by our conventional legal norms.
These issues have drawn attention to National and International portals with an upsurge of modern technology.
The present conference aims to create awareness about the Cyber Laws, Data Privacy, and Data Security issues and challenges of cyber-crimes and cyber security among individuals, society, banking and financial organizations, and the students.
Eligibility
This Conference is intended to provide a platform for academicians, lawyers, corporate personalities, and scholars across the country and abroad to share their research work.
Mode of Conference
Virtual/Blended
Themes and Sub-themes
Digital Evolutions and Innovations

Expansion of Cyberspace
Artificial Intelligence: the Virtual Assistant
Cloud Migration: Boon or Bane
Online Education and its Challenges
Digital Innovations and Society

Digital Innovations and Society

Anatomy of IT Rules, 2021
Social Media and Infringement of Privacy
Crimes and Cyberspace
Right to Erasure and Right to be Forgotten
Role of AI in Social Media

Digital Metamorphosis: Big Data and Privacy

Role of Big Data in Digital Development
Big Data and Issues in Cyber Space
Big Data and Data Security Governance
Data Mining and Right to Privacy
Dataveillance and Right to Privacy

E-Commerce, Cross-Border data and Security

Cross-Border Data and Digital Economy
Privacy of Online Consumers in Cyberspace
Threat and Vulnerabilities impacting Digital Economy
Consumer Protection Policies in Digital Age
Cross-Border Data Security: Standard Contractual Clauses and Binding Corporate Rules

Expostulation of Digital Security

Role of UN in maintaining Peace and Security in Cyberspace
Anatomy of GDPR, CCPA, and Indian Data Protection Laws
Role of Indian Laws to provide Data Protection
Digital Awareness in India
Jurisdictional Issues for Borderless Crimes
Formatting Guidelines
The submission must be word-processed and in Times New Roman. The main text should be in font size 12 and footnotes in font size 10, line spacing 1.5 and the text should be justified.
A one-line gap must be maintained between all paragraphs and headings. Heading levels should be clearly indicated.
All hyperlinks must be in black colour and must not be underlined.
Figures and images if included should be submitted in a separate file along with the manuscript in word format (.doc). Images and figures taken from external sources should be adequately captioned; sources acknowledged and should be of high resolution.
Submission Guidelines
Abstract Submission:

Authors may initially submit an abstract of not less than 300 words. Maximum five key words are to be provided along with the abstract. Abstracts may be submitted through the mail to centexcellcyberlaw@ifheindia.org by April 15, 2022.
Acceptance of abstracts shall be communicated through e-mail by April 25, 2022.

Full Paper Submission:

For the accepted entries, the authors shall submit complete paper as per the following guidelines by May 20, 2022.

All communication through the mail be addressed to centexcellcyberlaw@ifheindia.org.
Registration Details
Registration Fee

Academicians/Professionals: 1000 INR
Students and Research Scholars: 750 INR

Registration Process

Make the payment through NEFT/RTGS/IMPS
Save the receipt of payment in PDF or image format
Fill the registration form through the link provided and upload the receipt of payment in the form itself.
Important Dates
Last Date for Abstract Submission: April 15, 2022
Intimation of Acceptance: April 25, 2022
Last Date for Registration and Payment: April 25, 2022
Last Date for Full Paper Submission: May 20, 2022
Paper presentation: June 10 & 11, 2022
Contact details
Coordinator: Dr. Mohammed Akbar Khan
Co-coordinator: Rakesh Suryadevara, rakeshsuryadevara@ifheindia.org, 7702263666.
Co-coordinator: Dr. Ritu Chhabra, rituchhabra@ifheindia.org, 9315604772.
Disclaimer: All information posted by us on LexPeeps is true to our knowledge. But still, it is suggested that you check and confirm things on your level.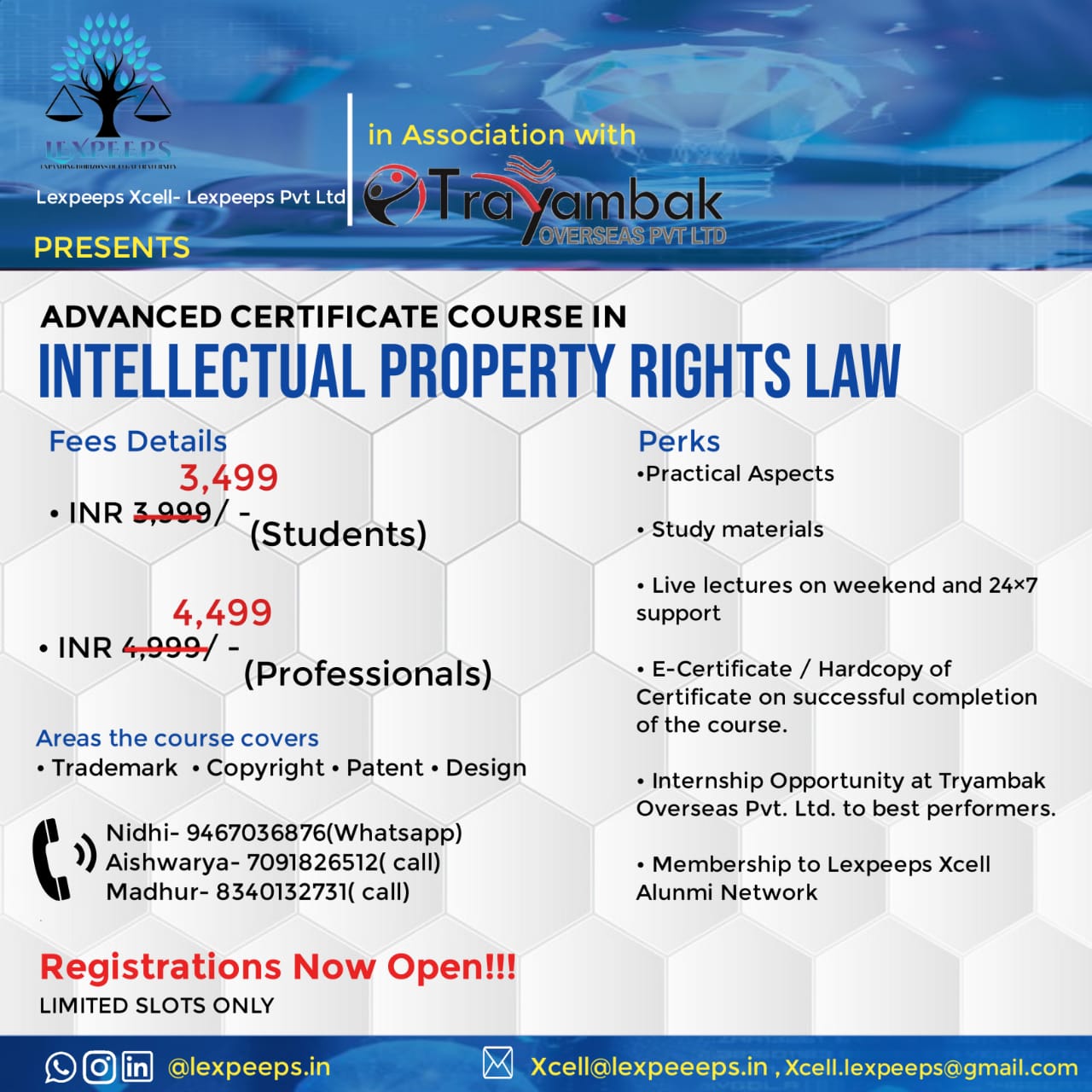 WhatsApp Group:
https://chat.whatsapp.com/GRdQLsHRwmB7QVRmS3WK
Telegram:
LinkedIn:
https://www.linkedin.com/company/lexpeeps-in-lexpeeps-pvt-ltd