Hidayatullah National Law University is making a call for papers for University Student Review.
ABOUT
HNLUSR is a bi-annual publication, student-edited, peer-reviewed, open-access law journal dedicated to publishing legal scholarship by lawmakers, judges, practitioners, academics, legal scholars, and students, and its articles are made available in print, through our website, and via SCCOnline.
SUBMISSION CATEGORIES
The Review publishes Articles, Essays, and select Book Reviews in its print volumes, and shorter analytical pieces on HNLUSR Online, the online companion to the Review.
SUBMISSION GUIDELINES
Style Guidelines: Please use 12pt Times New Roman font and double-space the text of your article. For the footnotes, use 10pt Times New Roman font and single-spacing. The article should use 1-inch margins and include page numbers in the bottom-right corner of the page. All submissions must be made in Microsoft Word. It is encouraged to use gender-neutral language.
Headings: For better structure, different levels of headings may be used. It is advisable to restrict these to three levels generally, excepting special circumstances where a fourth level may be used. Please refer to the following format:

HEADING 1: TIMES NEW ROMAN, SIZE 12, BOLD, SMALL CAPITALS, CENTER ALIGN.
Heading 2 – Times New Roman, Size 12, Underlined, Left Align.
Heading 3 – Times New Roman, Size 12, Italics, Left Align.

Length Limitations: Except in extraordinary circumstances, they will not publish articles exceeding the limitations below, which include text, footnotes, and appendices. The following word limit will be exclusive of one prescribed for Abstract.
Articles: They prefer article submissions that are between 6,000 and 10,000 words in total length. Articles tend to analyze a problem and suggest a solution. Such analysis usually articulates some background information to inform the reader before turning to a novel argument. Along these lines, published articles regularly follow a traditional roadmap of introduction, background, analysis/argument, and conclusion, and provide a comprehensive treatment of a particular area of law. Articles tend to be formal in both the author's tone and in the obligation to ground information and analysis in comprehensive substantive via consistent citation.
Essays: Essays are similar to an article in content and style, but the total length of words is limited to 3,000-6,000. Essays tend to explore novel issues. While they are similar to Articles both with respect to scope and sophistication, Essays tend to differ from Articles in that they often exercise significantly more structural, stylistic, and substantive flexibility. Essay authors wield this flexibility in a wide variety of ways, with some choosing to pursue an ambitious or provocative rethinking of an area of the law or a commentary on a legal concept or doctrine intended for a peer audience.
Comments: Commentaries on recent court cases or legislative developments, limited to a total length of 2,500–5,000 words.
Book Reviews: Review of a recent and relevant book, limited to a total length of 1,000–2,500 words. Book reviews provide a unique opportunity to comment on contemporary legal scholarship. Book Reviews range in style and length, but typically include a description of the book, an accompanying critical analysis, and an evaluation of the book in relation to relevant areas of the law. Book Reviews should not merely summarise the book, but instead offer an argument as to the merit and significance of the work.
Citation Format: Please use footnotes rather than endnotes. Footnotes must conform to the OSCOLA (Oxford University Standard for the Citation of Legal Authorities) (4th) style of citation.
Language: All manuscripts should be submitted in English. Please use the British English standard when American English and British English grammatical or spelling conventions differ.
Author Eligibility: They accept submissions from legal scholars, practitioners, and students. Co-authorship is limited to a maximum of three authors.
SUBMISSION PROCEDURE
Submissions should be made electronically in Microsoft Word format. Please send your submission as email attachments to submissions.hnlusr@gmail.com, with a subject line in the following format "Print Submission – [Authors(s) Name]", e.g., "Print Submission – John Doe".
In addition to the article manuscript, submissions should include (i) a cover letter with the name(s) of the author(s), institution/affiliation, the title of the manuscript, and contact information (email ID and phone number); and (ii) a short abstract of not more than 250 words.
DEADLINE
The last date of submission for Volume IV Issue I is September 1, 2022, at 23:59 HRS (IST). No submission after the due date will be entertained.
CONTACT DETAILS
+91 99716 78806
Disclaimer: All information posted by us on Lexpeeps is true to our knowledge. But still, it is suggested that you check and confirm things on your level.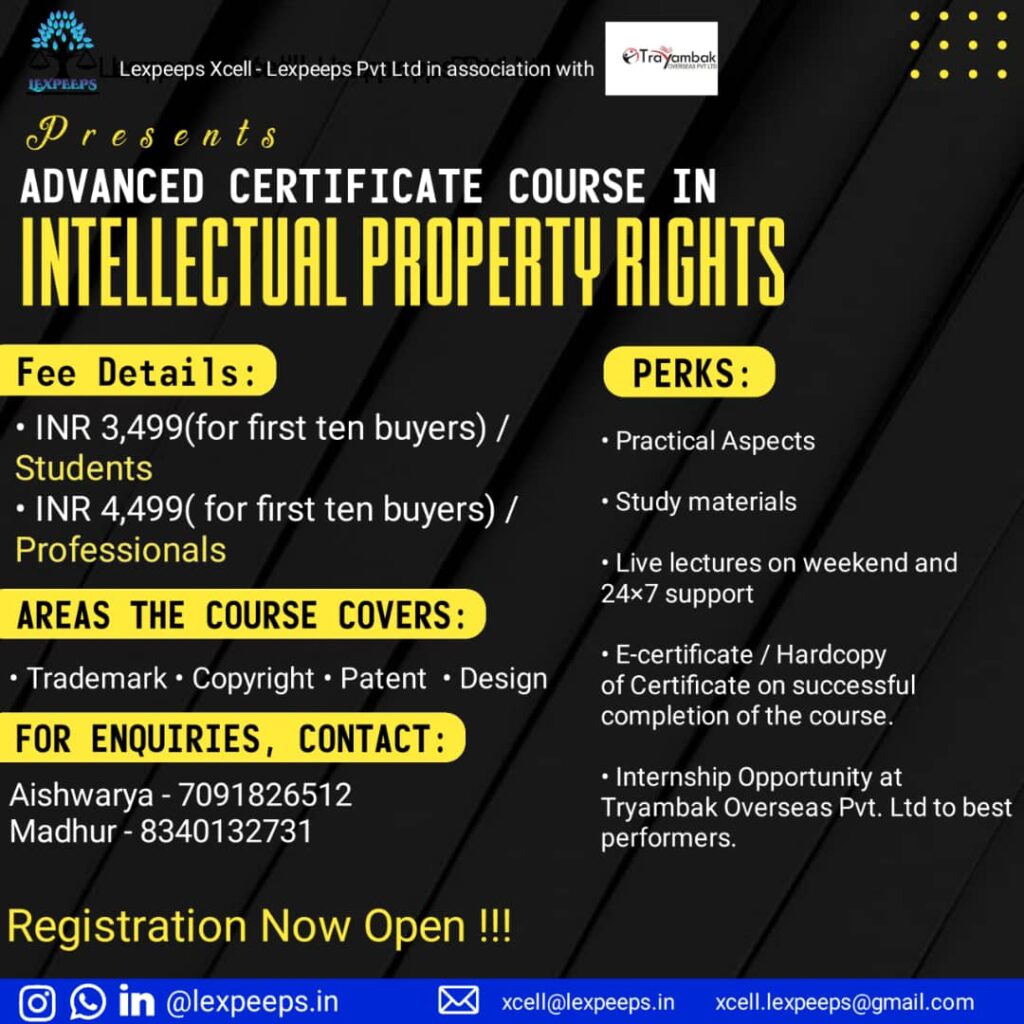 WhatsApp Group:
https://chat.whatsapp.com/G4bxdgRGHY8GRzOPSHrVwL
Telegram:
LinkedIn:
https://www.linkedin.com/company/lexpeeps-in-lexpeeps-pvt-ltd