The Centre for Criminology, Criminal Justice and Victimology, RGNUL is organizing the Indian Society of Victimology's Eighth International and Twelfth Biennial Conference on the theme "Securing Justice to Victims of Crime" through Empowerment, Protection and Services from November 3 to 5, 2022 at Rajiv Gandhi National University of Law, Punjab.
ABOUT
The Indian Society of Victimology (ISV) is a national-level professional society that was founded in 1992 under the aegis of Professor K. Chockalingam, the then Head of the Department of Criminology, the University of Madras along with senior police officers Dr. R. K. Raghavan and Mr. L. N. Venkatesan.
THEME
Legal Initiatives in Victim Protection
Social and Community Initiatives in Victim Protection
Mapping the Best Practices in Victim Protection
Victims of Abuse of Power
Victims of Migration and Environmental Crimes
Emerging Trends in Teaching, Research and Action in Victimology
Forensic Justice to Victims of Crime
Victimization in the Digital Environment
Victimization of Women and Children
Restorative Justice for Victims of Crime
Critical Victimology
From Victimology to Victim Justice
SUBMISSION GUIDELINES
Participants can register online by using the link given at the end of the post.
Kindly make the payment ONLY after the selection of the abstract. Attendees (Non-Presenter) can make the payment by clicking on the payment link.
The registration fee does not include accommodation charges.
Participants are requested to register in advance to ensure accommodation and travel arrangements.
Participants must ensure that they receive a confirmation of registration before attending the conference.
The details of the venue and accommodation will be shared at a later stage on the conference website.
The research papers should pertain to any of the sub-themes of the conference.
An Abstract of 300 words (Max.) should be sent on or before 20th August 2022. Acceptance of abstract will be communicated within 15 days after submission.
A payment link will share separately if the abstract is selected.
A full paper not exceeding 5,000 words should be sent on or before September 20, 2022 upon acceptance of the abstract.
The organisers reserve the exclusive right to publish accepted papers for the Conference Volume.6. Abstracts and full research papers should be emailed to ccvpublication@rgnul.ac.in.
IMPORTANT DATES
Last date for submission of Abstract: August 20, 2022
Last date for Professor K. Chockalingam Award and Fellowship Award (Nomination): September 20, 2022
Last date for Registration: August 20, 2022
Last date for the submission of the full paper for presentation: September 20, 2022
https://docs.google.com/forms/d/e/1FAIpQLSdY9I6IKeZOc14MVYyYB0awCGlPNzycIK42O7C20z3QCfbQdQ/viewform
Disclaimer: All information posted by us on Lexpeeps is true to our knowledge. But still, it is suggested that you check and confirm things on your level.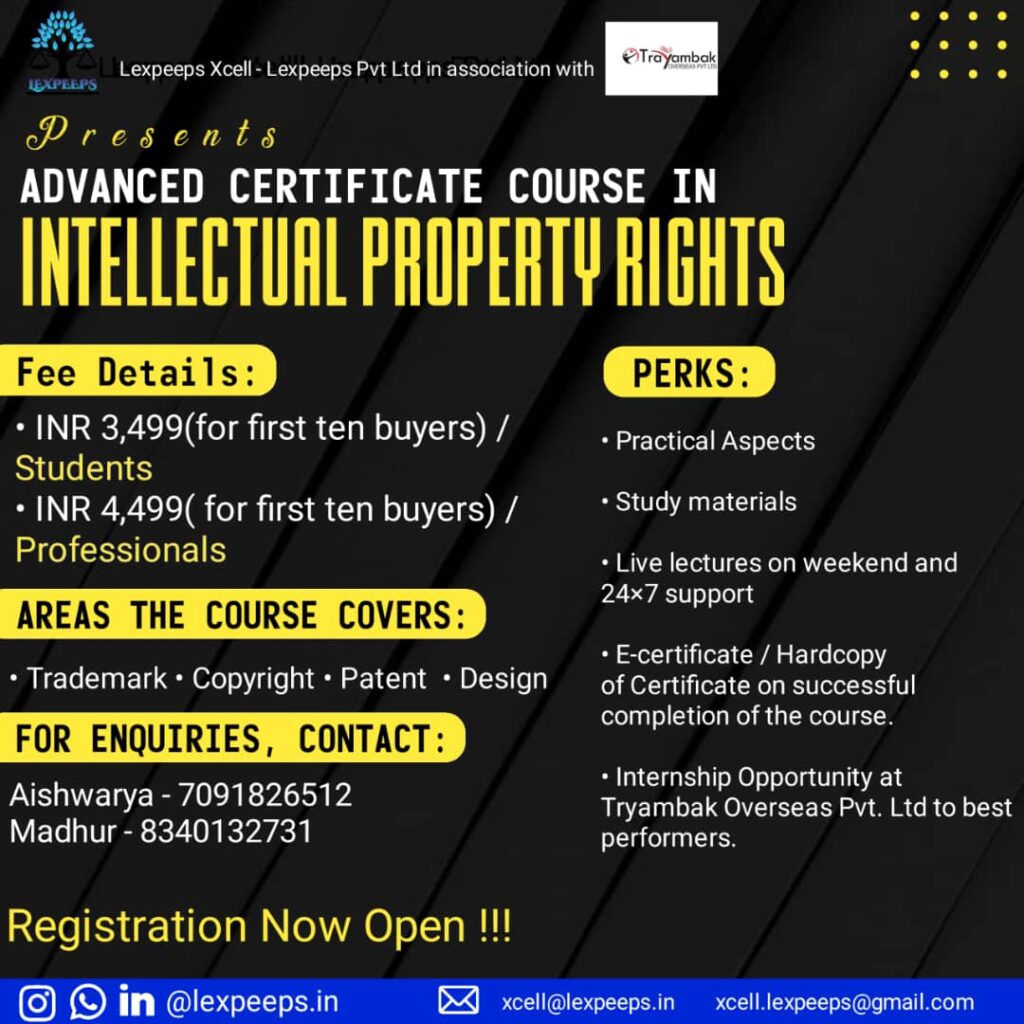 WhatsApp Group:
https://chat.whatsapp.com/G4bxdgRGHY8GRzOPSHrVwL
Telegram:
LinkedIn:
https://www.linkedin.com/company/lexpeeps-in-lexpeeps-pvt-ltd