Maharaja Agrasen Institute of Management Studies, Delhi is organizing an international conference on Interdisciplinary aspects of IPR, Technology and Competition Law by MAIMS on September 29 & 30, 2022.
ABOUT
Intellectual property has increasingly assumed a vital role with the rapid pace of technological, scientific and medical innovation that we are witnessing today. Laws related to intellectual property, Technology and competition have co-existed for over a century. The first two provide exclusive rights and licensing authority to the owners, while the last, competition law, is aimed to mitigate the negative impacts of exclusivity granted under the first two.
THEME
IPRs as drivers of the Knowledge Economy
IPRs, Startup and Knowledge Driven Economies.
IPRs and the Enforcement Mechanism: Problems and Prospects.
IPRs and Evaluation of Innovations & Intangible Assets.
IPRs and TRIPS: International Norms and their Domestic Implementation.
IPRs regarding Biodiversity, Traditional Knowledge, Genetic and Plant Resources
Standard Essential Patents and fair, reasonable and non-discriminatory and Competition Law
IP Valuation and IP Audit
Sui Generis System, International Trade and Economy.
Legal Prospects and Challenges of a Globalised and Digitalised World, Cyber Security and Cyber Sovereignty
Digital Economy and Legal Challenges
Sustainable Development and Digitalization in the Post-Pandemic Scenario.
Complexities of Competition and Consumerism in the Digital World.
Big data, Technology and AI
Media, Right to Privacy and Democracy in A Digitalised World
Impact of Digitalisation on Privacy and Human Rights
E-Governance and Cyber Security
Cyber Espionage
Cyber Attacks – National and International
Instruments of Accountability in Cyber Space
IP protection and Public Health; tools and technologies
Pharmaceutical Patents and Access to Medicine
ELIGIBILITY
Researchers and Research Scholars, Academicians, Students, Law Consultants, Corporate Counsels, Policy Makers and Economists, Law Attorneys, Patent Agents, Patent Litigators & Managers, IP Managers, Law Firms, Engineering & Technologies Companies, and Professionals in the Legal Domain related to various Technologies and Research & Development Professionals can submit their papers.
SUBMISSION GUIDELINES
All papers must be submitted through EasyChair through this link.
The full-length paper should not exceed 8000 words (exclusive of footnotes). It must have the abstract and details of the authors.
In the case of co-authorship, at least one author must attend the seminar to present the paper.
The main text should be in Times New Roman with a font size of 12 and spacing of 1.5.
Spelling: UK – except in quoted text, which will follow the original spelling.
Pages to be numbered – Bottom of the page, at the centre – numbered as 1, 2, 3, etc.
Footnoting: Please ensure that the footnotes are formatted correctly and consistently, in accordance with APA 6th Edition with Times New Roman font size 10.
Style for headings – Chapter Title: All in caps, bold, centred.
Style for subheadings:

Level 1: Headline style – capital, bold, left aligned, underlined.
Level 2: Headline style – bold, italics, left aligned.
Level 3: Headline style – italics, left aligned.

Referencing & Citation style– APA 6th edition.
Plagiarism: All submissions must be the author's original and unpublished work. The similarity Index should not exceed 10%.
The paper must be submitted in word document (.doc or .docx) format only.
IMPORTANT DATES
Last date for submission of Abstract: August 23, 2022
Confirmation of Abstract: August 23, 2022
Last Date of Registration: September 1, 2022
Last date for submission of Full Paper: September 20, 2022
Conference Date: September 29-30, 2022
CONTACT DETAILS
Disclaimer: All information posted by us on Lexpeeps is true to our knowledge. But still, it is suggested that you check and confirm things on your level.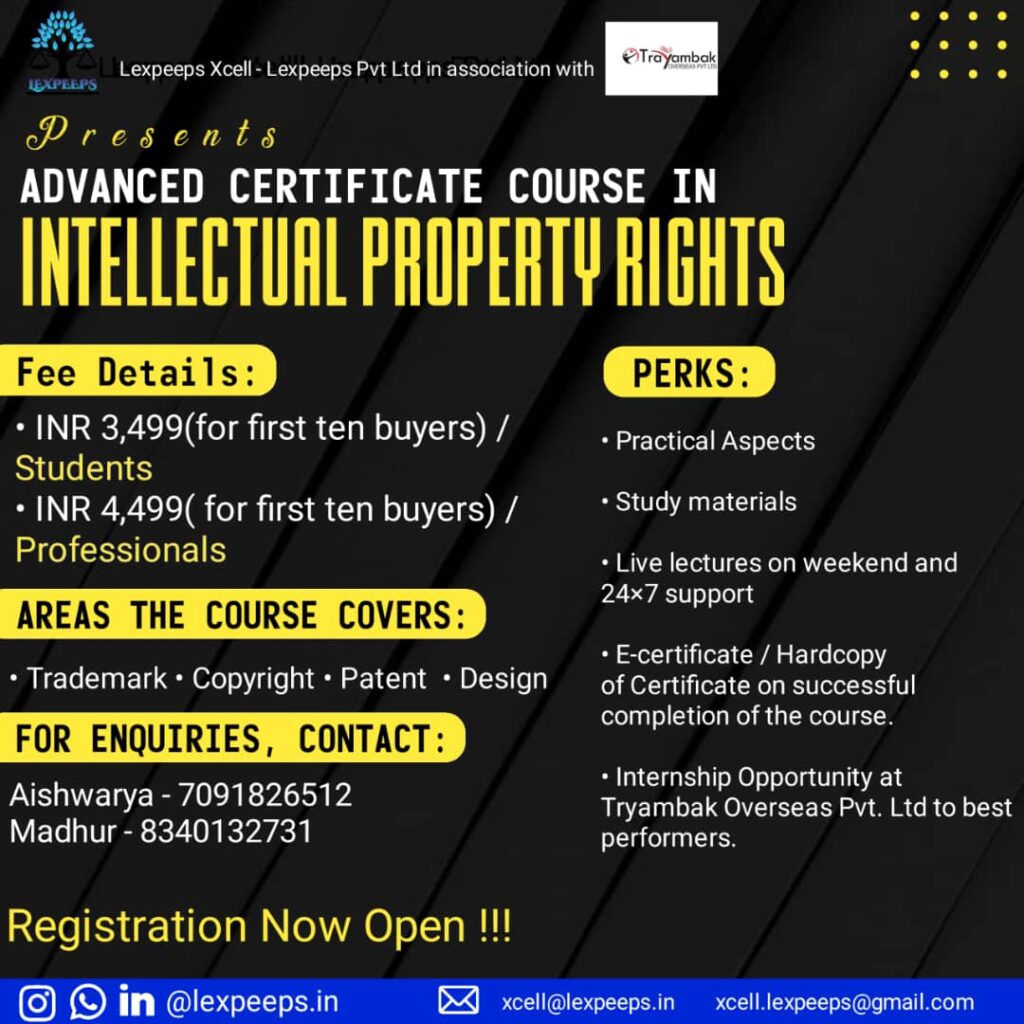 WhatsApp Group:
https://chat.whatsapp.com/G4bxdgRGHY8GRzOPSHrVwL
Telegram:
LinkedIn:
https://www.linkedin.com/company/lexpeeps-in-lexpeeps-pvt-ltd