About Christ University
School of Law, is a part of CHRIST (Deemed to be University), Bangalore. The parent University, a premier educational institution, is an academic fraternity dedicated to the motto of 'Excellence and Service' and has an already proven history of success in the field of education. CHRIST, formerly Christ College has the rare distinction of being the first institution in Karnataka to be accredited by the National Assessment and Accreditation Council (NAAC), UGC, and currently has an A grade as accredited in 2016 for quality education.
About the National Conference Committee
The National Conference Committee is a faculty-guided, student-run committee that is entering its 12th glorious year and has been the host for 11 successful national conferences. The committee organizes various workshops and seminars every year.
For this academic year, the committee shall work with various sub-teams (i.e., research team, tech team, creative crew, public relations) the members of which shall be specialized in the same. The National Conference Committee strives to publish an e-book after the event. The research articles submitted and presented of good equality will be chosen in E-book after thorough scrutiny for publication. The virtual platform has provided an opportunity for the committee to broaden its reach and deliver an experience that has never been witnessed before.
Eligibility
The National Conference by School of Law, CHRIST (Deemed to be University) cordially invites research papers from law students, legal academicians, and legal practitioners.
Theme and Sub-themes
Theme: Emerging trends in Rule of Law, Democratic Norms, and Constitutional Values
Sub-theme 1: Rule of Law
Tribunal Reforms and Judicial Independence
Access to Justice and its Transformation in India
Expediting the Trial Process in India
State Surveillance and Right to Privacy
Sub-theme 2: Democratic Norms
Regulation of OTT Platform: Censoring Issues and limitations
Anti-Conversion Laws: Is It a Threat to Secularism and Fundamental Rights?
Trends in Reservation Policy in India: An Evaluation
Population Control Bills and its Constitutional Ramifications
Sub-theme 3: Trends in Judicial Process in India
The Digitisation of Indian Judicial process: Challenges and the Way Forward
Implementation of AI and Digitisation of Judicial system
National Litigation Policy and Its implementation
Sub-theme 4: Miscellaneous
Fugitive Justice and the Reciprocity Between States
The Legality of Withdrawal of Prosecution
Cyber Pornography: Regulatory Challenges
Submission Guidelines
The abstract should not exceed 300 words and must be accompanied by a cover page stating:
Sub-theme
Title of the Paper
Name of the Author(s)
Name of the Institution
E-mail Address
Postal Address
Contact number
The abstract file shall be named as: <Theme number>_<full name of the author(s)>.
For eg:
Single Authorship: Theme1_RajeevShankar
Co-Authorship: Theme1_RajeevShankar&RahulMohan
All submissions of the abstracts for the E-Conference must be electronically submitted.
Formatting Guidelines
The main text of the full paper and the abstract should be in Times New
Roman with font size 12 and line spacing of 1.5.
The footnotes should be in Times New Roman, font size 10 with a spacing of 1.0 (Endnotes are not permitted)
One inch margins should be maintained on all four sides of the pages.
Citation Style: Bluebook, 20th edition.
The abstract and full paper has to mandatorily be submitted in .pdf format only.
Note
Co-authorship is permitted to a maximum of two authors and at least one author must attend the E Conference to present the paper. No Proxy presentations are allowed. The School of Law, CHRIST in keeping with its mandate of publishing original works only, adopts a stringent anti-plagiarism policy. Any paper containing any unattributed work is thus liable to be rejected.
Important Dates
Abstract Submission: December 15, 2021
Communication of Acceptance of Abstract: December 20, 2021
Last date for Registration and Payment: January 10, 2022
Submission of Full Papers: January 15, 2022
Platform
CISCO WebEx shall be used for paper presentation and conduct of National
Online Conference. Further, details on the usage and registration of the platform will be shared with the participants at a later stage.
Registration Fee
For Students: Rs.800/- for single authorship and Rs.1200/- for co-authorship
For Research Scholars, Academicians and Professionals:

Rs.1000/- for Single authorship
Rs.1400/- for co-authorship
Rewards
E-Certificate to every participant who duly submits and presents the paper.
Publication of the best articles under each sub-theme in the proposed E-book carrying ISBN number.
Contact Details
Email ID: slcuconference@law.christuniversity.in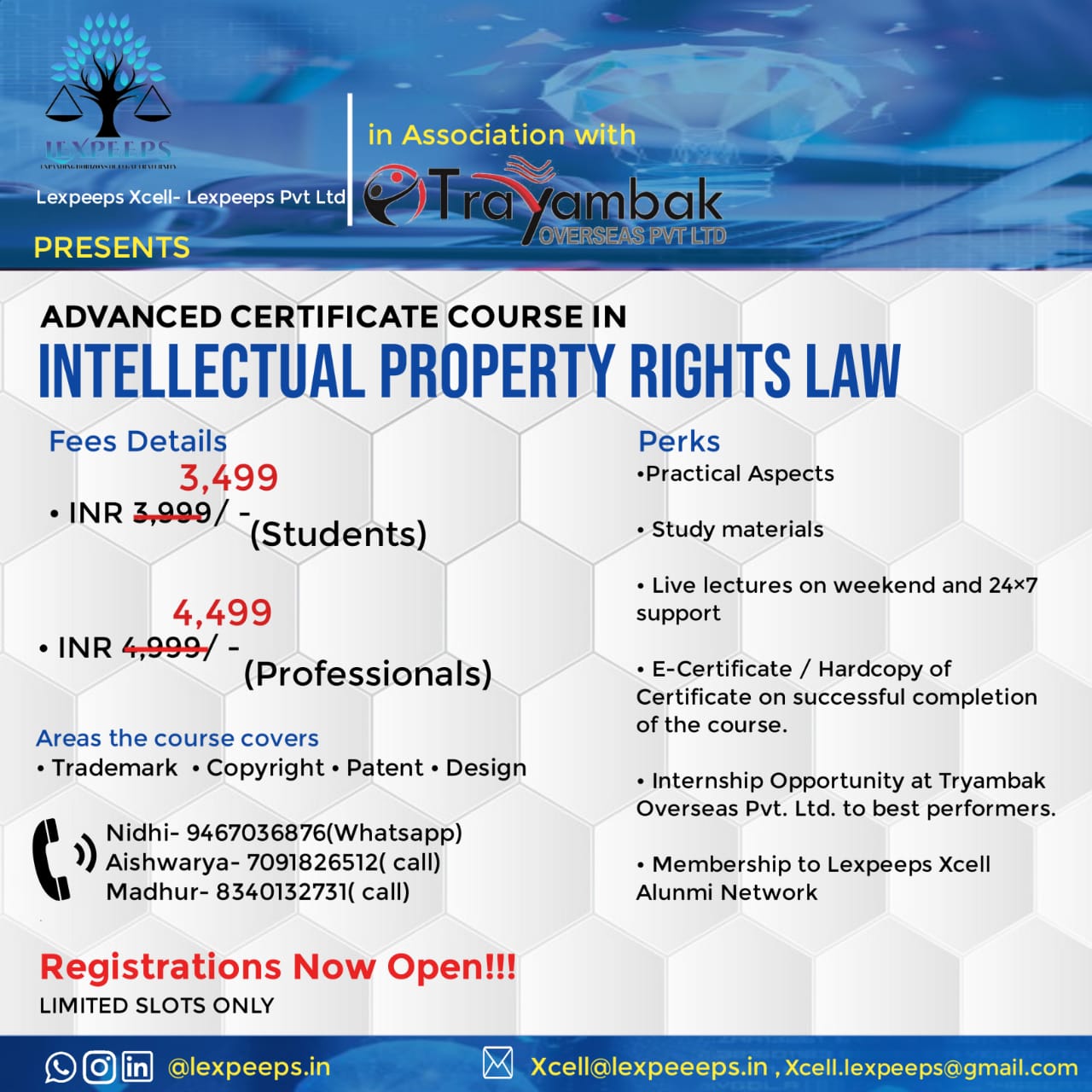 WhatsApp Group:
https://chat.whatsapp.com/GRdQLsHRwmB7QVRmS3WK
Telegram:
LinkedIn:
https://www.linkedin.com/company/lexpeeps-in-lexpeeps-pvt-ltd